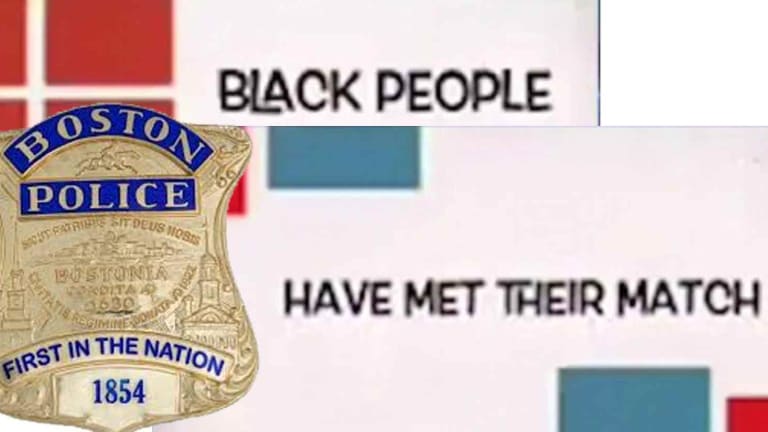 Cop Makes Racist Video Saying "Black People Met Their Match" -- NOT Fired
A racist Boston cop thought it would be funny to make a video declaring that black people have met their match. He'll keep his job.
Boston, MA -- Boston Police Department has suspended one of its own for six months without pay, followed by six months of probation, and forced "unconscious bias counseling." However, based on what he did, he should never come near a badge or public service ever again.
Joseph DeAngelo Jr., an officer with over 4 years on the force was disciplined following an investigation into a video he produced and passed around to his friends, a video which the department concluded to be racist.
DeAngelo says he made the spoof video to poke fun at his fellow officer Dennis Leahy. However, once the video was seen by the public, they quickly, and rightfully so became outraged.
"This summer, black people have met their match." DeAngelo asserted in the video.
Here's a look at the video. You decide if it's racist.
According to the Boston Herald, DeAngelo is remorseful, and Police Commissioner William B. Evans, by not firing him, is standing by his officer, who's reportedly accepted full responsibility for his actions. However, if he accepted full responsibility, he would have found a new line of work.
The Herald said Evans called DeAngelo's actions "clearly insensitive and immature behavior" that called for "significant sensitivity" and unconscious bias retraining and community service. The reprimanded officer will also not be allowed to moonlight as an officer during his suspension.
The Police Commission said, "It was clear from Officer DeAngelo's interview that he feels significant remorse for his actions and now realizes the impact this video has had on our community." He added, "Officer DeAngelo readily admitted to the conduct and has fully taken responsibility for his actions."
Again, by keeping his job, he accepted absolutely no responsibility.
While the Boston Police Department did take action against one of their own who've violated departmental policies, it highlights the double standard of police discipline. Departments all across the country refuse to punish officers who've committed much more serious felonies and misdemeanors.
All too often, police officers are given a slap on the wrist when they break the law. Even juries are swayed by the badge, often ending deadlocked in cases where an individual citizen would have had the book thrown at them so to speak.
In May, a jury in the trial of Fort Worth police officer Courtney Johnson was hopelessly deadlocked in a case where Johnson shot a man holding a barbeque fork. Craig Adams was shot while standing in his own driveway after police were called to investigate a prowler. The judge in the case declared a mistrial and the prosecutor is unsure if they'll attempt to retry Johnson.
And in June, Ray Tensing endured a second trial which also ended with a hung jury in the shooting death of Samuel DeBose. Tensing shot and killed DeBose after he attempted to flee in his vehicle. Tensing claimed he feared for his life after shooting DeBose in the head, an action caught on Tensing's body camera footage.
As was previously stated, the Boston PD is punishing a racist cop, but they are letting him back on the force where he will continue to hold power over those 'black people' he claims 'have met their match.' Years from now, it is likely that DeAngelo will kill an unarmed black man and when this instance is brought back up, those of us in the police accountability movement will give the department a big fat, "I told you so."