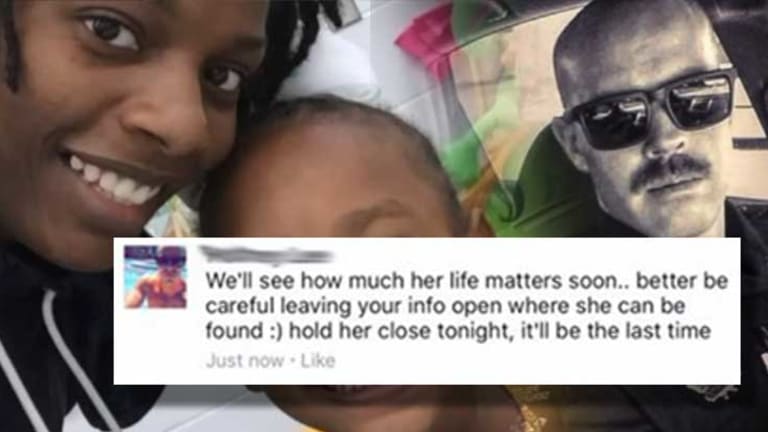 Cop Threatens to Murder Child on Facebook -- "Hold her close tonight, it'll be the last time"
A Dallas woman was contacted by a complete stranger on Facebook who threatened to kill her daughter that night -- he was a cop.
Overland Park, KS -- A Dallas woman is terrified and a cop has been fired after this public servant took to Facebook to threaten the life of a 4-year-old girl.
Lanaydra Williams has never even heard of Overland Park, Kansas much less their police department. However, an Overland Park police officer, and complete stranger, Rodney Lee Wilson contacted Williams on Facebook to make horrifying threats against her and her daughter.
"I received a notification from a name I didn't know," Williams recalled.
Williams explained to FOX 4 that she was already shaken up because of the tragic shooting of 12 Dallas cops. However, when a cop then threatened her, it became a nightmare.
"It's not okay. Not my child, she's all I have. India is my heart, that's not right. We're already on edge, so why would you do that?" Williams asked, referencing the Dallas shootings.
Just before she was about to fall asleep, Williams saw the comment made by officer Wilson on a photo that she'd posted years ago.
"We'll see how much her life matters soon.." wrote Wilson. "better be careful leaving your info open where she can be found :) hold her close tonight, it'll be the last time."
Wilson's mention of seeing "how much her life matters soon" is clearly racially charged as he refers to Black Lives Matter.
In what world was Wilson living that he felt it would be okay to take to social media and say he was going to murder a little girl?
When Williams clicked on his profile after reading the terrifying comment, she saw that he was an Overland Park cop.
Williams immediately contacted authorities and, predictably, Wilson claimed his account was hacked. But Williams wasn't buying it.
"Why would he go out of his way to delete it?" she asked.
In spite of the hundreds of miles between them, Williams still felt threatened.
"She doesn't know anything about this messed up world," Williams said of her daughter India.
"Maybe I'll just say he was one bad cop. Not all of them are like that. I don't think she'll think they're all like that either way. She loves police," Williams said.
Overland Park Police Chief Francis Donchez Jr. called Williams to apologize, but she is still shaken.
"Let's say he does lose his job. How do I know he won't come and retaliate? How do I know that? I don't," Williams said before news broke of Wilson's termination.
According to Overland Park Police, they cannot comment on the ongoing investigation, but they did take to Facebook to make the following statement:
It seems that Wilson has bought into the divide that is being perpetuated on America. As mainstream media and grassroots efforts alike push their divisive agendas, the week minded buy into the hate.
The establishment needs a populace divided. When people are isolated and categorized into their various labels by society -- they are far easier to control.
Stoking constant fear and hatred for our fellow human is a function of maintaining the status quo. Unfortunately, there is a full on assault from all sides, and Overland Park Police Officer Wilson is an example of its effects.
[author title="" image="https://tftpstagingstg.wpengine.com/wp-content/uploads/2016/03/magorist-e1456948757204.jpg"]Matt Agorist is an honorably discharged veteran of the USMC and former intelligence operator directly tasked by the NSA. This prior experience gives him unique insight into the world of government corruption and the American police state. Agorist has been an independent journalist for over a decade and has been featured on mainstream networks around the world. Follow @MattAgorist[/author]