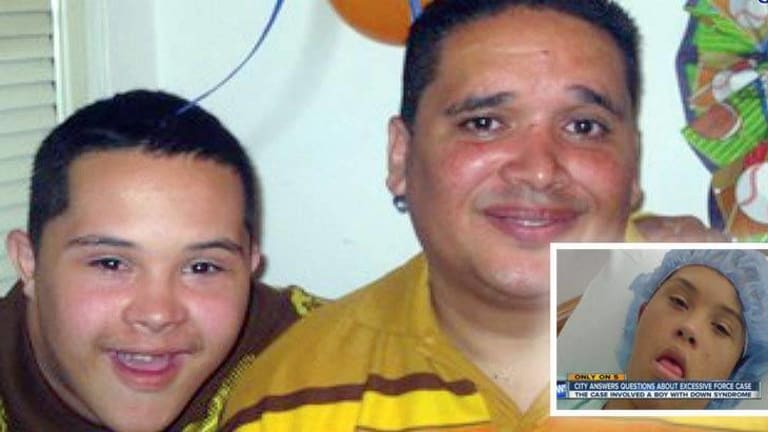 "You're lucky we didn't shoot him," Racist Cops Assault Boy With Down Syndrome & His Parents
After assaulting an innocent young boy with Down syndrome and throwing his mother to the ground, the officer tells the parents, "You're lucky we didn't shoot him."
Cleveland, OH -- Every now and again, a story comes across our radar that makes one wonder if authority figures are hand-picked from the vilest trenches of society. This is one of those stories.
This story begins back in August of 2010 in Cleveland, Ohio. Police were looking for a suspect in an armed robbery that had just occurred on Cleveland's west side.
The 9-1-1 call described the suspect as a "white male, about 5-foot-8 at the most."
As police were combing the neighborhood, looking for an average height, white male, they came across Jaun Ortiz. Ortiz is 4'11" and Hispanic. He also has down-syndrome.
The two officers were Brian Kazimer, a 15-year veteran of the department, and Dan Crisan, a 14-year vet.
Ortiz was fearful of the two officers, so he began to run home to his parents. When the officers caught up to Ortiz, he had just reached his home and was trying to hug his mom and dad. The officers then ripped the boy from his parents' arms and began their assault.
"Juan's parents were standing in the parking lot by his mother's vehicle," explains resident, Eliezer Manzano in a court filing. "Juan ran to his parents and stopped. He began hugging his mother when the officer grabbed Juan from behind, forcefully pulled him from his mother's arms, and slammed him very hard into her vehicle like a football player making a tackle."
Multiple witnesses described seeing the same violent scene.
Ramon Ortiz, Juan's father, tried to explain to Kazimer that his son has Down syndrome. But Kazimer was not worried about beating a mentally challenged boy and said, "I don't care," and to "shut the f*ck up," according to witness testimony on the complaint.
Jaun's mother also tried to stop the assault on her son, but she was quickly thrown to the ground.
The apartment manager, Nina Kennedy, witnessed the abuse unfold. "I heard one of the officers tell Juan's parents to go back to their own country if they can't speak the language here," Kennedy stated. "The officers were telling Juan's parents and other relatives to 'shut the f*ck up' and 'get the f*ck away from here.'"
Another witness described similar racist slurs from the officers. One of those officers told Juan's mother to 'get the hell back to where she belongs.' He called her a 'Mexican wetback.'"
After Juan was placed in handcuffs and thrown in the back of the cruiser, police finally realized that they had the wrong guy. However, their reaction was hardly contrite. After assaulting an innocent young boy with Down syndrome and throwing his mother to the ground, Kazimer tells the parents, "You're lucky we didn't shoot him."
Juan was never charged in the case and had to go to the hospital for injuries that the officers inflicted on him during the incident.
On July 25, 2011 an attorney for the family, Subodh Chandra, filed a federal civil rights lawsuit against Kazimer and Crisan. The lawsuit stated that the officers violated the Fourth and Fourteenth Amendments — for unreasonable seizure and excessive use of force on Juan — and eight other counts, including battery, false arrest, negligence, and civil liability for criminal conduct.
Three and a half years later, the case is still open. But just last week, a judge ruled against the city's motion to dismiss the lawsuit.
"There is little in the record to support the belief that Juan posed a threat, and the defendants provide no articulable reason to believe that Juan was an immediate danger to anyone," Judge Lesley Wells wrote. "Juan had stopped running, and he was, in the officer's own words, 'surrendering.'"
Kazimer and Crisan have gone unpunished by their superiors, a trend noted by the DOJ and others, despite an investigation and recommendation of punishment by the Civilian Police Review Board.
On Wednesday, former Cleveland police chief, Mike McGrath sat down in an interview with NewsNet5 and apologized to the family and victim.
"It was a mistake by the Cleveland Division of Police, it appears, I haven't read the file in a long time," said McGrath. "Surely if the son was injured or affected or the family was affected, we would always apologize to them, absolutely."