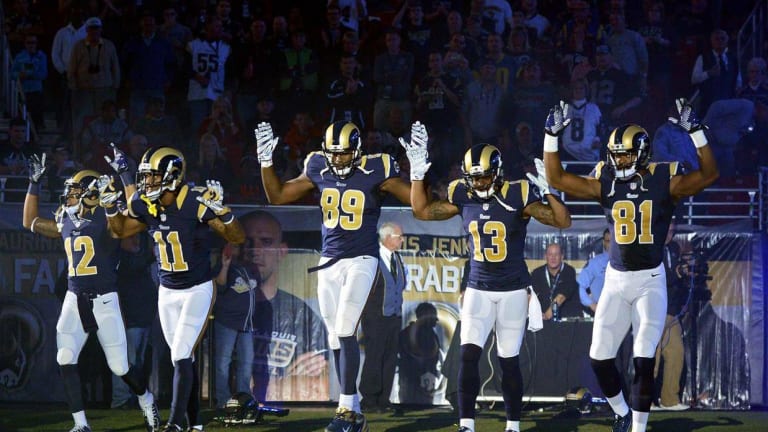 Rams Players Make Bold Political Statement by Entering Field With "Hands Up, Don't Shoot" Pose
St. Louis, Mo. - St. Louis Rams players Stedman Bailey, Tavon Austin, Jared Cook, Chris Givens and Kenny Britt came out onto the field sporting the "hands up, don't shoot" pose during their home game against the Raiders.
The gesture was a show of solidarity with the Ferguson protest movement after this weeks controversial grand jury decision to not indict officer Darren Wilson.
Using the national stage of an NFL game to show solidarity with a protest movement is reminiscent of the 1968 Olympics, when Tommie Smith and John Carlos raised a black gloved fist during the medal ceremony as a means of political protest meant to represent a "human rights salute," according to Smith in his autobiography Silent Gesture.
This symbolic protest by the Rams players is one of the most overt political statements ever seen during an NFL game. I salute these brave players for using their position as professional football players on the national stage to make such an important political statement.
Jay Syrmopoulos is an investigative journalist, freethinker, researcher, and ardent opponent of authoritarianism. He is currently a graduate student at University of Denver pursuing a masters in Global Affairs. Jay's work has previously been published on BenSwann.com and WeAreChange.org. You can follow him on Twitter @sirmetropolis, on Facebook at Sir Metropolis and now on tsu.