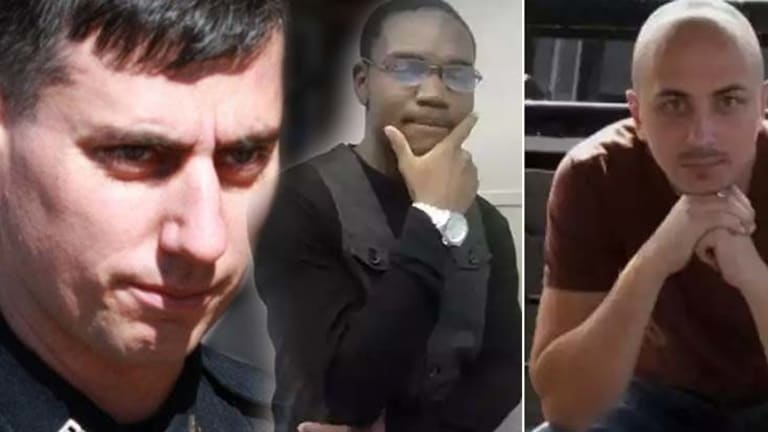 "This is My Second One" -- Virginia Cop Caught Bragging About Killing Two Unarmed People
A Virginia cop on trial for the murder told a witness, "This is my second one," just moments after fatally shooting an unarmed man.
A former Virginia police officer and U.S. Navy veteran, whose trial for murder begins this week, told a witness, "this is my second one," after killing an unarmed 18-year-old black man in April 2015.
While unclear whether or not the jarring statement amounted to a boast, the camera on ex-Portsmouth Officer Stephen Rankin's Taser recorded him saying this to a Walmart employee mere seconds after he fatally shot unarmed teen and alleged shoplifter William Chapman in the store's parking lot in April 2015.
Rankin had, indeed, killed another unarmed man, Kirill Denyakin — under circumstances similarly and sufficiently questionable to earn three years' administrative leave — just four years prior to the shooting for which he now stands accused of first-degree murder.
During the final pretrial hearing on Tuesday, the Guardianreported, Rankin's lead defense attorney, James Broccoletti, argued the former officer's "statement is not probative of anything," in an unsuccessful attempt to have it suppressed.
Prosecutors countered to Judge Johnny E. Morrison they should not have to "sanitize the evidence" surrounding the fatal shooting.
"The defendant made the comment, not just in the presence and earshot of a witness, but to the witness," argued Commonwealth's Attorney Stephanie N. Morales, who heads the case against Rankin.
Although Morrison had previously disallowed direct statements to jurors concerning Rankin's fatal shooting of Denyakin, as the Guardiannoted, it now appears the officer's prior use of deadly force will play an albeit limited role in the prosecution's case.
Troubling details about the killing of unarmed 26-year-old Kazakhstani cook, Kirill Denyakin, on April 23, 2011, would seem to suggest a glib tone in the officer's later statement to the Walmart employee.
Rankin responded to a call about Denyakin drunkenly pounding on the door of a residence where he had been staying with friends. Alleging the cook reached for his waistband and then charged toward him, Rankin shot Denyakin 11 times in the chest and limbs, as The Free Thought Projectreported. No weapons were recovered on Denyakin's body or at the scene — but when the man's family filed a $22 million civil suit against the officer, the situation took a dark turn.
Defending his use of deadly force, Rankin — who had chosen a photograph of a dead Serb who had been lynched by the Nazis in 1943 as his Facebook profile picture — took to a local newspaper's website, posting roughly 250 comments derisively attacking Denyakin's character and insulting his family's attempt to seek compensation, writing:
"22 mil won't buy your boy back … let alone a habitual drunk working as a hotel cook."
Weeks prior to that deadly interaction, one of the officer's supervisors cautioned senior commanders Rankin was "dangerous" and likely to harm someone. Further revelations included Facebook posts in which the cop referred to his firearms case as "Rankin's box of vengeance."
A grand jury refused to indict Rankin for the Denyakin's killing — and though the department placed him on administrative leave for nearly three years, it took just over a year after his return to active duty for Rankin to fatally shoot Chapman under circumstances suspicious enough to now stand accused of murder.
On the morning of April 22, 2015, Portsmouth Walmart employees summoned police to report a shoplifter. Rankin responded and confronted 18-year-old Chapman in the store's parking lot. Several witnesses reported seeing Rankin attempting to handcuff the teen, but their observations of what happened next differ to some degree.
Two construction workers said Chapman broke free from the officer, knocking his Taser to the ground; but, in speaking to separate reporters afterward, one described the man "whaling on" the officer, the other noted the pair's subsequent interaction was a "tussle" in which the teen had not been close enough to physically strike Rankin.
In a report, pathologists noted Rankin would have been at least 30 inches away from Chapman when he was shot, and the medical examiner did not find gunpowder burns or residue suggestive of a point-blank or near point-blank shooting. No stolen items were listed among the victim's personal effects.
Further, body cam footage recorded Rankin holding his Taser, but abruptly and perhaps conveniently, if not outright suspiciously, stopped for the 15 seconds surrounding the shooting — only to pick up after the deadly interaction, with the Taser on the ground.
Chapman's family's attorney, Jon Babineau, recounting what he was told for Pilot Online, said in December, "The video was operational up until just before the shooting, and then it was not operational for about 15 seconds," though an unnamed source told him the gap had been caused by a "power source issue" and did not necessarily believe the tape had been edited.
In September 2015, a grand jury indicted Rankin for murder and the illegal use of a firearm.
Rankin has since been terminated from the Portsmouth force and continues to maintain his innocence.
Jury selection for the murder trial is slated to begin this morning.