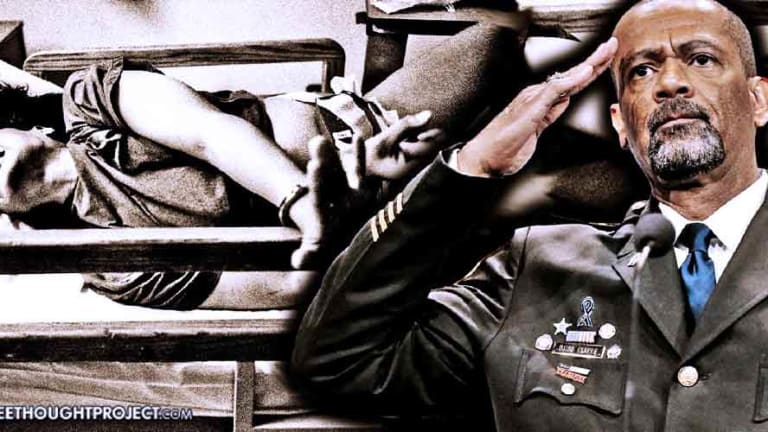 Woman Gets $6.7mn After Being Raped by Police in Jail & Shackled as She Gave Birth
After the cop who raped her got off with a slap on the wrist, a jury awarded a mother $6.7 million for enduring horrid torture in Sheriff David Clarke's jail.
Milwaukee, WI — Milwaukee corrections officer Xavier Thicklen only spent three days in jail for allegedly raping a female inmate on numerous occasions which she says started when she was 19. The pregnant inmate, whose identity is being protected as she's considered a victim of sexual assault, claims Thicklen raped her both before and after she gave birth.
A jury of her peers believed her claims and awarded her a staggering $6.7 million in a civil suit she brought against the county. According to the Journal Sentinel;
The guard, Xavier Thicklen, was acting under his scope of employment when the sexual assaults occurred and therefore Milwaukee County is liable for the damages amount, the jury determined.
Adding insult to injury and possibly endangering both the life of her baby as well as herself, the woman was shackled during labor, a practice long criticized by midwives as being risky, writes the Sentinel.
The jury agreed, and noted there was "no legitimate government purpose" in the restraints applied during childbirth.
As the Free Thought Project previously reported, shackling women during pregnancy is a common practice in the Milwaukee jail — under the orders of 'hero' Sheriff David Clarke.
According to a recent federal lawsuit, Melissa Hall, 27, underwent simliar torture when she "was forced to receive pre-natal care, labor, give birth, and undergo post-partum treatment while shackled, in accordance with the Jail's policy, custom, and/or widespread practice of shackling all detainees during medical treatment."
Clarke, according to the lawsuit, "has had personal knowledge that the shackling practices challenged in this case were occurring at the jail."
When Hall was brought to the hospital to have her baby, she was made to wear a "belly-chain," according to the lawsuit. This chain went "around her waist with her wrists attached to the waist and her legs attached to one another by leg-irons."
In spite of hospital staff asking for the chains to be removed, because of the health risks to the mother and child, deputies, under Clarke's orders, refused, according to the suit.
Thicklen, who resigned just before being charged with the rapes, successfully pleaded guilty to a lesser felony of "misconduct" for giving her candy according to his attorney. He was sentenced to three days and jail and a $200 fine, but in the minds of the civil suit jurors and alleged victim, he is a rapist.
The scandal is the latest in a long list of alleged improprieties leveled at jail staff. As The Free Thought Project reported earlier this year, an inquest proceeding ended with jurors recommending criminal charges be filed against seven jailhouse employees in the dehydration death of Terrill Thomas. Thomas, whose family said suffered from mental illness, was allegedly deprived of water during his last days on earth spent inside the Milwaukee jail.
Another mother was forced to give birth on the floor of a jail cell, resulting in the baby's death. However, the outspoken Clarke defended the jail's practice of shackling women in labor saying in a deposition it is done to ensure the safety of hospital staff.
Clarke, who made a name for himself on the Fox News Channel as a Fox News contributor, is reportedly leaving town for a job within the U.S. Department of Homeland security under the Trump administration. But even his departure is of little comfort to the three families just mentioned in this story who entrusted the judicial/penal system with their loved ones, one of which was raped, and another who was likely murdered due to inexcusable negligence on the part of those sworn to protect and serve the community.
As The Free Thought Project has recently reported, being an inmate in any jail in America is a dangerous place to be. It used to be that prisoners only had to worry about their fellow inmates. But given the rash of rapes, killings, beatings, and torture occurring on the inside, by the ones running the jail, they now have to worry about men and women with badges. Left to saddle the costs, are the American taxpayers whose tax bills are surging, due in part to the criminal activities of those in power.