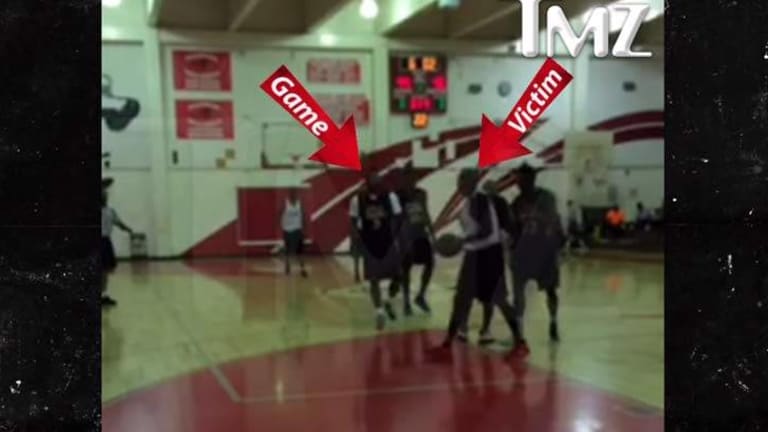 Rapper 'The Game' Punches Off-Duty Cop in the Face
" width="790" height="444" frameborder="0" allowfullscreen="allowfullscreen">
Los Angeles, Calif. - Rapper The Game, whose real name is Jayceon Taylor, is no stranger to controversy. His latest antics, caught on cell phone video, are no certainly exception.
A video has emerged allegedly showing The Game punching an off-duty rookie LAPD officer in the face.
According to initial reports, the incident began as Game was participating in a pro-am game Sunday at Hollywood High School when he and the cop started exchanging heated words on the court.
The Game claims that the officer threatened him first by implying he was getting a gun from his bag, allegedly telling the rapper he was gonna go to his gym back and "get that thing," which in street terms means get his gun.
The cop claims that The Game issued the first threat.
TMZ reports:
Sources connected to Game tell us the rapper says the punchee started things by throwing an elbow at Game … who responded by elbowing him right back. Then it got really heated — Game claims the guy said don't make me go to my gym bag because … "I got that thing."

The clear hint was the guy had a gun.

The report went on to say the LAPD is investigating the Game for battery — and also the off-duty officer. If he really did threaten to get his gun … he could be in big trouble.
Earlier this year the rapper was the subject of criticism when he posted "I Guess Ya'll Can't Breathe Either," to his social media accounts in reference to the murder of Eric Garner, in response to the killing of NYPD officers, which we reported on previously.
From the looks of the new ink of his right fist, which The Game recently posted to his Instagram account, perhaps he was just trying to channel Iron Mike Tyson.
Jay Syrmopoulos is an investigative journalist, freethinker, researcher, and ardent opponent of authoritarianism. He is currently a graduate student at University of Denver pursuing a masters in Global Affairs. Jay's work has previously been published on BenSwann.com and WeAreChange.org. You can follow him on Twitter @sirmetropolis, on Facebook at Sir Metropolis and now on tsu.