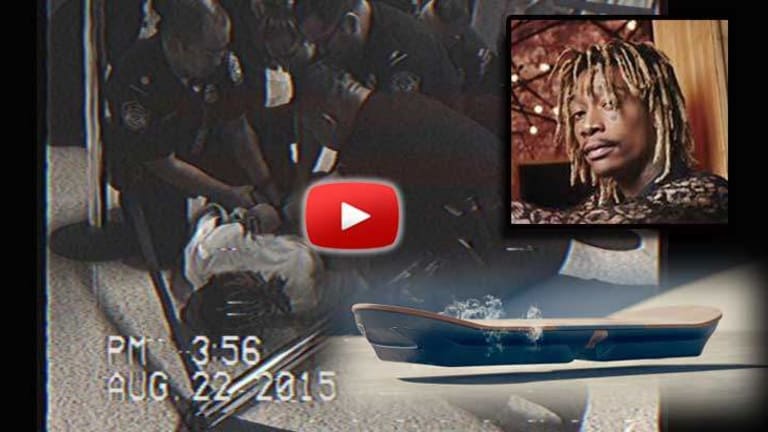 VIDEO: Rapper Wiz Khalifa Violently Arrested at LAX -- For Riding a Hoverboard
Video of rapper Wiz Khalifa has surfaced of him being violently arrested because police were unfamiliar with his hoverboard technology.
Los Angeles, CA -- Video has surfaced this week, showing the world-famous rapper Wiz Khalifia being violently arrested by police because he was riding a hoverboard in an airport. The arrest took place at Los Angeles International Airport where the rapper was reportedly stopped by police because they are unfamiliar with the technology.

Immediately, Wiz stood his ground against the officers, knowing that he had done nothing wrong. When it became apparent that they were not going to let him leave with his hoverboard, Wiz told them, "You can't do nothing anyway. What're you going to do put me into jail because I'm not going to listen to what you say?
After more pressure from the police, Wiz said, "We can have all the conversations you want to, you can end up on TMZ, destined to become as famous as you wanna be." Unfortunately, there is no footage available to show exactly what happened after he made those comments, but another video taken just seconds later shows him being violently thrown to the ground by police.

In the video, the police can be heard yelling "stop resisting" repeatedly as they slam him into the ground. Police claim that he "resisted arrest." However, in the video he clearly submits to the officers, and shouted "I'm not resisting" on multiple occasions.
The rapper later tweeted "They love sayinstop resisting."with a photo of him laying face down on the ground beneath several police officers.
After the arrest, Wiz tweeted "All because I didn't want to ditch the technology everyone will be using in the next 6 months. Do what you want kids." In a later tweet, he defiantly said, "What's even funnier than them not bein able to do shit is they'll be riding them soon as well. Maybe ones I design!"

John Vibes is an author, researcher and investigative journalist who takes a special interest in the counter-culture and the drug war. In addition to his writing and activist work, he organizes a number of large events including the Free Your Mind Conference, which features top caliber speakers and whistle-blowers from all over the world. You can contact him and stay connected to his work at his Facebook page. You can find his 65 chapter Book entitled "Alchemy of the Timeless Renaissance" at bookpatch.com.