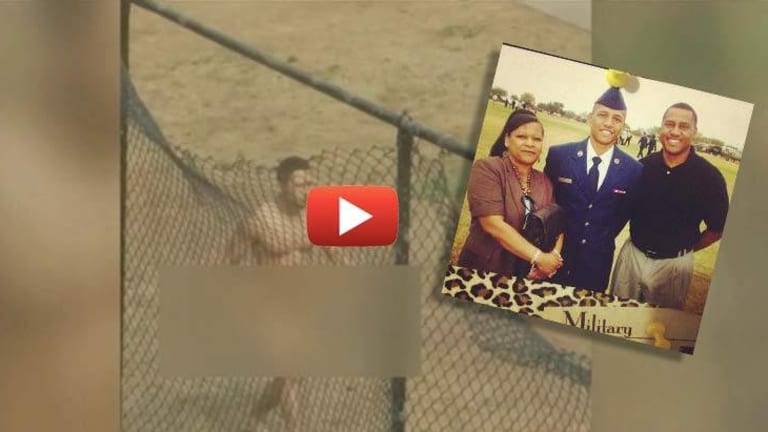 Cop Guns Down Mentally Ill, Unarmed, Naked Veteran in Broad Daylight
A clearly unarmed man, who was obviously mentally ill, was killed in broad daylight by a Georgia cop shortly after he arrived on the scene.
Atlanta, GA -- An unnamed DeKalb County police officer is on paid administrative leave after he shot and killed a mentally ill naked man Monday afternoon. DeKalb County Police Chief Cedric Alexander said at a news briefing that the Georgia Bureau of Investigation is taking over the investigation after it appeared the man, identified as Anthony Hill, 27, was unarmed. Hill's girlfriend took to twitter to protest the killing of her boyfriend.

The police say they received reports of a mentally ill man acting strangely in their apartment complex. According to his posts on Social Media, Hill was bipolar.

"The caller reported a male acting deranged, knocking on doors, crawling around on the ground naked," Alexander said.
"The caller reported the man had taken off all his clothes and was just running around throughout the entire complex," Alexander added.
When the officer showed up, he said the naked, unarmed man charged him, so he had to kill him.
"When the male saw the officer he charged, running at the officer," the police chief said. "The officer told him to stop while stepping back at which point he drew his weapon and fired two shots."
However, witnesses tell a different story. They say the man never charged the officer.
A witness told WSB-TV that Hill was hanging from a balcony, naked, before the shooting.
"He tells me, 'I'm OK, I'm OK.' That's what he was saying," the witness said, according to the news station. "He was acting crazy but he was calm like he didn't know where he was. He was like kind of lost in his face."
Despite an extensive search, no weapon was found at the scene. "At this point this case has been turned over to the Georgia Bureau of Investigations for an independent outside investigation," Alexander said in an attempt to emphasize the notion of an "external" investigation. Henry Raco, a witness on the scene, tells CBS 46, "Now you are scared to call police if you see anything because you don't know what police are going to do. They have license to kill people for no reason and that is scary." This man was naked. It was obvious that he had no weapons on his person, yet the first thing this police officer does is resort to deadly force.

Yesterday, prior to being killed, Hill made an inspirational post on his facebook page. It read, "Where I once saw death I only see life."
Hill was also well aware of the epidemic of police killings in the US.
This man's death is a true tragedy. Rest in Power Anthony Hill.