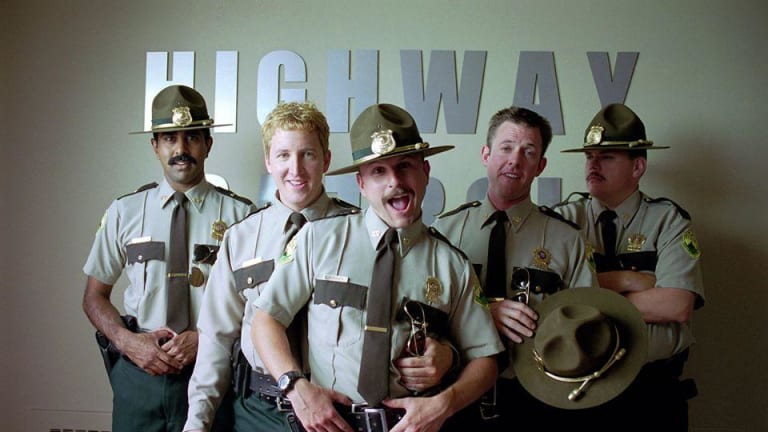 4 PA Cops Arrested After Joy Ride & Firework Prank on Other Cop Goes Wrong
Four police officers in Pennsylvania were recently suspended indefinitely after they threw a lit firework at another officer's car as a prank, sending him on a high speed chase that went through multiple towns.
One of the pranksters, Patrolman Matthew Filarski, was later treated for a hand injury but police would not confirm when the injury took place.
Due to the nature of the situation, it is possible that the officer injured his hand while carelessly throwing the firework out the window, or perhaps his hand was injured in the scuffle when he was finally apprehended.
Patrolmen Patrick McAndrew, Matthew Filarski, Michael Pitcavage and David Stamets of the Mount Carmel Township Police Department were suspended after the shenanigans. Filarski is the officer who was treated for a hand injury.
According to a press release from council President Bruno Varano, Stamets and Filarski have been suspended with pay because they are full-time employees of the department. While McAndrew and Pitcavage will not be receiving pay during their suspension because they were not full-time employees.
News Item reported that the four officers were off-duty on Sept. 1, Labor Day, when the shenanigans occurred. According to the report, Kulpmont Patrolman David Tomtishen chased the unregistered Jeep for miles after a lit firework was tossed at his police car.
Township supervisor Chairman Charles Gasperetti said that he was "shocked and disappointed" by the officers' shenanigans.
"Honestly, they're human like anyone else and they need to be accountable for their actions. This will be taken care of. This won't be brushed under the carpet," he said.
Police Chief Brian Hollenbush is obviously concerned about how this is making his department look.
"I don't want to interfere with the investigation. You don't want people to think you're trying to cover up, I washed my hands of it and let the state handle it. I don't condone what happened. This is the proactive approach we're taking at this time until the investigation is over," he said
"We worked so hard to get where we are as a department. Now we have a black eye," he added.
John Vibes is an author, researcher and investigative journalist who takes a special interest in the counter culture and the drug war. In addition to his writing and activist work he is also the owner of a successful music promotion company. In 2013, he became one of the organizers of the Free Your Mind Conference, which features top caliber speakers and whistle-blowers from all over the world. You can contact him and stay connected to his work at his Facebook page. You can find his 65 chapter Book entitled "Alchemy of the Timeless Renaissance" at bookpatch.com.