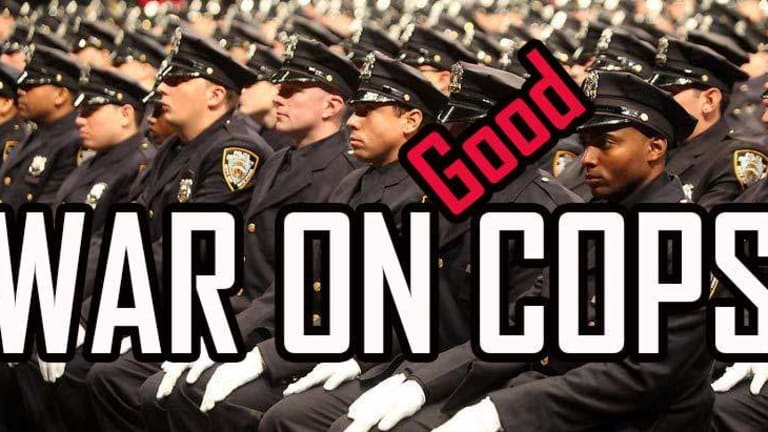 Real War on Cops Continues, 2 Officers Attacked by Dept for Exposing Fellow Cops' Corruption
For preventing brutality and reporting it to their department, two officers were suspended, demoted, and transferred.
When he saw two of their colleagues committing unprofessional, potentially criminal behavior, Dallas Police Officer Christopher Worden did precisely what the public expected him to do: He intervened to prevent the abuse, and then reported the misconduct to his supervisor,Sgt. Jason Scoggins, who filed the appropriate paperwork with the department.
According to a whistleblower lawsuit filed by the officers, for "crossing the Blue Line" both of them were hit with spurious excessive force complaints that led to lengthy internal affairs investigations and unwarranted administrative punishment.
On April 25, 2014, Officer Worden responded to a call at a downtown Wal-Mart. Officer Nicholas Smith and his supervisor, Sgt. Fred Mears, were already on the scene. Upon his arrival Worden witnessed an argument between Smith and a juvenile suspect, who was handcuffed in the back of a squad car.
Sgt. Mears told Worden to unshackle the teenager. Worden did as instructed, then Officer Smith removed his badge and gun belt in an effort to provoke a fight. Rather than taking charge of his subordinate, Sgt. Mears actually encouraged him to escalate the situation in the apparent hope of punishing the mouthy teenager for "contempt of cop." As the only practicing adult on the scene, Officer Worden moved to prevent what could have been a vicious episode of "street justice" by handcuffing the teen and putting him back in the cruiser. He then reported the incident to his superior, Sgt. Scoggins.
"They did exactly what every citizen of Dallas wants their police officers to do," attorney Chris Livingston, who represents the whistleblowers, commented to the Dallas Morning News. "They said `This needs to be investigated because it's wrong.'"
Mears and Smith each admitted their actions and were given administrative punishments. Within a few months, similar treatment was handed out to Scoggins and Worden as well – but in their case, it was done for the purpose of retaliation, not legitimate disciplinary action.
In September 2014, reported Dallas's CBS affiliate, Scoggins and Worden responded to a "shots fired" report. Following a vehicular pursuit the officers cornered the suspect, who was still armed and refused commands to keep his hands raised. Instead of shooting and killing the suspect, the officers took him to the ground and handcuffed him.
Rather than being commended for apprehending an armed suspect without killing or injuring him, Scoggins and Worden were accused of excessive force. According to the lawsuit, Worden was placed on administrative leave and then given a punitive transfer to a less desirable assignment. In the case of Sergeant Scoggins, the Internal Affairs department recommended a demotion. The officers appealed the disciplinary recommendation to Chief David Brown, who overturned that finding and restored them to their previous duty assignments. The damage to the officers' reputations on the force had already been done, however, and a message had been sent to other potential whistleblowers.
"Officers are being told, `You better not report it because, if you do, we're going to punish you for it,'" comments Livingston.
Richard Todd, president of the Dallas Fraternal Order of Police, denies that the complaint was an act of retaliation by Sergeant Mears for reporting the incident in the Wal-Mart parking lot. Speaking on Mears' behalf, Todd said that the officer "recognized that his behavior that day was wrong" while insisting that he "wouldn't retaliate against the officers who reported it."
However, according to the whistleblower suit, when Mears heard that Worden had been placed on administrative leave, he "celebrated … with a fist pump in front of at least two other sergeants."
Assuming that allegation is true, Worden's behavior says a great deal about what passes for his character. Something very different can be learned about Scoggins' character from a commendation he recently received.
In August, Sergeant Scoggins (who also provides off-duty service as a private security guard for the Dallas Jesuit Prep School) was one of four officers awarded a Medal of Valor for their actions in apprehending an armed burglary suspect at an apartment complex called The Glass House. The memorandum nominating the officers for the commendation recounts that Sergeant Scoggins and Officer Derrick Evangelista "voluntarily placed themselves in the line of the suspect's gunfire in order to protect potential innocent bystanders and to protect the lives of the officers inside the lobby."
Unlike most police officers, Scoggins has actually faced potentially deadly situations in the field. Like a growing number of law enforcement whistleblowers, he can testify of the professional perils posed by the real "war on police" – the ever-escalating campaign within law enforcement to stifle and punish conscientious officers who are unwilling to countenance corruption and abuse behind the Blue Wall.