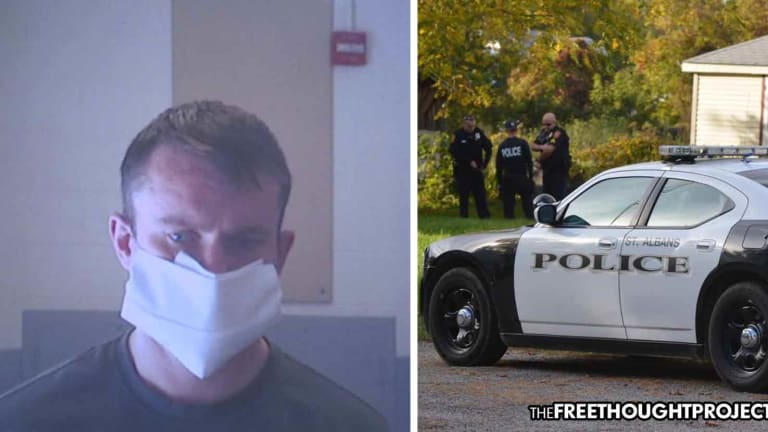 Records 'Disappeared' of Cop's Arrest Over Torturing Woman to Silence Her Claims of Child Rape
After being arrested on horrifying charges for allegedly kidnapping and torturing a woman who was going to out a cop as a child rapist, all records have been wiped out.
St. Albans, VT — The term blue privilege came about in this country after people began paying attention to the crimes committed by police officers and the subsequent lack of accountability they face when committing them. Over the years, TFTP has reported on countless cases of murdering, raping, child molesting, and rights violating cops escaping accountability for their actions with little to no jail time. In some instances, they aren't even fired for murdering unarmed innocent fathers, crawling on their knees, begging for their lives.
Continuing in the trend, in a case out of Vermont, a St. Albans police officer has received repeated hefty doses of blue privilege over his alleged crimes. In April of last year, he was arrested for allegedly breaking into a woman's home, beating her up, throwing her down a flight of stairs, and burning her repeatedly with a cigar. For good measure, he took his father along with him — who was also arrested for his role in the incident.
Despite these grim allegations, after Officer Zachary Pigeon, 29, and his father Allen Pigeon, 56, each pleaded not guilty to five charges: simple assault, kidnapping, obstructing justice, burglary, and unlawful restraint and they were released without bail and walked out of the courtroom. In December, despite the evidence in the case against them, the charges were thrown out.
The cop's privilege was even extended by his own department who issued nothing but praise for him after the arrest.
"There is nothing, nothing whatsoever in his file that would show up as a red flag or an indicator of any of the things that I have now heard that he is alleged to have done," St. Albans Police Chief Gary Taylor said. "We went all through it. He polygraphed twice-- and there is nothing."
Now, the privilege goes a step further and any mention of the incident is effectively being scrubbed out of official existence.
The VTDigger reports that records related to dismissed sexual assault and kidnapping charges against a former St. Albans police officer have effectively disappeared, following a court order that the records be sealed — even after two news organizations had requested the information.
The very existence of public records requests filed separately last month by VTDigger.org and Vermont Public Radio has been wiped clean from an online index kept by the Vermont Attorney General's Office that tracks the status of such requests.

Last Friday's court order sealing the records is also unavailable to the public. According to state law, if a case is dismissed before trial, the court "shall" within 60 days seal the records unless an objection is raised.
According to the victim, as reported by the St. Albans Messenger, she says two men she identified as Zachary and his father Allen Pigeon entered her home the first weekend in April, dragged her from the couch where she was sleeping, threw her down some stairs and off her porch, then pulled her back up it and again threw her down again, this time off a section of porch with no stairs, before burning her back with a cigar.
State's Attorney Diane Wheeler disagreed with the judge at the time and pushed for both men to be held without bail. She did not get her way. Instead, two men accused of attempting to cover up a case of long-term sexual abuse, by torturing a woman, were released to their homes.
According to WCAX, the victim told investigators she was repeatedly sexually assaulted by Zachary Pigeon between 2003 and 2007. Police say when she recently threatened to reveal the alleged attacks, Pigeon and his father kidnapped and assaulted her.
According to the affidavit, Zachary and Allen Pigeon told the woman "if she said anything more, or tried to get them in any more trouble, she'd be dead, or she'd be wishing she was worse than dead," according to the affidavit.
The woman told police that Pigeon had repeatedly sexually assaulted her over the course of several years when she was only a child. Zachary was a teenager at the time of the alleged assaults.
The victim "told police the assaults began when she was in the fourth grade and continued until the eighth grade, when she moved and was no longer living where Zachary could assault her. She said he threatened to assault her younger sister if she resisted him, and that he would hold a box cutter to her throat, nipples or another vulnerable part of her body to degrade her if she tried to refuse."
When interviewed in the investigation, both Pigeons denied the allegations and told investigators that the victim was unreliable.
Apparently, this dismissal of the woman's credibility by the officer and his father was enough to deter any future investigation, as evidenced by the "disappearance of the records," and the case was thrown out.
On Dec. 31, the Attorney General's Office announced that the charges against both men had been dismissed.
"The state provided notice that it cannot meet the elements of the charged crimes beyond a reasonable doubt at this time," Attorney General TJ Donovan said in a statement.
The VTDigger is not giving up, however.
"Our initial reporting showed that the victim was allegedly kidnapped and assaulted by family members, one of whom was a law enforcement official," Anne Galloway, editor in chief of VTDigger, said in a statement.
"The public has a right to know the details of alleged physical abuse by a police officer whose role is to protect and serve the public," she stated. "We are heartened that the Vermont Attorney General's Office has asked the judge to reconsider the decision to seal all records in the case."
Mark Davis, VPR's managing editor, issued a similar statement, saying, "We are deeply concerned and are evaluating all our options."
Indeed. The fact that these records, which should be public, are being held from the public light, is disconcerting at best and evidence of a massive coverup at worst.