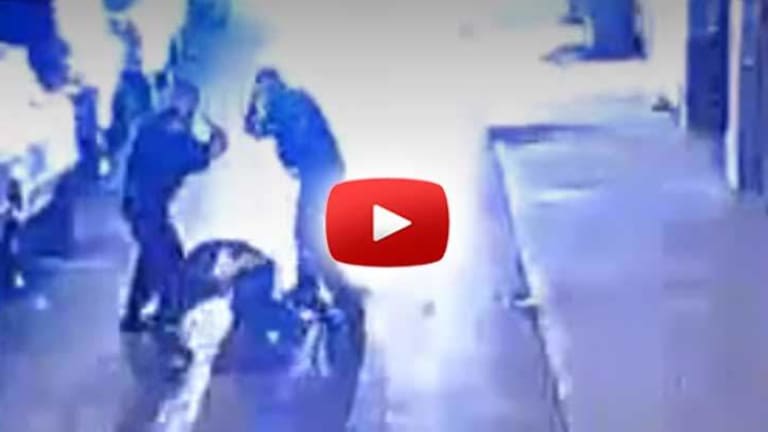 "Reminiscent of Rodney King" - Cops Caught on Video Savagely Beating a Man for Several Minutes
Baton blow after baton blow rain down on a surrendering man in a brutal beating described by the public defender as "Reminiscent of Rodney King"
San Francisco, CA - An investigation into the brutal beating of man in San Francisco's Mission District has been launched by the Alameda County Sheriff after video showing the savage assault by police went public.
The video was released by the San Francisco Public Defender's Office on Friday night, after being contacted by witnesses to the vicious attack.
Pulling no punches, Public Defender Jeff Adachi said the encounter was "reminiscent of Rodney King," and excessive force was clearly used by the two deputies.
According to a report by The San Francisco Chronicle:
The video shows the deputies chasing after a man at the corner of Clinton Park and Stevenson Street at about 2:05 a.m. Thursday. One deputy jumps on the man, knocking him down, and goes on to punch him twice while he was still on the ground.

He gets off as the second deputy pulls out his baton, and uses it to strike the man on the head. The video jumps 10 seconds to both deputies using their batons on the man as he struggled on his knees and screamed for help.

The video jumps once more to show the man on his knees with his hands on his head, and one deputy pushing him to the ground so he and the other deputy could continue hitting him with their batons.
A spokesman for the Alameda County Sheriff's Office, Sgt. J.D. Nelson, attempted to excuse the vile behavior of the cops caught on video by claiming that the beating with police batons was the result of a 38-minute car chase; as if that would justify the cops' actions.
Forwarding the police narrative, Nelson said deputies approached a man sitting in a stolen car at 1:30 a.m. on Thursday, at which time the man knocked down and injured one deputy while attempting to ram two police cruisers, disabling one. At this point the second officer was able to give chase in a damaged patrol car, Nelson said.
"Then we start on a 38-minute chase that went from San Leandro, to Oakland, through the streets of Oakland, onto the freeway, over the Bay Bridge and through downtown San Francisco and finally onto Stevenson Street, where the man crashes his car and gets out and starts running," Nelson said.
To further attempt to justify the beat down, Nelson said that police believed the man was armed and that police recovered a gun, but didn't know where the gun was found.
It must be noted that a common police tactic, used as a means of providing legitimacy for violent actions, is to carry "throw away" weapons. These weapons have their serial numbers removed, are concealable, and are often used in circumstances where disciplinary action would result. In essence, they're a "get out of jail free" card for cops.
In addition to all the other excuses for beating the man with batons, the deputies claimed that they believed the man to be on drugs and that they were unsure what he was capable of doing, according to Nelson.
Adachi was clear about what he saw transpire in the video, regardless of the plethora of excuses forwarded by the police to potentially justify this Rodney King-like beating.
"From what you can see on the video, he's turning the corner and they're able to subdue him. They clearly had him on the ground. He didn't pose any threat at that point, and they are clearly using excessive force and trying to seriously hurt him when he was on the ground and subdued."
The badly beaten man was transported to San Francisco General Hospital, and was subsequently released and booked into the Santa Rita Jail.
"I don't see any reason why he couldn't be handcuffed and taken into custody. The blows, after they took him to the ground, were excessive by any measure, any standard. It's shocking to see," said Adachi.

Jay Syrmopoulos is an investigative journalist, free thinker, researcher, and ardent opponent of authoritarianism. He is currently a graduate student at University of Denver pursuing a masters in Global Affairs. Jay's work has been published on Ben Swann's Truth in Media, Truth-Out, MintPress News, as well as many other sites. You can follow him on Twitter @sirmetropolis, on Facebook at Sir Metropolis and now on tsu.