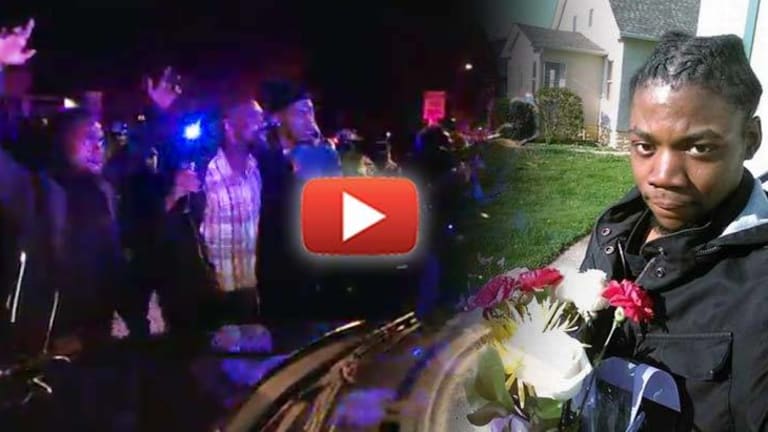 Residents Declare 'Cop Free Zone' After they Say Cops 'Executed' Handcuffed Man
"Minneapolis is one bullet away from Ferguson. And that bullet hit last night." Residents take to the streets after police have pushed them over the line.
Minneapolis, MN -- In the second of two police-involved shootings in Minneapolis this weekend, residents have had enough. Black Lives Matter supporters have pledged a new Ferguson after witnessing what they say wer police officers murdering an unarmed and restrained man.
The details about the latest killing by police vary considerably depending on which side is explaining, including whether or not the man is even alive. According to the police, officers were responding to an assault call on the 1600 block of Plymouth Avenue North around 12:45 a.m. Upon arriving at the scene, police found a suspect "confronting paramedics and disrupting their ability to render aid," an email news release says. Officers attempted to calm the suspect but a physical altercation ensued, police said. At some point during the struggle, an officer shot his weapon, hitting the suspect. Police say the man was then brought to the Hennepin County Medical Center, where they say he is being "treated." However, as of Sunday night, police refused to release any further details.

According to the residents, however, the man was shot by police 'execution style and was 'brain dead' in the hospital and is now dead. Nekima Levy-Pounds, president of the Minneapolis NAACP, said in a statement that the man who was shot is Jamar Clark, a black man in his mid-20s.
"He didn't resist. He did not fight back. There was no struggle, and he was in handcuffs when he shot that young man," Nekelia Sharp, who lives nearby, told KSTP, noting after he was shot, police took him out of the handcuffs.
Police have not said if the shooting was caught on video, saying that is part of the investigation. However, according to a post by local
This camera more than likely caught the shooting of #JamarClark. Building owners say BCA told them not to talk. pic.twitter.com/PeNHEV2n9y
— Sam Richards (@MinneapoliSam) November 15, 2015
" target="_blank">journalist Sam Richards, a security camera may have captured the shooting.

The NAACP statement quoted witness Teto Wilson, who said Clark "was just laying there. He was not resisting arrest. Two officers were surrounding the victim on the ground, an officer maneuvered his body around to shield Jamar's body, and I heard the shot go off."
According to the Star Tribune,
Clark's relatives, including several sisters, gathered in a room on the seventh floor intensive-care unit at Hennepin County Medical Center Sunday afternoon where a physician told them that Clark is brain dead, according to one family member. Clark was shot "in the head, execution style," a family member said.
Immediately following the shooting, witnesses and other residents began to take to the streets chanting at police officers and declaring the area a 'cop free zone.'
"We've been saying for a long time that Minneapolis was one bullet away from Ferguson. Well, that bullet was fired last night," said Jason Sole, an associate professor at Metropolitan State University and a member of the local NAACP chapter.
"We're here because police officers have gotten away with murder for so long and we're tired of it," Mica Grimm, an organizer with Black Lives Matter Minneapolis said.
As of Sunday night, the two officers involved in the shooting have yet to be identified, but police did say that they have been placed on administrative leave.
Sunday night, audio of the police radio was released. That audio can be heard below.