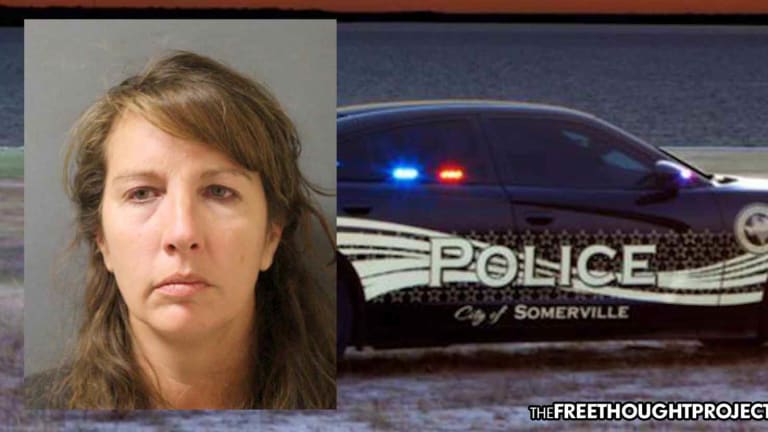 Residents Horrified to Find Out Cop Once Charged with Murder Hired to Patrol Their Streets
After being charged with murder and fired for her role in the death of an innocent man, a cop was quietly hired to patrol a neighborhood and residents aren't happy.
Harris County, TX — Terry Thompson, a 41-year-old Harris County man choked another man to death at a local Denny's in 2017 as his police officer wife, Chauna Sheffield Thompson, aided him by not interfering. The dramatic footage of the interaction emerged days later which prompted a heavy backlash by people wanting to know why the couple was not charged. However, after the backlash, Thompson and his wife were both charged with murder.
A jury convicted Terry Thompson of murder for the death of John Hernandez in 2018 and and he was sentenced to 25 years in prison. Charges against Chauna Thompson, however, were quietly dropped last year and now she is patrolling a neighborhood in Houston.
Naturally, residents of the Balmoral Sub-Division are less than pleased with this scenario.
As FOX 26 reports, emails to the Balmoral Sub-Division Homeowner's Association started pouring in about two weeks ago when residents found out their security officer was former Harris County Sheriff's Deputy Chauna Sheffield Thompson, who was fired after Hernandez was killed in a Denny's parking lot.
After the murder charge was dropped against Thompson, she was hired to patrol the Balmoral Sub-Division.
"We don't want anything like that to happen here," says Balmoral resident Marilyn Gilliam Mattax.
"Why would we have someone like that patrolling our neighborhood?" asks Balmoral Dennis Simmons.
"With the systemic racism that's going around in America, it doesn't surprise me that you would hire someone like that. Black people know that conversation we have to have when our kids go out, even just going to the pool, in order to make sure my son comes home every day and that's not good. We shouldn't have to live like that," says Simmons.
"As a police officer she failed to protect and serve a gentleman while her husband murdered him," adds resident John Barras.
"If you can't feel safe in your own home in your own neighborhood then where are you going to feel safe?" asks Barras.
"That's a different type of fear every time you go out are you going to come back home? That's scary to me," says resident Darrell Daniel.
"If you've already shown disregard as a sworn officer I don't see how you can continue to serve the people in that realm ... Try to find a different type of employment," says Daniel.
We agree. though the charges were dropped against Thompson, the video of the incident does not lie and shows Thompson stand by and do nothing as her husband murders John Hernandez — making her an accessory at the very least.
"The video to me is almost by itself enough. You see a person on the ground who is completely immobilized and grunting and moaning. And you see a big guy on top of him choking him and he dies of that choking," said Hernandez family attorney Randall Kallinen.
As TFTP reported, Hernandez, 24, was drunk when he went to the restaurant that fateful Sunday night, his family told reporters. From the surveillance video, a wobbly Hernandez can be seen entering the restaurant. He sat down but got up to leave the establishment, over the objections of his wife who pleaded for him to stay.
The drunken man then reportedly relieved himself outside the front entrance, apparently in front of the deputy and her husband. Taking umbrage with the grown man peeing in the parking lot, the deputy's husband confronted Hernandez about his actions.
According to the Thompson, he claims the drunken Hernandez struck him and started a fight which ended when the deputy's husband reportedly choked the man unconscious. The alleged strike was never confirmed. The off-duty deputy helped restrain Hernandez and noticed he wasn't breathing.
She started CPR and waited for paramedics to arrive. After on-duty police arrived, surprisingly, the deputy's husband was not immediately charged with assault, involuntary manslaughter, manslaughter, or even murder.
Hernandez was transported to the hospital by ambulance, was placed into intensive care, but was later taken off of life support, and died.
Following Hernandez' death, Harris County Sheriff Ed Gonzalez asked for the Texas Rangers and the Department of Justice to become involved in the investigation.
From the video, the large man in a red tank top (deputy's husband) can be seen seemingly choking Hernandez to the point which led to his demise. Bystanders, apparently realizing what was taking place, attempted to step in front of the camera as the man can be seen rendering Hernandez incapacitated.
Thompson can be heard telling Hernandez, "Do you want me to hit you again?" Panic can be heard in the young lady's voice standing nearby when she notices someone is recording the incident.
Thompson was free on bond during the trial, according to FOX 26, but moments after the jury found him guilty of murder, he took several deep breaths, turned to his wife and mouthed "I love you". Then his freedom was gone. Thompson was handcuffed and taken to jail.
"I'm satisfied to know justice was served and he cannot be free after what he did," said John Hernandez's parents Ignacio and Elena Hernandez at the time.
As the video shows, Thompson's weight, combined with the choke, contributed to Hernandez' fatal injuries.
One man, dressed in what appears to be biker attire, threatened the person recording the attack with going to jail and continued to step in front of the camera.
No one, in the 52-second video, can be seen attempting to break up the fight, appearing to be more concerned with the fact someone was recording the encounter than fearful someone may be dying beneath Thompson's weight.
After being ousted by her employers in the Sub-Division, the HOA confirmed on Tuesday that Chauna Thompson is no longer patrolling the neighborhood. However, it is only a matter of time before this gypsy cop finds her place in another department. In fact, she already tried to get her job back earlier this month at the Harris County Sheriff's Office but was denied by council members — not the department. This was after she was hired by the city of Somerville last year to be a police officer but got fired after someone recognized her.