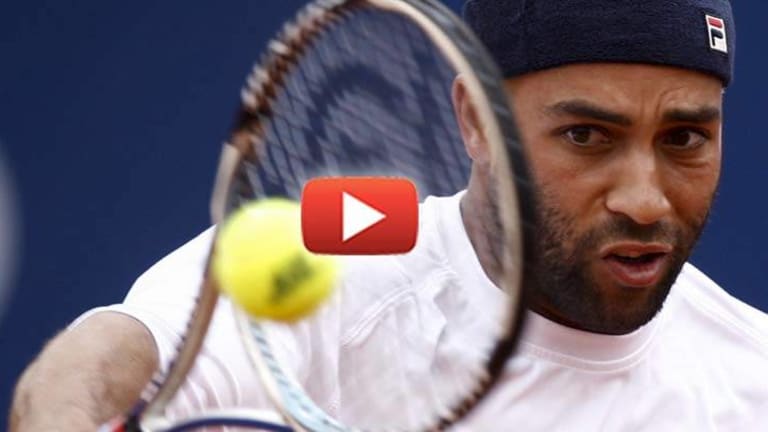 Raging Cops Thought Tennis Star James Blake "Fit the Description," So They Attacked Him at His Hotel
Tennis star James Blake was tackled and cuffed outside of his hotel in NY when he was mistaken for a suspect in a cell phone scam.
New York, NY -- Retired tennis great James Blake was tackled by plainclothes members of the NYPD Wednesday outside of his hotel. He arrived Wednesday morning and was waiting for a car in front of the Grand Hyatt on East 42nd Street. Blake was texting when he noticed "someone in shorts and a t-shirt charging at him," according to the NY Daily News.
"Maybe I'm naïve, but I just assumed it was someone I went to high school with or something who was running at me to give me a big hug, so I smiled at the guy," Blake stated.
The man slammed the tennis star onto the concrete and screamed for him to roll onto his face and not say a word. Blake responded "I'm going to do whatever you say. I'm going to cooperate. But do you mind if I ask what this is all about?" The cop assured him he was in "safe hands."
"I didn't feel very safe," Blake said later. He was only released when a former cop recognized Blake and let the thugs on top of him know he was, in fact, who he said he was.
"It was definitely scary and definitely crazy."
According to Blake, none of the men identified themselves as police officers until after attacking him.
The NYPD PR team jumped promptly into action, issuing this statement:
"Today James Blake was detained by police in midtown Manhattan in regards to an ongoing investigation into fraudulently purchased cell phones, after being misidentified by a cooperating witness. Once Blake was properly identified and found to have no connection to the investigation, he was released from police custody immediately. In regards to the alleged improper use of force, the Police Commissioner directed the internal affairs bureau to investigate."
Blake says he was hesitant to speak publicly about his ordeal, but felt it was important to call attention to yet another example of police brutality.
"I have resources to get to the bottom of this. I have a voice. But what about someone who doesn't have those resources and doesn't have a voice? The real problem is that I was tackled for no reason and that happens to a lot of people who don't have a media outlet to voice that to."
When asked if he though his race was a contributing factor to his assault, he replied,
"I don't know if it's as simple as [racial profiling]. To me it's as simple as unnecessary police force, no matter what my race is. In my mind there's probably a race factor involved, but no matter what there's no reason for anybody to do that to anybody.

You'd think they could say, 'Hey, we want to talk to you. We are looking into something. I was just standing there. I wasn't running. It's not even close [to appropriate]. It's blatantly unnecessary. You would think at some point they would get the memo that this isn't OK, but it seems that there's no stopping it."
Thank you, James Blake, for speaking out. Hopefully they'll get that memo soon.