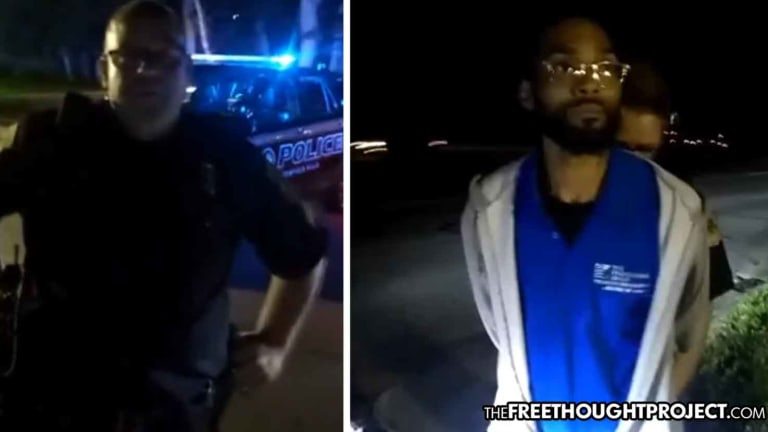 EXCLUSIVE: Video Shows What Riding Your Bike to Work In a Police State Looks Like
Three police cruisers and four officers were dispatched to stop an entirely innocent man who was riding his bicycle to work.
Bloomfield, MI — In the land of the free, riding a bicycle in a manner not exactly in line with the police state can and will get you extorted, arrested, or worse. As the following video below shows, even struggling Americans trying to drive from job to job are targeted by police and extorted.
Thursday night, Brian Frank had done nothing wrong, had harmed no one and was riding his bike from one job which he had just finished, to another job one town over. Frank says he saved up and bought a truck, but said that he is still trying to save up to get his driver's license. In the meantime, he rides his bike to both of his jobs.
Because he didn't have a light on his bicycle that night, Frank tells TFTP that he was holding his phone flashlight up to comply with the light requirement. However, this meant nothing to the Bloomfield police officer who just knew this hardworking young man was actually a criminal in disguise and needed to be extorted and arrested.
Because Bloomfield doesn't have sidewalks or a bike lane, Frank said he was riding as close to the grass as possible as he traveled to his second job. But he was stopped anyway.
As the video shows, the officer who originally stopped Frank appeared to be agitated and unprofessional, calling in backup for a man on a bicycle. Remember, Frank had harmed no one and was merely trying to go to work when he found himself quickly surrounded by multiple armed agents of the state.
One would like to believe that most cops would have used their discretion at this point and let Frank go — especially considering the fact that he showed them he was in the uniform from his job. However, one would be wrong, at least in Bloomfield.
Frank pleads with the officers to just let him go as this detainment is going to make him late for work. But this does not happen. After holding the otherwise entirely innocent man on the side of the road for several minutes, the female officer on the scene emerges from her unit and places Frank under arrest.
As if they were intentionally trying to make him late, Frank was then handcuffed and thrown in the back of the police cruiser while cops cited him for riding his bike without the proper lighting—for over 30 minutes. What's more is this citation was a civil infraction, which did not require Frank to be handcuffed or thrown in the back of the cruiser and usually takes only minutes to write.
Four cops, several cruisers, handcuffs and a 45 minute stop, all because a man was riding his bicycle to work. Do these officers have no actual crimes to solve? Are their jobs so boring that they have to resort to deploying four cops to a stop over a bicycle light? Apparently so.
"I'm sure they could've found something else to do with their time than mess with me like that over a bike light," Frank told TFTP in an interview. We agree.
Sadly, this sort of stop and violence over improper bicycle lighting is not uncommon.
As TFTP previously reported, an officer's dashcam video showed a disturbing scene unfold as a police officer stops a man on a bicycle. An unarmed, shirtless, shoeless man is mauled for several minutes by a police K-9.
The reason for the stop was the cyclist was riding without a light on his bike.
Also, as we reported, the Sacramento police department released the body and dashboard camera footage from an incident last July in which an officer attempted to cause grave injury to a child by running him over with his cruiser. The child's crime? He was riding his bicycle without the proper lighting. Now, the taxpayers are going to be held liable for this cop's actions.