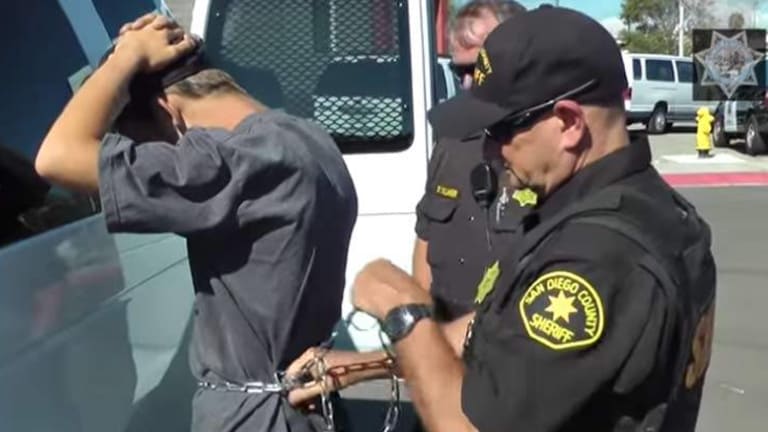 New Rights Violating Operation By San Diego Cops Makes "Stop and Frisk" Look like Child's Play
The ACLU refers to the SDPD's "Operation Lemon Drop" as "a military operation that would have befitted the apprehension of a terrorist."
San Diego has completed what may be the first in a series of citizen harassment programs similar to New York City's notorious "stop-and-frisk," but far more sweeping.
In Operation Lemon Drop, San Diego officers swept through public trolleys at Lemon Grove station, checking every person aboard to see if they paid the trolley fare. Those who couldn't show proof were taken off for more questioning.
Christina Griffin of the ACLU described it as "…a military operation that would have befitted the apprehension of a terrorist. There were police and sheriff's cars surrounding the Lemon Grove trolley station and what appeared to be about 70 police, sheriff and MTS officers, some in what looked like riot gear."
The ostensible goal of Operation Lemon Drop is to catch bad guys before they commit crimes. Of the 16,631 people harassed by the cops over a four-month period, 186 were arrested. 99% were neither cited nor arrested for anything.
Voice of San Diego explains that the targets of the 2014 operation were ex-inmates who had committed non-serious crimes and were freed from jail with no parole or probation requirements. They were released under a 2011 realignment program which shifted some incarceration duties from the state to the county level.
The idea of targeting people released from jail is itself an injustice.
"You have an officer who says let's go after the 'worst of worst.' Well, if that's what they are, why are they out? Someone has made a determination that they should be released without stipulation," said Steven Zeidman of the CUNY School of Law.
The reality of Operation Lemon Drop is that thousands of people are subject to dragnet-style questioning, trampling on the simple liberty of riding a trolley in peace. Cops invade your privacy using the bogus reason of a trolley fare which they actually care nothing about.
Besides the assault on freedom, the operation yielded poor results for authorities, with only 1 percent of the people contacted being arrested (some for misdemeanors). The San Diego police department could not even say how many of these were the ex-inmates supposedly targeted.
San Diego authorities claim that Operation Lemon Drop is reducing the county's crime rate. However, crime is falling across the state of California, and San Diego is the only county where such a program exists. So the veracity of that claim is dubious.
Programs like Lemon Drop and NYC's stop-and-frisk are spawned from the Broken Windows theory of policing where petty offenses are heavily targeted, most often in minority communities. The purpose is to prevent serious crimes by creating an "atmosphere of order and lawfulness."
Criticisms of the theory are strong and numerous. In the end, it's just another way for the government to instill fear in communities, spend/collect revenue, and use their fancy new military gear.
Below is the "commercial" for violating your rights, put out by the SDPD.
Correction, 2/9/2105 -- The San Diego Sheriff's Department could not say how many of the arrested were the targeted ex-inmates. The original sentence stated it was the San Diego police department. Sheriff's officers and Metropolitan Transit System security officers were involved in Operation Lemon Drop.