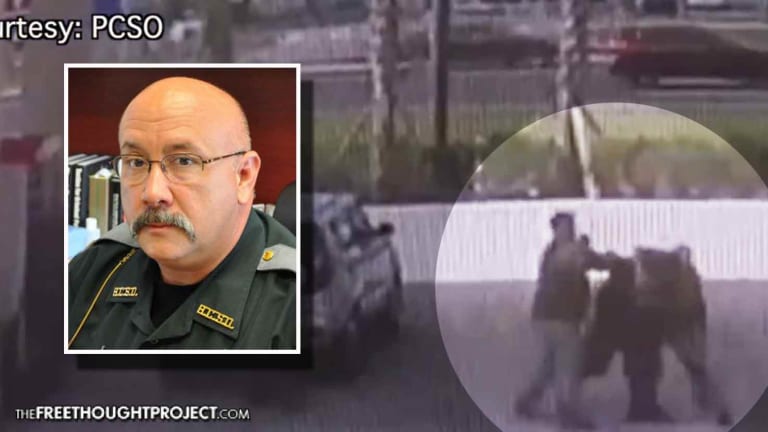 Cop Caught on Video in Disturbing Fit of Road Rage Trying to Kill Innocent Man
A former deputy was arrested this week after surveillance footage showed him trap an innocent man in a gas station ben severely beat him in a fit of road rage.
Hudson, FL — Road rage is a very real and very dangerous issue in America today. All too often a simple honk of the horn can end in a wreck, violence, or worse. However, when the person who rages carries a badge and a gun, they can claim legal authority to ticket, kidnap, cage, or kill you. All too often, because the aggressor is a police officer, they are never held accountable for their actions. However, in the incident below, an officer's aggression was so egregious, that he was actually arrested for it.
A former Hernando County Sheriff's deputy has been charged and arrested for initiating an unprovoked and violent attack on an innocent man in a disturbing case of road rage at a gas station in Hudson, Florida.
What makes this act of rage so disturbing is that the former deputy wasn't involved in the initial act which led to the rage. He was acting as a hitman of sorts at the request of a family member.
The incident began last week when the unidentified victim raised his middle finger at a driver—something that happens constantly on nearly every road across the country. However, the driver—apparently offended at the gesture and knowing her family is protected by the thin blue line—then sicced the former deputy and his son on the man who'd dare raise his middle finger at her.
The deputy, identified as former Sheriff's Lt. Peter Ciucci, who spent more than 20 years with the Hernando County Sheriff's Office, and his son, then tracked the innocent man down at a local RaceTrack and proceeded to unleash a violent fury on him.
Ciucci and his son then cornered the man at the gas station and pulled him out of his truck. During this time, the victim attempts to call 911, but one of the thug attackers slapped the phone out of his hand.
The victim described the attack as "two vigilantes that decided to take the law into their own hands."
Investigators say Ciucci and his son, Nicholas Ciucci, dragged the victim out of his truck, repeatedly punching him in the face, trying to knock him down, according to ABC Action News.
The report also states, "the two defendants continued to punch the victim in the back of the head multiple times while the defendant placed the victim in a choke hold. The defendant's son sat on top of him in the parking lot, while the other strangled him from behind."
Because someone dared raise his middle finger at his family member, this cop was seemingly prepared to take a man's life. What's more, this is the same person who the citizens of Hudson County entrusted to "protect" them.
According to the report, Peter Ciucci has been charged with Burglary Battery and False Imprisonment. Nicholas Ciucci has been charged with Vehicle Burglary, Simple Battery, and False Imprisonment.
The unnamed victim's statement serves as an answer to the question of how this cop thought he could simply beat a man nearly to death and get away with it.
"I believe that this man thought he was above the law," said the victim.
Unfortunately, road rage among police officers is not an isolated incident. As TFTP reported earlier this month, Kieran Walsh, a 59-year-old Marine veteran, and partial amputee was left stranded on the side of the road last month after a police officer road raged on him for honking his horn.
Because officer Stephen Salot claims the authority to detain people for victimless crimes, he moved to pull the person over who would dare to honk at him. "Evidently he didn't like that," Walsh said of the brief horn beeping.
Walsh, who had just undergone surgery to remove his foot over complications from diabetes, was then left stranded on the side of the road because officer Salot confiscated his vehicle in his fit of rage. The amputee veteran was forced to painfully hobble home, causing him severe pain and injury.