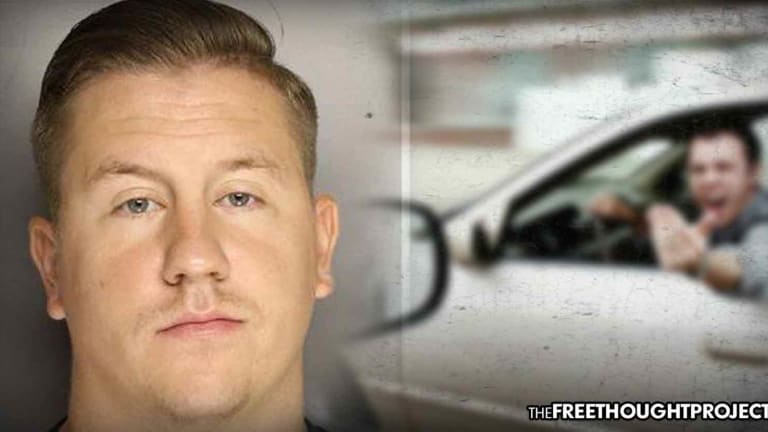 Cop Fired and Charged for Pulling Gun During Road Rage, Given Job Back, Plus Back Pay
A cop who held a gun to a motorists head during a road rage incident, and then got caught lying to investigators about it, was just given back his job and back pay.
Pittsburgh, PA — As the Free Thought Project reports—on a regular basis—police officers are caught in fits of road rage all the time. While road rage is an unfortunate reality in America, when a police officer is involved, the situation becomes far more dangerous as they have authority, and they have a gun. All too often police officers will be caught road raging on innocent citizens and it is the citizen who suffers. And, as the following incident below highlights, because the offender wears a badge and a gun, they are almost never held accountable.
Pittsburgh police officer Robert Kramer of Crafton Heights was charged with assault in 2017 after he held a gun to a man's head in a road rage incident, and lied about it to investigators. Kramer was subsequently fired from his job after the incident.
However, because this system is so corrupt and designed to protect violent and dishonest law enforcement officers, Kramer not only beat the charges, but this week he beat the firing.
As the Pittsburgh Post-Gazette and KDKA-TV report, Allegheny County Court judge upheld an earlier arbitration ruling that fired Pittsburgh police officer Robert Kramer should be reinstated with back pay dating to his Oct. 2017 termination.
Judge Donald Walko Jr. upheld the ruling that Officer Robert Kramer, who was fired amid allegations that he pointed a gun at a man during an off-duty road rage incident in 2017, should be returned to his job and receive back pay.
Because the decision to reinstate this violent cop is such a bad idea, the city appealed it. However, this has garnered disgust from the police union.
Naturally, the idea of a crazed gun wielding lying cop getting placed back on duty is music to the ears of the Fraternal Order of Police Fort Pitt Lodge No. 1, who noted they were "pleased" with the decision to give Kramer back his job and thousands of dollars in the process.
"He's upset the city won't comply with these rulings," Union President Officer Robert Swartzwelder said on Wednesday. "He's personally upset about it because they're putting him in a dire financial situation. Every time he is successful in court, the city says, 'We don't care what the judiciary has to say.'"
Swartzwelder called the city's decision to appeal the reinstatement "irresponsible" and called for Kramer to be immediately returned to the job.
The city now has 30 days to appeal the decision once more in an effort to keep this literal loose cannon off the street.
As the Post-Gazzette reported at the time:
On May 3, a driver named Jesse Smith called 911 to report a road rage incident, according to a criminal complaint.

Mr. Smith, whose age and neighborhood were not listed, told police that he was driving at the intersection of Chartiers Avenue and Straka Street in Sheraden when a black Mercedes pulled alongside his sports utility vehicle.

The driver, later identified as Officer Kramer, rolled down his passenger side window and the two men began to argue about speed and reckless driving.

Next thing he knew, Mr. Smith said, he was "looking down the barrel of a silver revolver with a short barrel, with bullets in the chambers," according to the criminal complaint. The gun was pointed right at him, he said.
Kramer then sped away and was later caught by police. When questioned about shoving the gun in the man's face, Kramer claimed to be holding a cellphone and told police he never owned a silver revolver. However, that was a lie.
Records kept by Pennsylvania State Police show that Officer Kramer purchased a Smith & Wesson revolver in 2013. He then used the weapon for police firearm training that same year, according to records kept by the Pittsburgh Police Firearms Training Academy, the Gazette reported.
When a search warrant was executed at his home, police found the revolver.
Despite lying to investigators about the gun, Kramer was acquitted and will now be given back his job along with back pay. And we will refer to this entire process as "justice" in the land of the free.