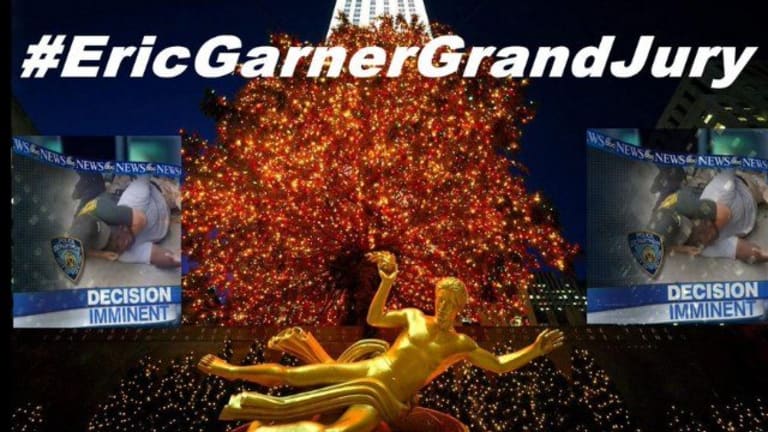 Protestors Plan to Shut Down Rockefeller Xmas Tree Lighting Ceremony Tonight In Wake of Garner Decision
New York City, N.Y. – In another fatal blow to the credibility of the US justice system, the grand jury has failed to indict officers in the July 17, killing of Eric Garner, a 43-year-old father of six. Demonstrations have already begun across the country.
The first major action in New York City will take place at the annual Christmas Tree Lighting Ceremony at Rockefeller Center where protestors plan to #ShutItDown, which is trending on twitter as outrage over the latest injustice over killer cops grips the nation.
Happening now:
Protestors will be meeting at 6 p.m. (EST) at Union Square, then marching to Rockefeller center for the 7p.m. Christmas Tree Lighting Ceremony.
There are also protests planned at Times Square. Protests have already begun at Grand Central Station amongst a heavy police presence.
Protests in Los Angeles will begin at 5 p.m. (PST) at Crenshaw and MLK. It is time for people to get out in the streets and send a message that we will not tolerate these injustices by the police state any longer. If there is no justice, there will be no peace.

Police in New York have already started shutting down streets in the area around Rockefeller Center. An NYPD media advisory stated 48th, 49th, 50th, and 51st Streets between Avenue of the Americas and Fifth Avenue will be closed from 3 p.m. until the conclusion of the of the ceremony.
It's reported that the cops are already checking peoples ID's in the area so be sure to film all interactions with the cops.
Americans will no longer tolerate jackboot thugs violating their rights without consequences. If the system won't hold cops accountable then the people will. Until there is justice, there will be no peace. Get out in the streets and make your collective voices heard!
Jay Syrmopoulos is an investigative journalist, freethinker, researcher, and ardent opponent of authoritarianism. He is currently a graduate student at University of Denver pursuing a masters in Global Affairs. Jay's work has previously been published on BenSwann.com and WeAreChange.org. You can follow him on Twitter @sirmetropolis, on Facebook at Sir Metropolis and now on tsu.