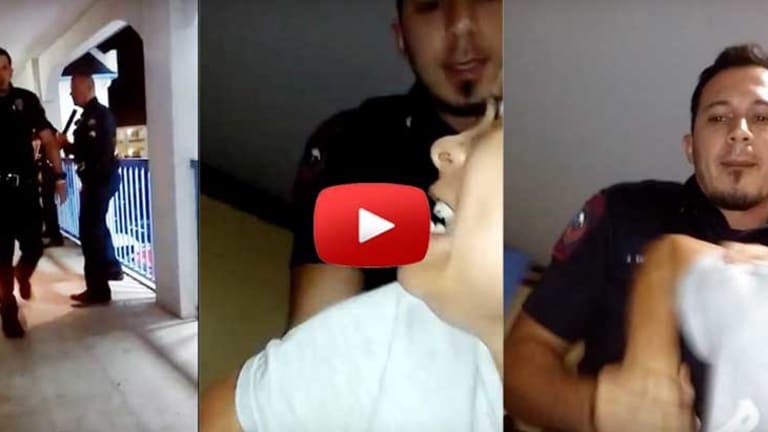 Infuriating Video Shows Cop Brutalize Innocent Woman, Violate Her Rights -- To "Protect Her"
A Rosenberg Police officer tried to "help" an innocent woman by breaking into her home, attacking her, and holding her hostage.
Rosenberg, TX -- An infuriating video taken by a Texas woman shows a Rosenberg police officer attack her -- for her own protection.
The victim, Sydney Tawater was standing in her own doorway when Rosenberg police officer Adam Vasquez became angry that she was filming him.
According to Tawater, officers were fine with her standing outside of her doorway -- until she began filming. When officer Vasquez noticed Tawater filming him, he lost it.
"Go inside," he orders.
"No," she says.
"Get inside, move!" he says.
"I'm .." she says.
"She was the one who was being assaulted," Vasquez says.
"No, I wasn't assaulted," she says. "No, I wasn't assaulted."
Clearly illustrating the contrived nature of his claim, one officer is seen walking right past Tawater as Vasquez attempts to violate her rights as she was clearly no threat.
When Tawater does not immediately go inside and prostrate herself to the officer's unlawful order, Vasquez attacks her. The officer then tried to justify this assault by claiming Tawater was a victim of assault.
To protect an assault victim, this public servant assaulted the supposed victim. 
Vasquez proceeded to grab the woman half his size, enter her home without her permission, and throw her around like a rag doll -- all of this, to protect her.
"Sir, you can't walk in here," Tawater says.
"Yes, I can," Vasquez says as he batters the innocent woman.
In some insane fashion, the entire time Vasquez is assaulting Tawater, he continues to refer to her as the "victim."
"You're not cooperating with the investigation," he insists. However, the only thing she was doing prior to his attack was filming him.
Vasquez clearly forgot the oath he swore to the constitution that guarantees Tawater's First Amendment right to record in public. Not only did he forget about the First Amendment but he also ignored the Fouth when he entered her home with no warrant and without permission.
"If a random man was assaulting me wouldn't I be part of the investigation but they decide to come into my dwelling and assault me instead for recording because I was concerned for the guy," Tawater wrote on her Facebook page.
According to Tawater's Facebook page, she was injured during Vasquez' attack.
In the land of the free, police will violate a supposed assault victim's rights by assaulting her and breaking into her home -- and this will be called "justice."
In spite of video after video exposing the violent nature of police officers attacking people for filming, this insanity continues.
Please feel free to visit the Rosenberg Police Department's Facebook page and peacefully explain to them that officers acting like this is the reason for so much of the divide in America today.
[author title="" image="https://tftpstagingstg.wpengine.com/wp-content/uploads/2016/03/magorist-e1456948757204.jpg"]Matt Agorist is an honorably discharged veteran of the USMC and former intelligence operator directly tasked by the NSA. This prior experience gives him unique insight into the world of government corruption and the American police state. Agorist has been an independent journalist for over a decade and has been featured on mainstream networks around the world. Follow @MattAgorist[/author]