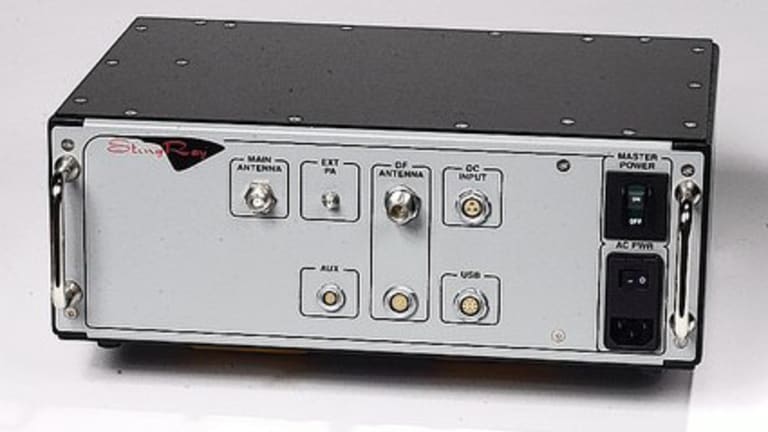 Sacramento Sheriff Confronted Over Stingray Surveillance
"We've dealt with your incessant badgering of our department over these issues"
Mikael Thalen
June 24, 2014
Sacramento County Sheriff Scott Jones became visibly irate this week after being questioned over his department's secret use of the cell-phone tracking technology known as Stingray.
According to reports from ABC News 10, the department obtained the Stingray, a small device that collects countless cell users data by mimicking a cell tower, several years ago without informing the public, local judges or prosecutors.
Scott, who has reportedly failed to provide any substantial information to media and civil liberties groups, became outraged as one reporter began questioning his department's lack of transparency.
"Are you proud of disrupting an academy graduation?" Scott says before storming off camera. "We've dealt with your incessant badgering of our department over these issues."
Sacramento County Chief Deputy District Attorney Steve Grippi, who admitted to never once seeing a Stingray warrant, told reporters that any sort of cell phone tracking would absolutely require one.
"We request a search warrant in all of those cases," Grippi said.
Despite refusing to outright admit to owning the device, records revealed that Scott's department provided information regarding Stingrays to police in San Jose.
Incredibly, Sacramento County Undersheriff James Lewis argued that the department is not required to inform the public of its purchase due to a non-disclosure agreement with the Stingray provider.
"While I am not familiar with what San Jose has said, my understanding is that the acquisition or use of this technology comes with a strict non-disclosure requirement," Lewis said in a written statement. "Therefore, it would be inappropriate for us to comment about any agency that may be using the technology."
The department has even gone as far as citing federal regulations pertaining to railway safety and arms trafficking as justification for concealing Stingray surveillance information.
"In order to be protected under that, there would have to have been a determination that they're on the U.S. munitions list, and they're not," said Linda Lye, an ACLU attorney. "Government agencies cannot enter into private contracts in order to evade their statutory obligations."
The government's refusal to provide transparency could likely rooted in "Parallel Construction," a technique used by law enforcement to conceal how data is obtained. A 2013 report showed how law enforcement groups lie about the source of information after it is illegally received from the DEA, FBI and NSA.
Earlier this month, emails uncovered by the ACLU detailed how the U.S. Marshals Service has been teaching police to deceive judges.
"At the request of the Marshals Service, the officers using so-called stingrays have been routinely telling judges, in applications for warrants, that they obtained knowledge of a suspect's location from a 'confidential source' rather than disclosing that the information was gleaned using a stingray," Wired Magazine reports.
Only weeks prior, U.S. Marshals brazenly stormed the Sarasota Police Department in Florida in order to seize Stingray documents requested by the ACLU.
"We've seen our fair share of federal government attempts to keep records about stingrays secret, but we've never seen an actual physical raid on state records in order to conceal them from public view," the ACLU said.
Just last March, the Tallahassee Police Department revealed that it had secretly used a Stingray as many as 200 times since 2010. The department argued that the manufacturer's non-disclosure agreement prevented them from obtaining a warrant from a judge.