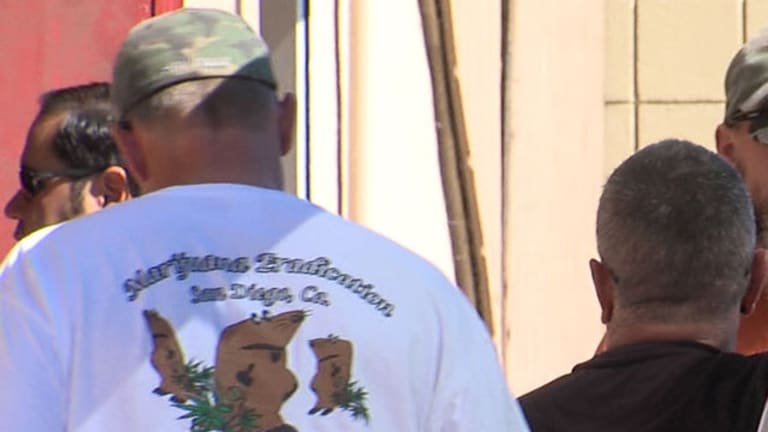 San Diego Cop Investigated Over Vulgar and Downright Disgusting T-shirt
"It shows that their distaste for medical marijuana goes far beyond any laws and has become rogue"
San Diego, CA -- A San Diego cop is under investigation this week because of his decision to wear a despicable shirt.
An undercover officer on the Narcotics Task Force was part of a raid of a marijuana growing business Thursday. He was wearing a shirt with the following writing on the back:
 "Marijuana Eradication San Diego, CA. Fuck the growers… Marijuana is still illegal."
Marcus Boyd was the grower whose business was raided Thursday. He told KGTV that his business was legal. He called the message on the shirt "disrespectful and vulgar. " He said it shows that members of the Narcotics Task Force "have gone rogue."
According to KGTV, they got the run-around from several law enforcement agencies that make up the task force, but the trail eventually led to the San Diego County Sheriff's Department.

A representative with the San Diego branch of the Drug Enforcement Administration said, "DEA does not condone the shirt and we find it inappropriate. The matter has been referred to the Sheriff's Department."

In response to the issue, San Diego County Sheriff Bill Gore said, "This shirt is not approved or condoned by the Sheriff's Department. Its message is vulgar and not representative of who we are and the values we uphold. Appropriate administrative action will be taken."
This incident just goes to show how separate the state is from reality and the will of the people. It takes a truly demented person to kidnap and lock someone in a cage for growing or possessing a plant.
Legality does not dictate morality. Those who enforce these immoral laws with such callous disregard for the inviolability of one's rights and complete disrespect for decent people are the true burden on society.
It is high time we end the war on drugs and stop creating these outlets of expression for costumed sociopaths on a power trip.
The Free Thought Project is in the process of organizing a world wide day of resistance to the tyranny of prohibition. You can follow the movement on facebook at our page, End the Drug War.
"Prison is for rapists, thieves, and murderers. If you lock someone up for smoking a plant that makes them happy, you're the fucking criminal." - Joe Rogan