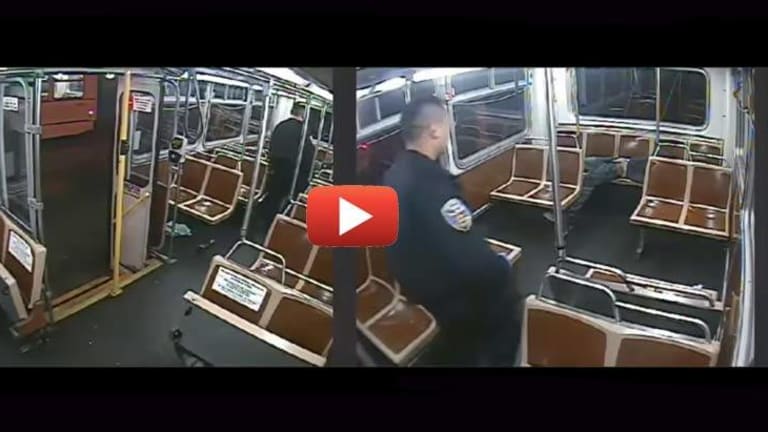 Video: SFPD Officer Beats and Pepper Sprays Homeless Man After He Fell Asleep On the Bus
What do you think? Could this incident have been diffused without this level of violence?
San Francisco, CA-- Surveillance footage has been released showing Officer Raymond Chu of the San Francisco Police Department brutalizing Bernard Warren, 36, a homeless man on February 11.
His crime? Sleeping on a bus.
The video begins with the officer attempting to wake Warren, who does not move very quickly toward the exit. As the officer starts to get impatient, Warren mutters at Chu, stating "Don't touch me. I could beat your ass." This was a pretty big mistake, but still not damning enough for the punishment he was about to receive.
Instead of having compassion, and maybe realizing this man could use some patience and kindness, as he is clearly having a rough time, the opposite happens. The officer puffs out his chest and goes into raging tough guy mode to prove his manliness.
At this point, Chu charges at Warren, and kicks him off of the bus. When they are both off of the vehicle, the situation escalates even further. Chu pulls out his asp, and, unfortunately, Warren does not walk away as he is ordered to.
The crack of the asp on Warren's body is hard to listen to, and according to the public defender's office, Warren was hit four more times before being pepper sprayed by this unhinged officer. The officer claims that this slow-moving and seemingly "out of it" man came at him with clench fists. Instead of detaining him in a rational manner, this cop decided violence was the only possible way to handle the situation.
Warren ended up hospitalized with deep bruises on his legs and burns on his face from the pepper spray, The Huffington Post reports.
Warren is now facing a year in prison as he was charged with threatening an officer and jailed for two weeks until a judge saw the footage.
"It was clear Mr. Warren could not have carried out any sort of threat," his Public Defender Jeff Adachi said. "Yet he was incarcerated for over two weeks, at a cost to taxpayers of $150 a day. Now we are dealing with costly court hearings and investigations and legal filings. It is a tremendous waste of resources because an officer lost his temper."
The police are defending their hot-tempered officer, claiming that because Warren broke the law, he does not deserve to be treated with decency.
"Force is never a pretty sight and the officer gave orders for Mr. Warren to walk away. The officer's report is consistent with what we see on the video," Sgt. Monica Macdonald in an email to HuffPost. "Mr Warren was asked/told to leave and he returned several times and he continued to threaten to beat the officer which is a crime - which you can see and hear in the video."
Reasonable people with humanity are arguing with the department's defense, as Chu was clearly the aggressor in the video.
"Both videos show a reckless and unnecessary escalation of force," Chief Attorney Matt Gonzalez of the public defender's office told the SF Gate. "In Mr. Warren's case, there was no justification for the use of a baton or pepper spray. Officers must be trained to defuse conflicts rather than intensify them. We should not expect these routine encounters to end in bruises and burns."
What do you think? Could this incident have been diffused without violence?
" width="790" height="444" frameborder="0" allowfullscreen="allowfullscreen">