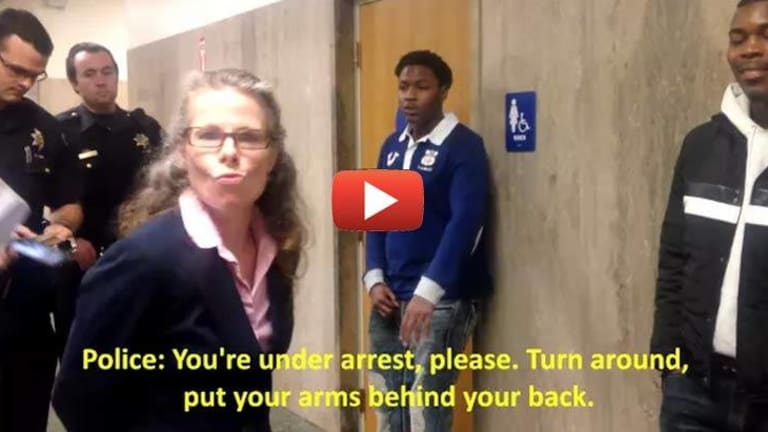 Bully Cop Arrests Public Defender for Trying to Protect Her Client's Constitutional Rights
"If police are able to do this to a deputy public defender in front of her client, I can only imagine what is happening out on the streets."
"If police are able to do this to a deputy public defender in front of her client, I can only imagine what is happening out on the streets."
" width="790" height="444" frameborder="0" allowfullscreen="allowfullscreen">
San Francisco, Calif. - In a blatant attempt at intimidation, police handcuffed and arrested a San Francisco deputy public defender, Jami Tillotson, at the Hall of Justice for attempting to protect her client's constitutional rights on Tuesday.
The arrest was in response to her denial of officer's attempts to photograph her client, and it raises serious questions about police intimidation, according to Public Defender Jeff Adachi.
Tillotson was arrested and booked Tuesday on a misdemeanor resisting arrest charge.
"This is not Guantanamo Bay. You have an absolute right to have a lawyer with you when you're questioned. Ms. Tillotson was simply doing her job," said Adachi
One of Tillotson's clients had just appeared on a misdemeanor theft charge. As he was leaving the courtroom, plainclothes officers began to question him, according to authorities.
Tillotson heard about her client being questioned in the hallway without her being present and attempted to interject herself into the police questioning as an attorney representing a client.
"I asked questions. I talked to my client and explained to him his rights. At that point, I was told I was interfering and taken into custody," said Tillotson.
Police claim their officers were investigating a case, in which Tillotson's client was a person of interest, and believe that they acted lawfully.
An attorney with the public defender's office took video of the incident, according to sfgate.com.
In that video a plainclothes officer, identified as Sgt. Brian Stansbury, can be seen telling Tillotson, "I just want to take some pictures, OK, and he'll be free to go."
When she summarily denied the officer's request, Stansbury had the audacity to tell her,
"If you continue to do this, I will arrest you for resisting arrest," to which Tillotson responsed, "Please do."
"It was very clear to me that I hadn't been doing anything illegal," she said Wednesday at a news conference, adding, "I was challenging him, telling him that you know that I know that I did not violate the law. He moved it forward."
The Public Defender's Office also highlighted the fact that the arresting officer, Sgt. Stansbury, was the subject of a 2013 federal civil rights lawsuit filed by a black SFPD officer alleging racial profiling.
This video adds to the claims that we no longer have the rule of law, but the rule of law enforcement instead.
"A uniform does not give anyone license to bully people out of their constitutional rights," said Adachi.
To see an attorney be threatened with resisting arrest when she was clearly not under arrest, nor resisting in any way imaginable, and in fact was extremely calm and measured, shows exactly how far the police are willing to go to intimidate and bully people into submission.
"If police are able to do this to a deputy public defender in front of her client, I can only imagine what is happening out on the streets," added Adachi.
Jay Syrmopoulos is an investigative journalist, freethinker, researcher, and ardent opponent of authoritarianism. He is currently a graduate student at University of Denver pursuing a masters in Global Affairs. Jay's work has previously been published on BenSwann.com and WeAreChange.org. You can follow him on Twitter @sirmetropolis, on Facebook at Sir Metropolis and now on tsu.