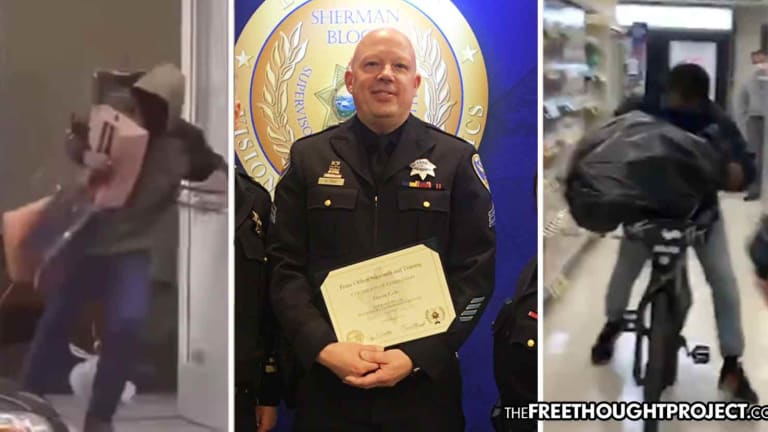 As Walgreens Closes San Francisco Stores Over Mass Theft, Cop Busted Robbing Pharmacy
As San Francisco battles a rampant retail theft crime wave, one of the folks responsible for preventing it, was taking part in it.
San Mateo, CA — Last month, Walgreens announced the closure of multiple locations in San Francisco claiming there is a major problem of organized retail theft. The move by Walgreens was a black eye to the city which has earned an embarrassing reputation over widespread shoplifting which happens so often that YouTube is full of video evidence.
"Retail theft across our San Francisco stores has continued to increase in the past few months to five times our chain average" despite large increases in security, Walgreens spokesperson Phil Caruso said.
But it's not just Walgreens. Viral videos on YouTube show gangs of shoplifters stealing everything from handbags at Neiman Marcus to emptying entire shelves of toiletries to walking behind the pharmacy counters like it's a pill buffet.
This massive string of thefts was originally downplayed by much of the mainstream media before store closures began happening across places like San Francisco. Now, the problem has gotten so bad that San Francisco Supervisor Ahsha Safaí is trying to allocate police resources to stores across the city to avert more closures.
"For about a year I've been ringing the alarm," said Safaí, announcing that the board of supervisors is now taking up the proposal to meet with the San Francisco Police Officers Association to discuss moving forward.
A recent arrest during one of these shoplifting sprees may make the citizens of San Francisco think twice before employing cops at retail outlets, however. Last week, one of these robberies escalated to the point of deadly weapons and the perpetrator of the crime was a San Francisco cop.
San Francisco Police Sergeant Davin Cole has been with the department 27 years and he was known for helping drug addicts get off the streets. Unfortunately, during his time helping other addicts, he became an addict himself.
As the Walgreens were closed this month, Cole — to feed his addiction — decided to go to Rite Aid. While off-duty, Cole grabbed his pistol and went into the pharmacy where he handed the pharmacist a note, demanding opioid pills.
"Everybody is shocked," Tony Brass, Cole's attorney told ABC 7.
Cole got the drugs he sought but when he was running out of the store, armed with a weapon, two cops tackled him to the ground and arrested him — but not before Cole resisted.
"It's not something we hear about every day," said San Mateo Police Department Spokesperson Officer Alison Gilmore.
Indeed. What we hear every day is that there aren't enough cops and this is why pharmacies are being looted. But with cops like Cole, who needs looters?
"It is my understanding that Sgt. Cole walked into a Rite Aid in San Mateo County armed with a weapon from my understanding that weapon is not his duty weapon, with a note demanded that he be given prescription medications, the ones that are the basis of his addiction and that upon leaving the store he was tackled to the ground by two San Mateo either sheriffs or police officers and arrested for the offense," said Brass.
According to Brass, Cole posted a $57,500 bail and is currently suspended without pay. His arraignment is set for November 18.
"They have sworn to uphold the law and they breach that, the why question becomes paramount," said San Mateo County District Attorney Steve Wagstaffe.
According to Brass, Cole was involved in the Healthy Streets Outreach Command and Law Enforcement Assisted Diversion program where he helped addicts recover and get off the street.
Likely due to the fact that he was an addict himself, Cole was able to empathize with fellow addicts to better help them.
"He was probably a sympathetic ear to a lot of addicts and really able to understand their struggle while also not being able to overcome the struggle himself," said Brass.
Cole was prescribed opioids for an injury in 2010 and Brass suspect that this is when the addiction began. While Cole certainly deserves to be held accountable for his crimes, his addiction highlights a serious problem and helps to explain how we've found ourselves in the midst of the worst drug epidemic in history.
Had Cole not been afraid of going to jail for his addiction, he likely would have told someone about it earlier, gotten help, and never robbed a Rite Aid. However, that was not an option thanks to the war on drugs. So, his only choice was hiding it, feeding it, and eventually succumbing to it.