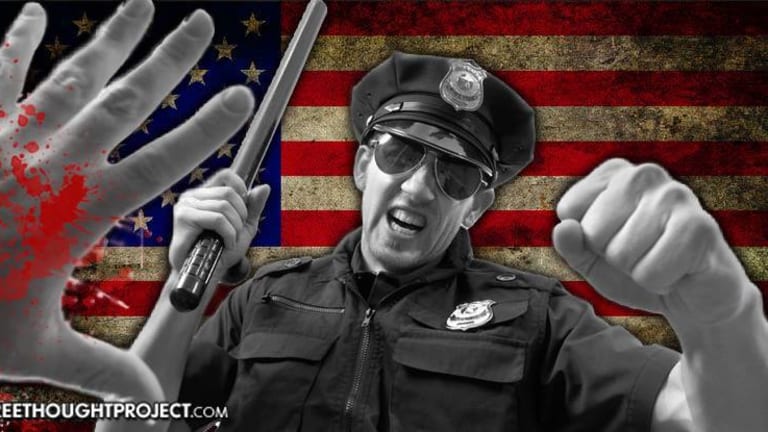 "Look at his Face!" Cops Severely Beat Student, Brag About Injuries They Caused
A San Jose State University student was brutally beaten, resulting in the loss of his teeth. He's now suing the campus police who put him in the hospital.
San Jose, CA -- Alen Chen, a San Jose State University student is suing the University of California system, San Jose State, and officers Sean Farrell, Jonathan Silva, Muniz Adais, as well as officers Tassio and Buckovic. Chen claims the defendants: used excessive force during his arrest, failed to provide reasonable post-arrest care, were negligent, battered him and intentionally inflicted emotional distress when they arrested him on April 17th, 2015.
The incident began as Chen was waiting with his friend to attend a music event headlining DJ Dillon Francis at the Event Center at San Jose State University when his friend became involved in a discussion with Event Center security staff. The pair was told to leave. And even though Chen attempted to separate himself from his friend's actions, the two left their place in line, headed down the stairs, and away from the entrance doors. Chen's apartment was in the direction with which the line of patrons was formed. As he was walking away from the Event Center, he was explaining to friends he passed why he was being asked to leave. And that's when it happened.
He was approached by SJSU police officers Silva and Edais. He was asked by Silva, "Sup, bro. Didn't they tell you to go?" And without really giving Chen time to even answer the question, he says he was violently thrown to the concrete, face first. The blow resulted in him being knocked unconscious, and his front teeth being broken. The pair of officers screamed for him to stop resisting but his lawyers contend, according to court documents, at no time did he resist.
While still unconscious, the lawsuit declares Chen was violently stepped on and pummeled with punches. Several people witnessed the attack and reported the crew of officers whisked Chen away quickly to draw attention away from their actions. Chen was allegedly then dragged by his handcuffs to an awaiting patrol car where he was placed inside. There, he started bleeding profusely but was told to stop bleeding on the inside of the officer's patrol car, as if one could coagulate their blood on the command of an officer of the peace.
Other officers seemed to gloat over the punishment they dished out on Chen's visage. "Oh look what you did to his face and teeth," they began to mockingly say. The blood appeared to be too much for the officers to endure, so they put a bag over his face, presumably the kind they use when a suspect is spitting. Then they transported him to an ambulance where he was treated for his most immediate injuries. He was transported to Valley Medical Center but wasn't allowed to go inside for treatment. Rather, he was forced to remain outside in the cold. It was only until the following day that he was allowed to leave.
The following day he noticed bruises all over his body along with a swollen face, elbows, knees, back and neck pain, scratches all over his body, and headaches among other injuries. The most serious of which were his teeth. Chen had to undergo emergency dental surgery to implant two teeth in place of the two which were irreparably damaged. Several weeks later, on May 11th, Chen was charged with being drunk in public and resisting arrest but those charges were later dismissed.
The lawsuit, which was filed on April 12th, seeks actual, consequential and punitive damages for the unreasonable use of force against Chen who says he never once resisted arrest. He even says from the time he was approached by officers, who didn't even identify themselves, to the time he was violently slammed to the ground, only a handful of seconds had passed.
We conducted an exhaustive search for any video of the incident. If anyone has such footage and would be so kind as to share it with TFTP, we will gladly update this story. Chen's attorney told a local CBS affiliate, he is in possession of such video.
Chen's attorney, Steven Berki, told CBS San Francisco that he has obtained a video from a chest-mounted police camera that captured the beginning of the incident including the officers slamming Chen into the ground. A video taken by a person in line for the concert also captured the incident, he said.