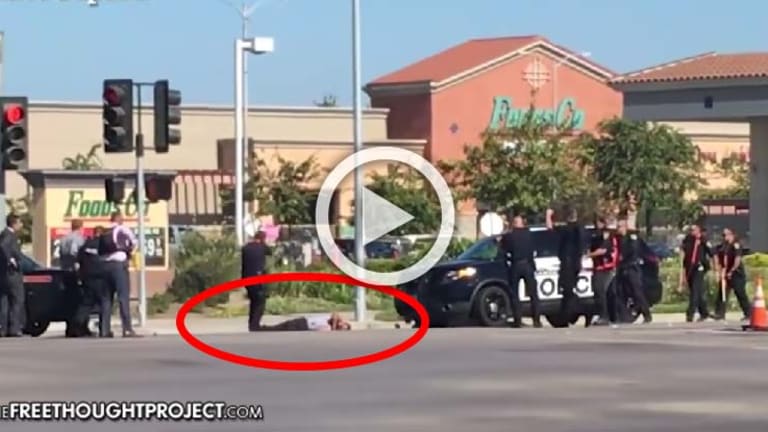 Parents Sue After Video Shows Officers Execute Their Son in Firing Squad Fashion
Parents of a man executed by Santa Maria police filed a lawsuit questioning techniques used by officers when dealing with individuals in a mental crisis.
The parents of a man who was shot and killed by Santa Maria police officers have filed a lawsuit against the department, the city and a number of officers involved in the shooting, seeking monetary damages and increased crisis training for the police department following the deadly altercation.
As previously reported, Javier Garcia Gaona Jr., 31, was shot by police officers last July during a standoff outside of a gas station in Santa Maria. The standoff ensued when police were dispatched to Gaona's location following a report of a man "shouting obscenities, holding a knife and making slicing motions to his throat and chest," according to the Lompoc Record.
Police officers said after their arrival, verbal negotiations between Gaona, police and the FBI were unsuccessful. Officers further claimed that lethal force was necessary following nonlethal attempts because Gaona was "lunging" at officers. 
Several police officers were present at the shooting, and Gaona was ultimately hit 14 times with live ammunition. He later died after being transported to a hospital.
The Santa Maria Police Department offered the following statement following the shooting: "The man continued to hold the knife in a threatening manner. Officers attempted to subdue the man using less than lethal means. Several attempts to subdue him in this manner had no effect. The man began stabbing himself then charged at officers with the knife at which point he was shot by officers."
The lawsuit acknowledges that Gaona was behaving "in a clearly irrational manner" but claims that more comprehensive tactics specific to handling a mentally unstable person should have been utilized, and alleges that "reasonable officers would not have concluded that Javier, isolated and surrounded by a throng of heavily armed law enforcement officers and their patrol cars, posed an imminent threat of serious physical harm to any individual other than perhaps himself." Gaona was hit with several bean bags during the altercation, and the lawsuit claims that the bags caused him to stumble about rather than intentionally charge officers.
The lawsuit alleged misconduct that is common in complaints filed in use-of-force fatalities including excessive force, battery, and negligence, but it specifically called attention to the police department's ability, or perhaps lack thereof, to deal humanely with individuals in a mental crisis. "We feel that it was a wrongful shooting. Had they (officers) had sufficient training, they wouldn't have proceeded to rush the situation and shoot Mr. Garcia Gaona," saidWilliam Schmidt, one of the attorneys representing the plaintiffs. "They could have brought in trained negotiators and mental health professionals. There was no rush. They just started shooting him with the 'bean bag rounds' out of shotguns. We feel they should receive more training, and that the family should be compensated for their loss."
Gaona's mental health history has not been clearly defined. Eric Schweitzer, the other attorney representing the plaintiffs, noted that Gaona suffered from depression at times but was apt to isolate himself rather than agitate others. While police officers had claimed that Gaona was urging officers to kill him Schweitzer dismissed the "suicide-by-cop" theory.
Gaona's death is eerily similar to other officer-involved shootings that are characterized by several officers lethally overpowering one suspect. In 2014, six officers fired at a mentally ill man named Milton Hall, prompting the ACLU to question whether police were justified in such heavy force against one man.
In 2015, a video surfaced indicating a similar situation in which a man was surrounded by officers, hit with bean bags and then killed by gunfire. It appears that in too many of these cases a fatal conclusion has become the norm. Despite the fact that the officers outnumbering a suspect have several advantages, including being insulated by strength in numbers as well as wielding extensive training expertise and a plethora of non-lethal options thanks to innovative technology. With so many alternatives available, why are cases like this continuing to be seen?