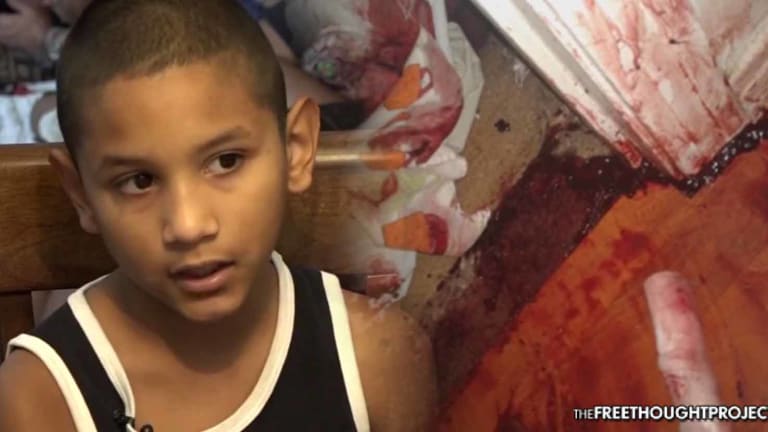 SWAT Holds 10yo Boy at Gunpoint as They Beat His Grandpa, Kill Dog in Front of Him
San Antonio PD are accused murdering a family dog, torturing a naked man, and threatening a 10-year-old at gunpoint, during a drug raid.
San Antonio, TX -- The San Antonio Police Department has come under fire once again for using excessive force. This time, amid allegations that they murdered a family dog, tortured a naked man, and threatened a 10-year-old at gunpoint, during a drug raid.
Felix Lopez was among the list of targets during the narcotics and gang investigation, because of his "criminal history," according to a report from KENS5. His 10-year-old grandson, Devin Valdez, described the raid to the CBS affiliate, noting that Lopez was in the shower when officers stormed in.
"They tried to get my grandpa out of the restroom, got him out, then started hitting him, so I tried telling them to stop and they took me to the room, and put me in handcuffs and had a gun pointed to my head," Valdez said.
Lopez's injuries from the raid included two broken arms, a broken cheekbone, and the possibility of permanent vision loss to one of his eyes. Drugs were found on the scene but, strangely, not inside the house. They were reportedly found in the backyard but published reports made no mention of which specific drugs were found.
As The Free Thought Project has reported on several occasions, the San Antonio Police Department has a long and sordid history involving accusations of police brutality and the use of excessive force.
During a Quinceañera in May, an SAPD officer hit a 14-year-old girl in the face so hard she was diagnosed with a mild traumatic brain injury, coupled with trauma to her face and neck muscles.
The latest allegation of police brutality involving the SAPD seems to epitomize all that TFTP stands against. As we have chronicled, police seem to be in the habit of killing family pets and getting away with it by claiming the dogs are vicious.
Lopez's dog was reportedly tied up, yet the police allegedly shot and killed it anyway. The heartlessness of killing a family's pet does not go unnoticed, even if the dog is vicious and comports more as a guard dog than a lap dog should be inconsequential. The animal is the property of someone else and should be respected as such.
If it is true San Antonio police entered a grandfather's shower, drug him out naked, and then beat him so badly his bones were broken, it may signal a new low for the SAPD. Added to those extreme measures is the allegation they did all of those things in front of his own grandson.
Predictably, the police department appeared to be only concerned with the safety of the officers involved in the raid. In a statement to KENS5, Sergeant Jesse Salame justified the raid, by maintaining the idea that search warrant raids can be "dangerous and often unpredictable."
"You have to go through that door and you don't know what to expect so you have to be mindful there are people who could be armed, there could be people trying to destroy evidence and you could have innocent kids in there that have nothing to do with what's going on and don't even know what's going on," Salame said.
The whole incident raises more questions and concerns such as, what if another group of men had dressed in dark clothing, barged through a man's property, killed his dog, dragged him out of his shower, and beat him half to death in front of his family? How would news agencies have described such a group?
They would have likened them to a Mexican drug cartel or a criminal street gang. But the SAPD is no street gang. They're the police. They're sworn to protect and serve the public. In this case, how were they protecting and serving the Lopez family or anyone for that matter?