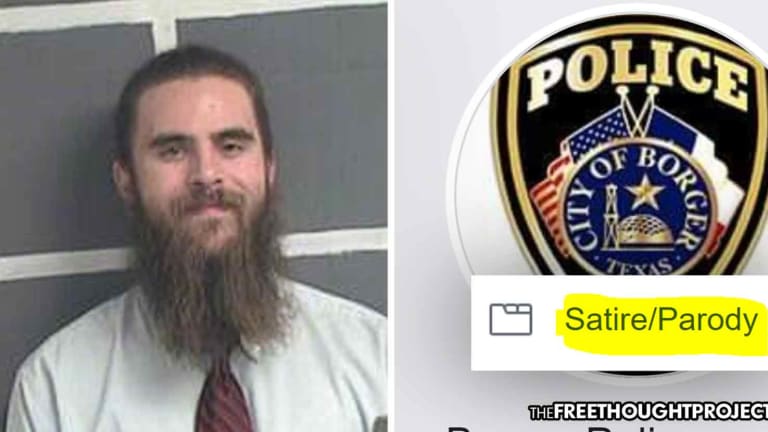 Cops Arrest Man for Having "Their Feelings Hurt" by His Satire Police Facebook Page
A man's satire police department page has led to him being charged and arrested after his lawyer says police had "their feelings hurt."
Hutchinson County, TX — In 1988, the U.S. Supreme Court unanimously agreed in Hustler v. Falwell, 485 U.S. 46, that a parody, which no reasonable person expected to be true, was protected free speech. In the three decades since, politicians and government agencies have ignored this ruling and attempted to go after those who mock them using satire and parody.
Police officers are the worst when it comes to getting triggered after being made fun of with parody or satire accounts. As the following case illustrates, their rage at someone's free speech can manifest into deprivation of rights, kidnapping, and extortion.
Michael Samuel Joseph Freemen runs a Facebook page under the name Borger Police Department. Aside from the content of the posts, the logo looks very similar to the actual Borger Police Department except that on the right on Freeman's version, it clearly states that this is a "Satire / Parody" Facebook page.
The Borger Police Department claimed it wasn't always labeled in this manner. However, it doesn't matter as "no reasonable person expected it to be true." What's more, the censors at Facebook didn't have a problem with it and our readers know how ban and censorship happy they can be.
Because many police officers do not like to have their feelings hurt, for running the page that is clearly labelled as satire, a warrant was issued for Freemen's arrest.
He turned himself in last week on a charge listed as "ONLINE IMPERSONATION-NAME/PERSONA CREATE PAGE" which is an apparent reference to Sec. 33.07. of the Texas Penal Code forbidding creation of an online page with the "name or persona" of another person.
Spoiler alert, the Borger Police Department is not a person.
In a ridiculous bit of irony, below is a post from the real Borger Police Department page showing them celebrating the fact that they stole CBD and cannabis products that many people were going to be using as medicine. The fact that cops still think it is a good idea to brag about robbing people of their medicine should be satire in 2020 — but it is not.
Freeman apparently grasps this notion and thus started the satire page.
https://www.facebook.com/160693897287199/photos/rpp.160693897287199/2299230570100177/?type=3&theater
Highlighting the ridiculous nature of police claiming Freemen was impersonating them is the fact that anyone who scrolls down the page will clearly see that it is making fun of the Borger PD and not pretending to be them.
https://www.facebook.com/BorgerPD/photos/a.107562620990444/143912354022137/?type=3&__xts__%5B0%5D=68.ARAlLdbKjav-V1rFpz7qLlTKQdhSm-R5vsfqSTn1DFIvY4wKY4GiBrgY28U5JFHQM8ptOP-O65_PeqzoSmpmuX-sOJk-gr1-vT6iFpR239TSWIten2PbmDpwORt2b26pytykyNe09dWYQjJcM-kP7-VA-iACPeDKWSrlr7uFEAWlEZjJdPR0M21OunWH2dZZ5hR-dw08zJJ6iLJE5UqfVf48pwbhffytBZdPwesS5K9-iwu9bnvX24xyjL81RrYKAHpGLf-jlRxPJayeewify6XKiYjrMN5A9IdregcsiMjVM0YYf0Qj7MuDeWoTvBC0rSzTBqA7pzI6WzOFVONFbJU&__tn__=-R
Ryan Brown of Blackburn & Brown, LLP in Amarillo told the Pampa News that Freemen's ordeal is an extreme miscarriage of justice.
"What happened here is that the officers of Borger PD got their feelings hurt, and now they are just extorting Mr. Freeman by making him come to Borger and spend all this money," he said. "We spent a lot of time on the phone with them making negotiations prior to him going there."
On top of his arrest, Borger's bail also seemed excessive as it was set at $15,000. He bonded out shortly after turning himself in and will now have to prove his innocence — which should not be very hard given the fact of this case — in order to avoid significant time behind bars.
"I'm not a criminal and didn't do anything wrong, no reason to run or hide," Freeman said. We agree.
If you'd like to donate to Freemen's cause, you can do so here.
Freeman is not the first person to be targeted for offending cops and he certainly will not be the last. Just this month, TFTP reported on a family who was harassed by police after they made a Facebook post complaining about how an off-duty officer shot and killed their dog and got away with it. Cops actually showed up to their home after complaining about their dog's death on Facebook and threatened them.
That's not all, in a case extremely similar to Freemen's, Anthony Novak attempted to mock the Parma police department in Ohio and call out their numerous violations of citizens' civil rights by creating a fake Parma PD Facebook page and make fun of its department. The police, whose pride had apparently been offended, arrested Novak for expressing his 1st Amendment right to free speech through satire.
He took his case all the way to trial and was acquitted. He's now suing and will likely win.