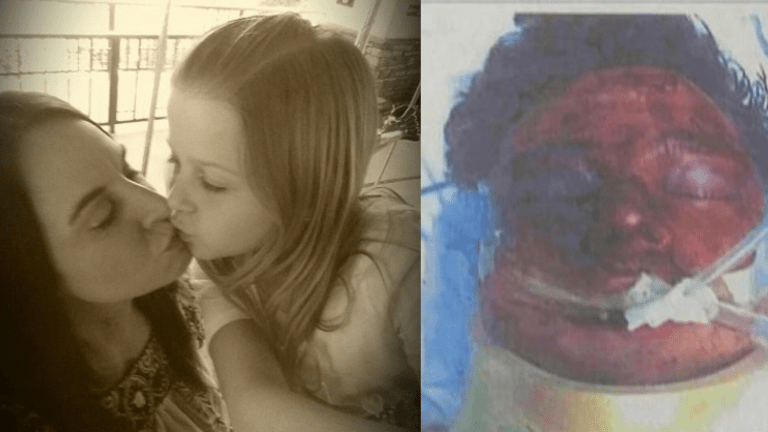 School Activity Praising Police Outrages Mother Whose Son's Father Was Murdered by 15 Cops
Bakersfield, CA-- North Beardsley Elementary in Bakersfield, California, is facing backlash after the principal, Aimee Williamson, who happens to be the wife of the Bakersfield police chief, decided to celebrate the pseudo holiday of Law Enforcement Appreciation Day on January 9th. The biggest problem is that this hits far too close to home for one student.
Outspoken activist Alicia Moore was horrified when her seven year old daughter returned home from school on Thursday upset about her class assignment that day, as her older brother's father was brutally beaten to death by 15 Bakersfield police officers in 2005.
According to Moore, her daughter's teacher put three sentences on the board for students to choose from, all thanking and supporting the police. The students were instructed to draw a picture to go along with them.
The options included, "Thank you for arresting the bad guys!" and "Thank you for saving our city." The teacher reportedly told the students that anything negative would be thrown in the trash. She further instructed the students that they were to wear blue on Friday in support of Law Enforcement.
This assignment comes after the school's principal Aimee Williamson, wife of the police chief, sent out an email encouraging any teachers to participate.
Moore's daughter is a very bright young girl who prides herself on her perfect attendance record. She also not only attends, but is consistently quick to jump into protests as this is an issue she is very passionate about. She will be staying home from school tomorrow due to the position her teacher has put her in.
James Moore, the father of her 21 year old brother, was bound, hand and foot, when as many as 15 Bakersfield deputies beat him to death in the basement of the jail in 2005.
James was arrested on suspicion of making threats after he got into an argument with the mother of his younger son.
According to the district attorney, four altercations took place on this fateful day. During the first three incidents, Moore was beaten with a baton, knocking out one of the 30-year-old father's teeth and he was pepper sprayed. No charges were filed in regards to these initial beatings.
The fourth incident began in the parking garage, as officers were putting him in a patrol car to take him to Kern Medical Center for treatment after the beatings he had just received.
According to the Justice for James Moore Facebook page:
James' hands were cuffed to a waist restraint and that also restrained his legs.
James was on the ground when Roxanne Fowler kicked him in the head with her steel toe boots. After he was strapped to a gurney, multiple deputies, Daniel Lindini & Ralph Contreras hit Moore in the head with their fists and elbows.
During this entire ordeal, Moore was pleading, 'Help me, help me, they're killing me.'
James died from the blunt force head trauma in the hospital six days later and Officers Daniel Thomas Lindini, Ralph Contreras, and Roxanne Fowler were all arrested on second degree murder charges, although as many as 15 officers were involved in the beatings.
Roxanne Fowler plead out with probation, Daniel Lindini was sentenced to 2 years and Ralph Contreras was sentenced to 15 to life after he sent out a photograph of James from ICU after he was already brain dead stating "look we f*cked this guy up."
After what this family went through, it is no surprise that Alicia Moore was outraged. The concerned mother quickly fired off this email to the school:
The school has yet to respond to Moore or to The Free Thought Project after we reached out on Thursday afternoon.
Moore did however receive messages from parents of her daughter's classmates who also intend to keep their children home and are angered by the school forcing beliefs on their children.