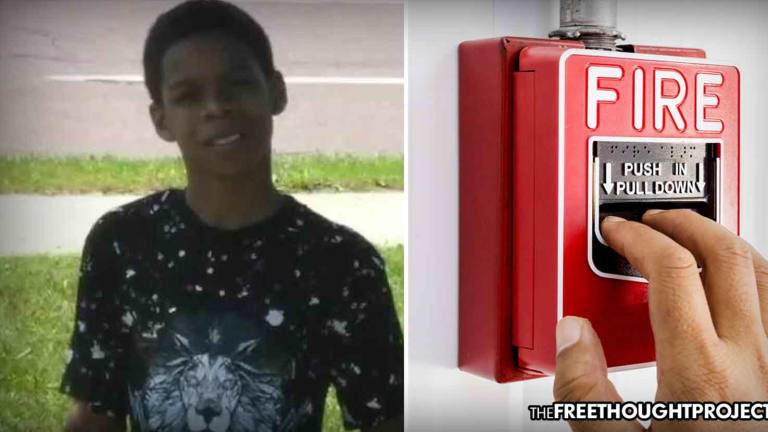 Cops Fine Mother, Handcuff and Jail 13yo Autistic Boy, for Allegedly Pulling a Fire Alarm
For being accused of pulling the fire alarm at school, a 13-year-old autistic boy was handcuffed and brought to jail and his mother fined.
Detroit, MI — In the modern day police state, typical schoolyard shenanigans—like pulling a fire alarm—no longer land children in detention. Now, even children with special needs and autism, who may not even understand what they are doing, will be handcuffed, arrested, and thrown in jail. Angela Miller, mother of 13-year-old Jerel, just learned this the hard way when her son was handcuffed at school, arrested and brought to jail last for a similar incident.
Last week, Miller received a phone call from the Detroit police department telling her that her son was in jail. Shocked that her autistic son could've done something to be arrested, Miller asked why. She was told that her son was accused of pulling a fire alarm at Thirkell Elementary-Middle School.
Angela told WXYZ that Jerel has high-functioning autism and that when her son normally has trouble at school, the school will call her—not the cops—and she could help him over the phone. But that was not the case this time.
"They really have to get their act together because this don't make sense," said Angela.
The incident took place on Wednesday and Jerel has been terrified of returning to school since. His mother also questions the accusation of Jerel pulling the alarm as loud sounds are extremely painful for her son.
Angela also told WXYZ that her daughter, who attends the same school, told her that she never even heard the fire alarm and had no idea it was ever pulled.
Angela explained that the teacher simply got tired of Jerel and so she called police instead of attempting to solve any problems he was causing.
Chrystal Wilson, Assistant Superintendent of Communications and Marketing for Detroit Public Schools Community District issued the following statement on Friday afternoon:
A student at Thirkell Elementary/Middle School was arrested and therefore handcuffed earlier this week for pulling the fire alarm, as sounding a false alarm is a crime. The student's parent was issued a citation as a result of the false alarm according to district protocol. The district is reviewing the arrest.
Irrational fear, coupled with the American police state is leading to a rash of ridiculous arrests like this one, many of which TFTP have reported.
Last year, another autistic 5th grader was arrested and brought to jail because he was seen "playing with an imaginary gun' at school. In May of last year, 12-year-old David Sims, a 5th grader in Conroe Independent School District's Bozman Intermediate school, was handcuffed, hauled away and charged with a crime for motioning his hands like he had a gun.
Sadly, as schools across the country rely more and more on police to force student compliance, instead of training and common sense, this scenario becomes more common.
Previously, the Free Thought Project reported on 6-year-old Nicholas, who is diagnosed with attention deficit hyperactivity disorder and disruptive mood dysregulation disorder. Nicholas was kidnapped from his elementary school by police and imprisoned in a psychiatric hospital.
He was held, including multiple stints in a 'seclusion room,' for three days at River Point Behavioral Health -- for a temper tantrum at school. 
If a 6-year-old boy was taken by police from a school and locked in an isolation room in the 90's, you can rest assured that this would not fly. The same goes for a 12-year-old boy with autism getting arrested and charged with a crime for an imaginary gun and a 13-year-old boy getting arrested for pulling a fire alarm. Now, however, police force as a reaction to childhood problems has become the go-to approach in the land of the free.
If you truly want a glimpse into the horrid effects of the police state on all school children, take a scroll through our archives, at this link.
Until people wake up to the reality of relying on a system of violence to maintain "order" and behavior compliance, we can expect this problem to get worse.