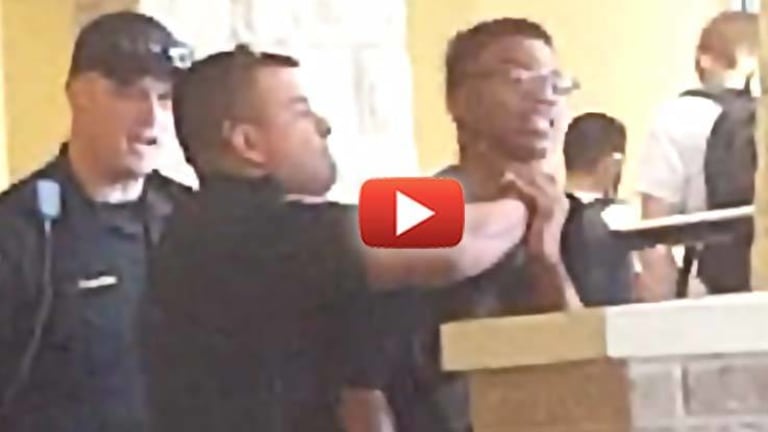 School Cop "Acted Within Policy" When He Choked & Body Slammed a 14-yo Boy on Video
Is the future of public education in Police State USA?
Round Rock, TX -- A decision to clear a cop of all wrongdoing after he choked out and body slammed a 14-year-old boy has the community up in arms.
On Monday, a spokesperson for the Round Rock Police Department announced that the case involving Officer Rigo Valles and student Gyasi Hughes, 14, was investigated by Internal Affairs and the department determined the officer's actions "were reasonable and within policy" and there were no violations of department procedures.
The clearing of the officer is in spite of video evidence showing a violent assault on the teen.
"Are you telling me you can choke a kid on school campus, and body slam him, and that's your policy? Look at the whole nation, does anybody think we're going to accept that?" says Nelson Linder, Austin NAACP president. Linder says he doesn't believe Round Rock police conducted a thorough investigation, according to KXAN. "We're going to call for a DOJ investigation and there are legal efforts already taken place."
According to the RRPD, Valles was never even put on leave after the altercation. He was only relocated to another position. The RRPD also announced that Valles will remain a school resource officer and return to the same district now that the "investigation" is over.
The reason Valles was called to the cafeteria on that October day was because teachers, in schools, run like prisons, have become dependent upon the police state to solve normal adolescent problems.
Hughes was involved in an altercation with another student and he, like any adolescent child involved in a heated quarrel, refused to calm down. So teachers then called in the big guns....literally.
"After repeated attempts to calm the non-compliant student, and stop him from going after the other student, officers were forced to detain him for his safety and the safety of others," continued RRPD in their statement from October.
Adolescent quarrels are a frequent occurrence. As hormones rush in, children attempt to assert control over their environment as well as other children and the result can often manifest into a fight.
In the past, if a fight were to break out at school, the teachers, and in some cases the students, would rush in to pull the students apart. However, as the video below illustrates, this is no longer the case.
Fighting and bullying in school can certainly be problematic for many students, and it should not be tolerated. But the message that is sent by dealing with these issues using police violence is that only the state can be the bullies.
Hughes is not alone in his attack either.
Several videos have recently emerged revealing violent school resource officers brutally attacking minors. In October, Richland County Deputy Ben Fields was fired after students recorded him flipping over a girl's desk and dragging her across the floor. Oklahoma City Master Sgt. Thomas Jaha was charged with assault and battery in October as well, after repeatedly punching a student in the face for not having a hall pass.
Last month, prosecutors agreed to dismiss assault charges against Louisville Metro Police Officer Jonathan Hardin for punching a student in the face if the former officer completes anger management classes. Hardin still faces wanton endangerment, official misconduct, and assault charges for choking another student unconscious in a separate incident five days later.