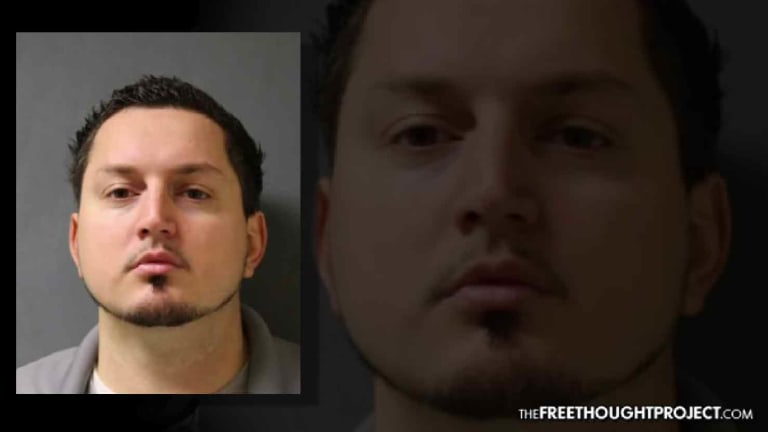 Cop Admits to Raping 14yo Girl AT SCHOOL, No Jail, Won't Register as Sex Offender
A former school cop in Houston admitted to having a child touch his genitals after the victim reported she had oral sex with him in the school's girls bathroom.
Houston, TX -- More trouble for the Houston Independent Schools District Wednesday after a former Houston police officer, a school resource officer, pleaded guilty to having an improper sexual relationship with a 14-year-old girl. Once again, however, another officer got off with a slap on the wrist.
Jacob Ryan Delgadillo, 30, was arrested in January for allegedly having carried out sex acts inside Cullen Middle School's girl's bathroom. Suspicions were raised by teachers when they observed the officer blowing kisses to the teen through a window to a classroom.
Friends of the teen victim told the authorities the girl performed oral sex on him while on school property. Later, the victim confirmed she'd had oral sex with the officer, after confessing the act to a teacher. A subsequent investigation by police led to his arrest.
He resigned in December once the allegations surfaced which also showed he had shown the girl pictures of his genitals. An internal investigation led authorities to locate the pictures in question on the officer's cell phone. According to court documents obtained by the press, Delgadillo denied all the allegations.
Delgadillo was charged with two felony counts of indecency with a child, but pleaded guilty to the lesser charge of having an inappropriate relationship with the child. As a result of the plea deal, the former officer will only spend five years on probation for what critics say a regular citizen would have done 20 years in a cage for having done.
The verdict is seen by many as a slap on the wrist for pedophilia committed by a guy with a badge and a gun, who was entrusted with the care of the community's most precious resources, its children.
Worse still, the officer will not have to register as a sex offender, and will not have the criminal charge on his record once his five years of probation is complete. The legal agreement is known as deferred adjudication, and it simply means he can return to his law enforcement career after his sentencing is carried out.
The sentencing is incredulous for many who believe police officers not only should be held to a higher standard but a stricter form of sentencing when they're convicted of such crimes. After all, Delgadillo was a school resource officer, someone who is supposed to arrest others for the very same things he pleaded guilty for.
Even though Delgadillo will have to surrender his law enforcement license, conceivably, once his probation is over, he may be able to re-apply for the state license, transfer to another state, and continue his career in law enforcement.
District Judge Marc Carter, a Republican from District 228, presided over the case. He is up for re-election in Harris County in 2018. His email address is can be found by clicking here for any and all readers who may wish to opine about his decision.
As part of the plea deal, prosecutor Jennifer Stabe told reporters the two felony counts against Delgadillo were dropped. Instead of prison time, Stabe accepted the deferred adjudication agreement, which allowed him to serve not one single day in prison. Instead of a guilty verdict in a trial by jury, the former officer would only have to admit to placing the girl's hand on his genitals.
The whole case serves to illustrate what The Free Thought Project has reported on numerous occasions. Police can get away with having sex with children without doing any real prison time.
They're known to TFTP as pedophile cops, and such cases involving police officers having sex with minors seems to be an epidemic. As TFTP has reported recently, officers have been arrested for having child porn, having sex with minors, impregnating teens, and being a part of pedophile rings which include high-ranking government officials. 
Just this week, TFTP's Matt Agorist reported on the existence of an underground pedophile ring in Baltimore. The ring is the topic of a new Netflix documentary on the subject. "Netflix exposed a dark underground child sex ring involving the church, politicians, and cops," writes Agorist. As a result of the film's release, Baltimore police were forced to respond to numerous inquiries. "The series, titled, The Keepers, has forced the Baltimore police to set up an online submission form as people began to come forward after watching it," he wrote.