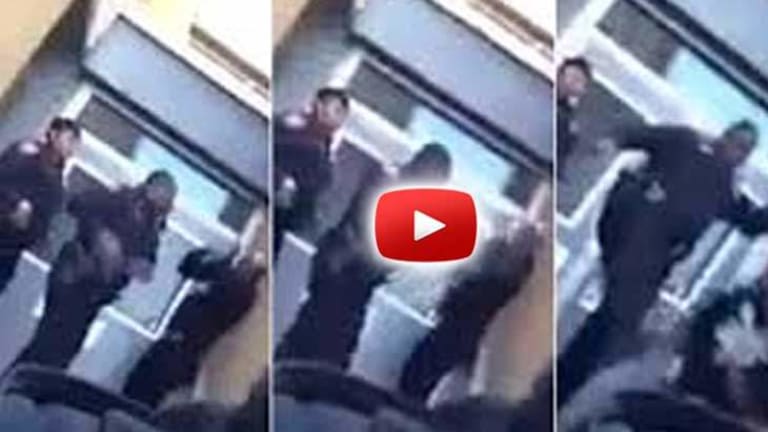 Cop Who was Fired for Brutality, Hired as School Officer and Caught on Video Beating a Student
Cop who attacked student on video was fired as a cop ten years ago over a brutality incident.
Baltimore, MD - This week, a school police officer working for Baltimore City Schools was caught on camera repeatedly slapping and kicking an underage student. The 16-year-old student in the video was suspected of "trespassing" on school grounds, but the child's parents confirmed that the he was an actual student. The victim and another young boy were apparently not wearing school uniforms, which was why the altercation began.
However, even if the student was trespassing, that is no way for the officer to treat him the way that he did. The young man was obviously not threatening in any way, and the officer had no reason to use force.
"The boy had a right to be at the school where he was an enrolled student. With respect to refusing to leave the school, the student didn't want to leave the school where he had a right to attend," family attorney Lauren Geisser said.
"One would expect that police officers that are specifically charged with protecting children would exercise restraint, care, and understanding when dealing with these children. Instead, these officers used their powers to inflict harm on a student who was trying to attend school lawfully," she added.
The video quickly went viral and sparked controversy that has forced the school district to start talking about reform.
"As a parent of a Baltimore city school student, I was appalled by what I saw. The behavior that was demonstrated ... is certainly something you never want to see. ... Certainly not a school officer acting in this way, particularly with a young person," Mayor Stephanie Rawlings-Blake said.
Additionally, news has surfaced this week showing that the officer, 44-year-old Anthony C. Spence should have never been hired or posted at the school. Spence was actually fired as a sheriff's deputy in 2003 and then rehired as crooked and violent cops often are.
According to the Baltimore Sun, Spence was one of two Baltimore sheriff's deputies who were fired in 2003 after a wrongful Taser attack. Spence and another officer reportedly mistook a Salvadoran construction worker for a bank robber and arrested him, while another officer shot him twice with a taser, seriously injuring him.
Years later, in 2011, Spence was in trouble again after his girlfriend, also a police officer, accused him of striking her in the face. She got a restraining order against him, but then quickly after canceled the order, as many victims of police domestic violence do, once they realize they have no where to go for help.
Despite this history of violence and misconduct, Spence was given another job with the department, one that would put him into contact with children on a regular basis.
Last year, we reported on a case in Baltimore where a group of 13-year-old girls were assaulted with a baton and pepper spray for questioning a school officer.
When does it end? How much worse will it get before people realize that relying on government force to solve problems is a bad idea? Will cops have to start killing children in school?
John Vibes is an author and researcher who organizes a number of large events including the Free Your Mind Conference. He also has a publishing company where he offers a censorship free platform for both fiction and non-fiction writers. You can contact him and stay connected to his work at his Facebook page. You can purchase his books, or get your own book published at his website www.JohnVibes.com.