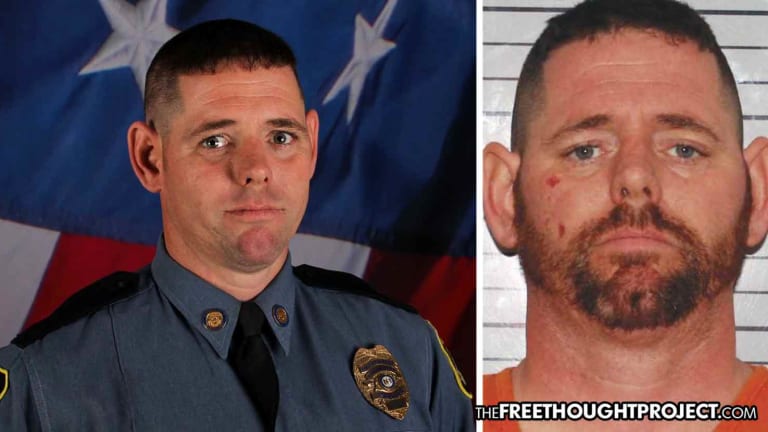 School Cop Tasked with 'Protecting' Young Children, Arrested for Child Sex Trafficking
A school cop who was entrusted around small children was arrested on multiple charges of child trafficking and pornography.
Poplar Bluff, MO — There are so many cases each week of police officers getting caught with child porn or sexually assaulting children that TFTP cannot report on all of them. However, the following case out of Missouri is so disconcerting that we felt it was necessary to make a point. Child predators often seek out positions of authority which allow them to carry out their sick desires while garnering the trust of those around them. Poplar Bluff police officer Brandon Michael Hopper was one of these predators.
The 39-year-old was charged with the unclassified felony of first-degree sexual trafficking of a child, the Class B felony of first-degree promoting child pornography and two Class D felonies of possession of child pornography by Butler County Prosecuting Attorney Kacey Proctor.
Hopper was a ten year veteran of the department who had requested and received the position as a School Resource Officer (SRO) at Poplar Bluff Middle School last year. The school district welcomed this child predator to "protect" young children with open arms, because, after all, his badge made him a pillar of the community.
Investigators reportedly received a cyber tip that Hopper was engaged in the transfer of child pornography and looked into the claims. What they found was utterly sickening.
After his arrest, Poplar Bluff Police Department stated:
"The information indicated one of our officers was possibly sharing child pornography. As this involves one of our own employees, we are respectfully requesting the DDCC (Drug and Crime Control Division) handle the investigation. The Poplar Bluff Police Department is cooperating fully with the on-going investigation regarding a now-former employee of its force."
The investigation led to the arrest of Amber Longhibler, 28, who was also arrested on Wednesday. She was charged with sexual trafficking of a child, promoting child pornography and four counts of possession of child pornography, according to KFVS.
In an interview which took place inside Longhibler's home, investigators said she admitted to taking pictures of a nude 11-year-old girl.
Longhibler stated she took the photos at Hopper's request, and sent them to him over the internet, according to KFVS.
When investigators searched both cell phones, they reported they found this conversation between the two:
Hopper asked Longhilber to: "send me some [child 's name] pics to trade, obviously no face pics."
Longhilber replied: "I'll send you what I have."
Longhilber then sent two close up photos of a prepubescent female child's privates.
According to investigators, when questioned, Hopper admitted to having the images on his phone. When the Missouri State Highway Patrol Division of Drug and Crime Control's Digital Forensics Investigative and Criminal Investigative Unit examined the school cop's phone, they found other disturbing images and videos as well, including a video of an adult male and a four-year-old girl, and a video of an adult male and a 10-year-old girl.
"We have been advised that charges have been filed against a law enforcement officer employed by the Poplar Bluff Police Department, who was recently assigned in our school system," said Poplar Bluff R-1 Superintendent Scott Dill. "We are cooperating fully with state law enforcement agencies as they conduct their investigation into this matter."
As a district, Dill said, school officials "remain committed to the safety of every student entrusted to our care.
"If you have any information about this incident, I urge you to contact the Missouri State Highway Patrol."
Since his job at the school was relatively new, hopefully he wasn't yet able to harm any children he was tasked with "protecting." However, because he was so brazen about receiving the child porn in the first place, it is likely that this was not his first offense.
It should also be pointed out that the stories in the local media all referred to Hopper as a "former" officer arrested for child trafficking and child porn. This tactic is likely used to imply that the crimes were not committed by an actual current cop. However, he was not fired from the department until after he admitted to the crimes and was arrested. It is shameful indeed that blue privilege reaches so deep—even when involving those who prey on children.