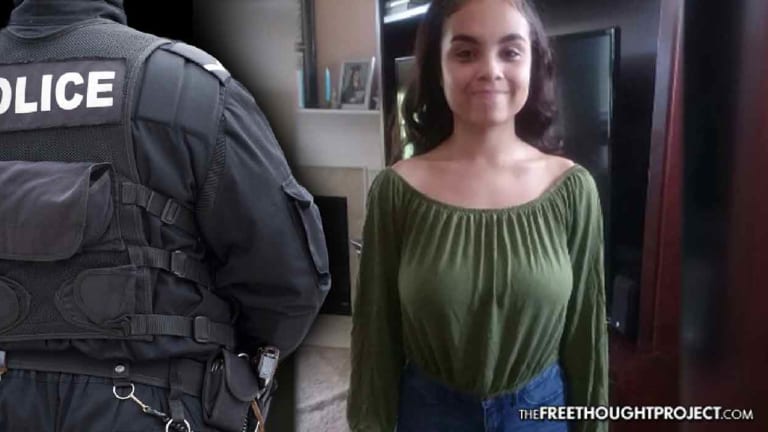 School Cop Grabs Gun, Tries to Arrest Straight-A Student — for Violating Dress Code
For showing a little too much collar bone the principal had the school cop arrest this straight-A student. But she is no pushover.
Harrisburg, NC — Unless you've been under a rock lately, you may have noticed that the American police state is in full force. Particularly worrisome, however, is the growth of the police state within the school system — which is conditioning children to accept it later in life.
A senior at Hickory Ridge High School in Harrisburg, North Carolina, got a full frontal dose of the police state last week when she was threatened with arrest for an alleged violation of the school's dress code. Now, the graduating straight-A senior, Summer, may miss out on her myriad of scholarship opportunities because, well, tyranny. She is also under a 10-day suspension and told she will not be able to attend graduation.
Although she is currently facing down tyranny at her own school, this girl's response to the situation, her resolve, and courage in the face of injustice gives us hope for the future.
Last Wednesday, Summer donned her pretty new shirt and went to school. However, when the principal saw that she was showing too much collarbone, he stepped in.
As WCNC reports, in the suspension notice from Hickory Ridge High School, the principal and Summer apparently had an interaction where the principal told Summer to cover up with a jacket. The report states Summer responded with, "I think my shirt is fine". The principal then told Summer that her lower back was also completely exposed, so she was still not in compliance with dress code. Summer repeats again, "My shirt is fine."
Although Summer didn't have a jacket, a friend offered up hers and Summer immediately put it on.
"I pulled it up, put the jacket over it, zipped up the jacket," Summer says.
According to Summer, the principal then demanded she go to another room to change. But she wondered, why, especially considering she'd already put a jacket on.
"I completely understand why a dress code is put into place but I feel like after I put on that jacket it should have been subdued," Summer says.
Summer admits that she and the principal have had their issues over the course of her four years at Hickory Ridge. The tension had gotten so bad, that at one point, her mother had to step in and instruct school administrators to call her before taking disciplinary action against Summer. Nevertheless, Summer maintained a 4.4 honor roll average.
Being the principled young woman that she is, Summer explained that when the principal told her to go and change, she remained in her seat.
"They can't take me anywhere unless my mother is called," she says. "So I said 'I apologize, I can't go anywhere with you unless my mom is called."
At this point, the situation escalated when the principal did what so many other schools do across the country — following an ominous trend — and called in the guns.
As WCNC reports, Summer says neither she nor the principal was able to reach her mother. The period ended and Summer accompanied dozens of her friends to the auditorium. Shortly after, she says the principal entered the room and ordered everyone to leave except for Summer.
"[The School Resource Officer] was within five feet of me, he had his hand on his gun. [The principal] said 'I'm gonna give you an ultimatum. We have tried to call your mother. You either come with me to the control room to change your shirt or we will arrest you."
Summer explained that she remained in her seat and tried once more to reach her mom.
Explaining it like a true human rights activist, Summer said, "I stayed in my seat just like a lot of role models that I have looked up to stayed in their seats.I mean, you have to stand up for what you believe in."
For standing up for her rights, the principal then sicced the cop on Summer. As he moved in to put on the handcuffs, however, her phone rang — it was her mother.
According to WCNC, Summer went to the control room with the school administrators where she was given a 10-day suspension and ordered not to attend any senior activities, including graduation.
"It's just sad because I worked so hard for four years to walk across that stage," she says. "We have drug dealers walking across that stage, we have sex offenders walking across that stage and then the 4.4 student who showed her shoulders can't."
When Summer's mother got the note explaining why her daughter had been suspended for 10-days and her scholastic future put in jeopardy, it said her Summer had been suspended for "insubordination."
Summer said that the principal is still considering expelling this model student too.
"This is my life, I'm on a pre-med track," she says. "A full ride means so much and that is on the line right now."