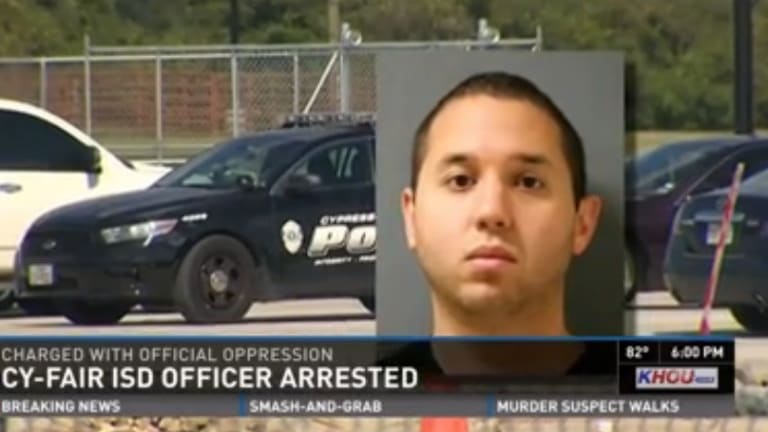 School Cop Pulls Women Over To Lick Their Feet And Steal Their Underwear
26-year-old Patrick Quinn, a school police officer from the Houston area in Texas, has been charged with "official oppression" for demanding that a woman fulfill his sexual fetishes during a traffic stop.
According to prosecutors, an unnamed victim was traveling through a residential neighborhood where officer Quinn happened to live. Quinn was creeping through the neighborhood at the time, and pulled the victim over for having an expired registration.
As a school police officer, Quinn was not authorized to be making traffic stops and had no business doing so, especially long after school hours at 3 a.m., when the incident occurred.
After pulling her over, Quinn said that he smelled marijuana and searched the woman's car. During the search, Quinn allegedly found "drug paraphernalia" in the car, and he detained the woman and placed her in the back of his vehicle.
Next, he allegedly told her that he wouldn't take her to jail if she showed him her feet or gave him her underwear. According to the woman, the officer also said that he wanted to lick her feet. As the woman agreed to give him her underwear, Quinn immediately changed his mind and told her to "forget about it", and allowed her to leave.
The very next day, the victim contacted the police. Back at the scene of the crime, investigators found her insurance card on the ground, which had Quinn's fingerprints on it.
Officials with the Cy-Fair Independent School District released the following statement:
We are appalled by the nature of the allegations brought forth against one of our officers. After learning of the allegations, we immediately placed the officer on administrative leave pending the outcome. Allegations of officer misconduct are taken very seriously and we will not tolerate violations of criminal law, inappropriate actions or any unprofessional behavior which compromises the public's trust or tarnishes the reputation of the department. It is imperative that individuals speak out and contact law enforcement so we can work together to keep our communities safe and we urge anyone with additional information to contact the Harris County District Attorney's Office.
Any other women in the area who have had similar experiences with Quinn are being asked to call the police.
John Vibes is an author, researcher and investigative journalist who takes a special interest in the counter culture and the drug war. In addition to his writing and activist work he is also the owner of a successful music promotion company. In 2013, he became one of the organizers of the Free Your Mind Conference, which features top caliber speakers and whistle-blowers from all over the world. You can contact him and stay connected to his work at his Facebook page. You can find his 65 chapter Book entitled "Alchemy of the Timeless Renaissance" at bookpatch.com.