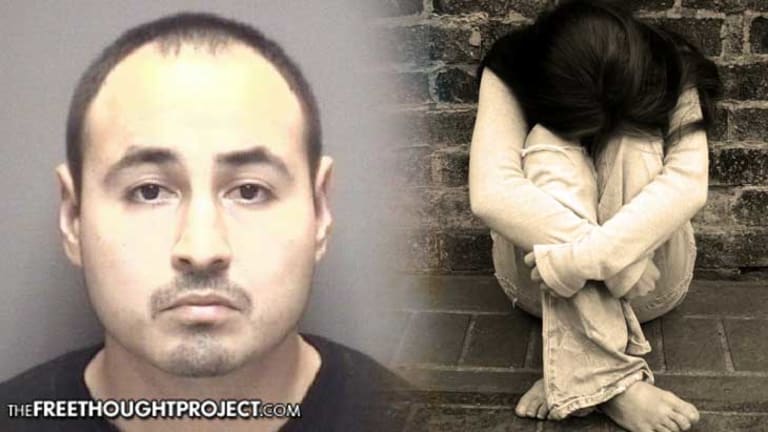 Decorated School Cop Arrested for Raping a Child He Was Tasked With Protecting
A Texas School police officer, whose job was to protect students as they attended class, was arrested this week for raping a child.
Galveston, TX -- A Galveston Independent School District police officer, whose job was to protect students as they attended class, was arrested this week for sexually assaulting a child -- possibly more than one.
Officer Victor Lee Cervantes, 30, was arrested this week after his supervisors discovered that he was having inappropriate relationships with one or more students. On Wednesday, Cervantes was charged with sexual assault of a child, two counts of improper relationship between an educator and student and online solicitation of a minor.
Apparently, his abuse was so rampant that other ISD officers noticed it and reported him to their supervisors.
According to the school superintendent, Kelli Moulton, Cervantes has been placed on administrative leave following the accusations.
Police also said that Cervantes was accused of engaging in sexual acts with at least one female child on two separate occasions. He was also caught sending sexually explicit text messages to another child, according to police.
According to the Galveston Daily News, Cervantes has since resigned and the charges are under investigation, Moulton said.
"We take this matter very seriously, and we are deeply concerned that it appears something of this nature and this seriousness has happened at one of our schools and to one of our students," Moulton said in a news release.
Cervantes is currently in jail while being held on a bond of $35,000.
According to the Daily News, Galveston ISD board of trustees honored Cervantes for saving a student's life during a council meeting in 2012, according to a news release on the school district's website.
Unfortunately, school cops betraying their trust and assaulting those they are tasked with protecting is an all too common occurrence. With such a massive dependency on police in public education, this is to be expected.
As the Free Thought Project previously reported, according to statistics released by the U.S. Department of Education and published by NBC News, in the 2011-2012 school year, teachers called the cops on students a total of 31,961 times in the state of California alone, leading to 6,341 arrests.
With 175 8-hour-long school days, that means that every 2.6 seconds a cop is called!
At one California school district, in particular, East Side Union High School District in San Jose, police were called on students 1,745 times during the 2011-2012 school year. This one school called the police on students more than ten times a day!
Earlier this year, we reported on the video showing a San Antonio Independent School District police officer body slam a 12-year-old girl. In February, the Free Thought Project brought you the story of the Baltimore School cop who was seen beating a student who had done nothing wrong.
In fact, recent videos have revealed a myriad of school cops attacking unarmed students. In December, Officer Rigo Valles was cleared of any wrongdoing after grabbing a student by the neck and slamming him to the floor. In October, Richland County Deputy Ben Fields was fired after students recorded him flipping over a girl's desk and dragging her across the floor. Oklahoma City Master Sgt. Thomas Jaha was charged with assault and battery in October as well, after repeatedly punching a student in the face for not having a hall pass.
Last November, prosecutors agreed to dismiss assault charges against Louisville Metro Police Officer Jonathan Hardin for punching a student in the face if the former officer completes anger management classes. Hardin still faces wanton endangerment, official misconduct, and assault charges for choking another student unconscious in a separate incident five days later. In separate incidents earlier this year, school cops have also been caught attacking an autistic boy, body-slamming a child, and raping nearly two dozen students.
And these are the ones the public knows about -- How many more incidents, just like this one, go unreported and unpunished?