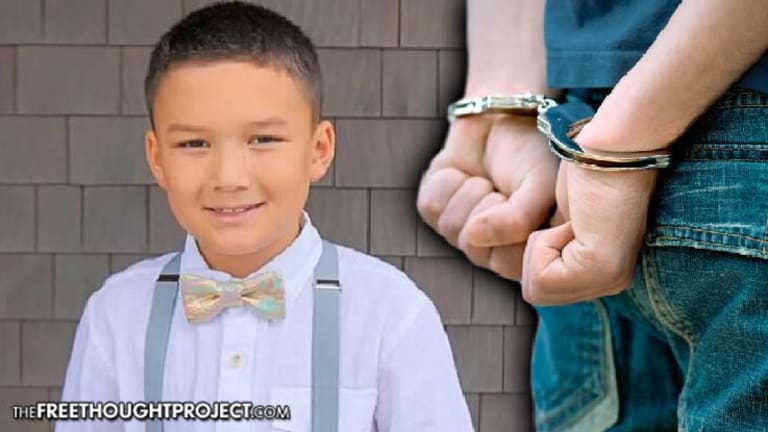 School Cops Force 8-year-old Boy Into Handcuffs After He Fended Off Bully
An 8-year-old elementary school student was restrained by a school cop in handcuffs — behind his back — after a typical fight at recess.
Parkland, WA — An 8-year-old elementary school student involved in what would have been considered an ordinary playground fight just a decade ago, had his hands pulled behind his back and cuffed by a school resource officer — and the boy's outraged mother is speaking out.
Amanda Bullinger told Seattle NBC affiliate KING she was summoned to Brookdale Elementary School in Parkland on Monday after her son, Ayden, scuffled with an older student who had been bullying the boy for months.
"It was like 11:15-ish that I got a call. It was the principal," Bullinger told the station. "She said she had Ayden in the office and he had an altercation at recess."
Bullinger drove to the school to retrieve Ayden, but had no idea what a disturbing scene awaited.
"I get there and I see a police car in the parking lot, and I said, 'Oh this can't be good.' I go into the office and Ayden is sitting in a chair, hands cuffed behind his back and a police officer is holding him down like this," she explained to KING. "And Ayden is bright red crying, freaking out."
Not even a decade old, the understandably frightened child also struggles with sensory processing disorder, according to Bullinger, which means intense situations can cause Ayden to suffer extreme anxiety or 'emotional meltdowns.'
According toNBC affiliate KOBI, "Federal privacy laws prohibit the school from discussing details, but a police report about the incident shows Ayden yelling 'I'm going to kill him' and became physically combative to the other boy."
Bullinger noted her son had grown tired of months of bullying by the older child and the situation reached a boiling point on the school's playground.
Thanks to the suffocating police state, what would likely have been a bitter student brawl broken up by students and teachers in the past instead saw an 8-year-old child handcuffed by an officer and forcefully restrained — as if a schoolyard fight is no longer typical childhood behavior.
"It really is one of those options of last resort, if you will," Willie Painter, spokesman for Franklin-Pierce Schools, explained to KING.
"The use of restraint is only used when no other feasible option exists."
Painter did not elaborate on the circumstances involving Ayden or why, specifically, 'no other feasible option' existed to deal with an 8-year-old but to cuff him like a violent criminal.
In fact, it's difficult to imagine why a school resource officer would need to handcuff a small 8-year-old child at all — even if the melee turned particularly violent or vengeful, the officer could have restrained the child with assistance from another adult. Handcuffs seem like overkill — particularly considering the officer did not release Ayden's wrists, even after he arrived in the principal's office.
After arriving on the distressing scene, Bullinger said the resource officer escorted the terrified child to the door.
Alarmingly, the handcuffs marked and bruised Ayden's wrists — but his mother believes the emotional wounds from being forcefully restrained will linger for some time.
KING reports:
"The Office of the Superintendent of Public Instruction just began collecting data in 2016. In the first 6 months of that year, only eight districts have used handcuffs on students. Franklin-Pierce is one of them.
"The other districts are Federal Way, Freeman, Highline, Kelso, Kent, Renton, and Spokane. The state information did not give clear numbers of how many cases of handcuffing happened in elementary schools."
An increase in police presence at public schools has stirred contention for several years, as these officers have been caught treating students from elementary to high school as if they're full grown adults.
In 2016, students were beaten, slammed to the ground and knocked unconscious, put in an 'arm bar' submission restraint, locked in a full nelson, assaulted for no reason, and more — and that's only a cursory glance at what errant school cops almost got away with.
Bullinger rightly questioned the choice to handcuff a child of only eight years, asserting, "There could have been other options."
There could have been, except this is what an otherwise ordinary schoolyard fight looks like in a police state.