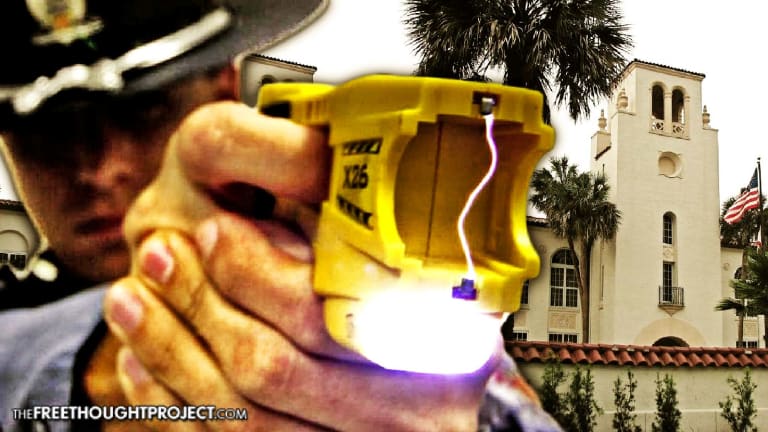 School Cops Lose Jobs for Tasering School Employee While Playing Around
For causing injury to a school employee by tasering him and then conspiring to cover it up, two school cops were fired — but not charged.
Lake County, FL — In a testament to the sheer lack of oversight and accountability of police officers, two of the most apparently incompetent Florida cops were allowed to patrol a school with nearly two thousand children. The cops would frequently be seen 'playing around' with their tasers. However, all that would come to a halt when Master Deputy Raymond Mattiucci accidentally shot a Leesburg High School employee with a taser, knocking him unconscious and leaving him with a broken wrist.
After Mattiucci's dangerous and irresponsible mistake, he and Deputy Darrell Blanton then conspired to cover it all up — leaving the victim, Jerome Scott, and a witness, Pamela Nash, fearing for their safety.
"These deputies failed to immediately report a serious incident to their supervisor and then compounded the issue by being less than truthful," Lake Sheriff Peyton Grinnell wrote in an email. "As law enforcement officers, we are held to the highest of standards and that type of conduct should not and will not be tolerated."
As the Orlando Sentinel reports:
Mattiucci and Blanton had a history of playing around with their tasers on school property, once pretending to tase the security monitor and pointing it "lights flashing" at the face of Leesburg High employee Pamela Nash, according to interviews with sheriff's investigators.

The deputies kept tabs on Scott and Nash, who witnessed the incident, through text messages and face-to-face inquiries during the following week, the report said.

Nash was alone with Mattiucci and Scott in her classroom when she heard a "pop" sound and saw Scott reaching for the countertop and falling face first on the floor, the report said.
After Scott fell to the ground, it would be 15 minutes before he could even speak. He also suffered a broken wrist.
After he accidentally tasered the innocent man, Mattiucci radioed for Blanton who quickly came to his aid and helped to cover it up. Blanton then called dispatch and told them a school employee "fell."
Mattiucci reportedly convinced Scott and Nash to keep quiet and promised to pay for Scott's insurance deductible for his broken wrist. However, that never happened.
When Scott asked Mattiucci for the money, Mattiucci began avoiding him. Weeks later, Blanton, in a seeming act of intimidation, approached Nash, asking her, "Did you tell?" according to investigators. Then, Mattiucci texted Scott that same day in a similar manner saying, "What's the word … Our Corp is about poking his nose around."
After this intimidation, both high school employees became fearful of coming forward, obviously scared of what these two cops could do to them. During the investigation, it was also revealed that Mattiucci and Blanton were keeping tabs on Scott and Nash — indicating that they had every reason to be wary.
According to the Orlando Sentinel, these sadistic cops even had the nerve to keep pretending that they were going to taser Scott. Nash lost sleep over the ordeal and Scott once before told the two deputies not to playfully enact using the taser on him, but Blanton said that even though he could tell Scott was scared, he thought it was funny, the report said.
However, after living in fear long enough, Nash finally came forward and reported the two deputies. During the investigation, both officers were placed on paid leave and were accused of two violations — "departure from the truth" and conduct unbecoming of an officer.
Before he could be held accountable for his actions, Mattiucci was allowed to resign on March 8. However, Blanton, apparently thinking he was going to get away with it, stayed around and was then fired on March 15.
For tasering an innocent man, endangering his life, causing injury, and then employing intimidation and conspiring to cover it up — neither of these two cops was charged with a crime.
[author title="" image="https://tftpstagingstg.wpengine.com/wp-content/uploads/2016/03/magorist-e1456948757204.jpg"]Matt Agorist is an honorably discharged veteran of the USMC and former intelligence operator directly tasked by the NSA. This prior experience gives him unique insight into the world of government corruption and the American police state. Agorist has been an independent journalist for over a decade and has been featured on mainstream networks around the world. Agorist is also the Editor at Large at the Free Thought Project. Follow @MattAgorist on Twitter, Steemit, and now on Facebook.[/author]