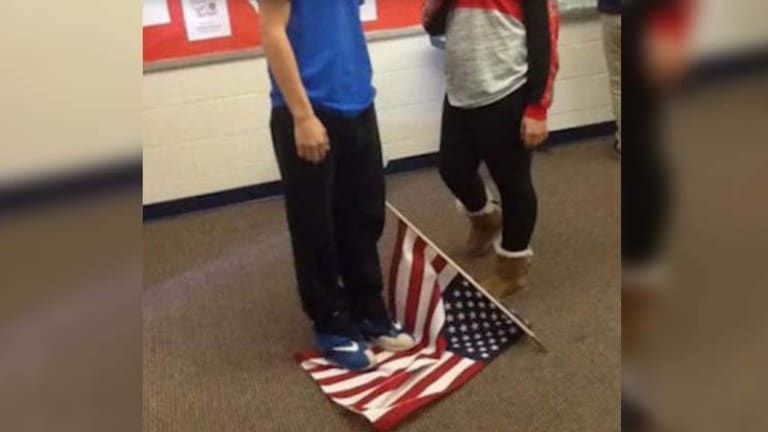 School Kids Under Police Investigation for Posting an "Unpatriotic" Photo to Facebook
When armed agents of the state are called in to "investigate" an act of free speech, because they found it "disrespectful," something in this Land of the Free has gone horribly wrong.
Richland Township, PA -- In the famous Supreme Court case of Texas v. Johnson in 1989, a five-justice majority ruled that desecrating the American flag was protected speech under the First Amendment to the US Constitution.
Despite this ruling, Americans from sea to shining sea continue to call for the arrest, or even death, of those who'd dare express their opinion through the use of the Old Glory.
The very essence of freedom is tolerating peaceful forms of expression, no matter how uncomfortable they make us feel. Sadly missing the point, however, are folks who fail to understand that burning or desecrating a flag without fear of punishment from one's government, is what liberty is all about.
That being said, when police are called in to investigate a photo of a high school student standing on a flag, as if a crime has taken place, liberty for all is under attack.
When a photo was posted to social media this week, of a high school student standing on a flag while another student stuck out her middle finger, a firestorm of controversy blew up. Immediately, the school issued a statement decrying the photo.
A
">statement on behalf of the Richland School District's solicitor was posted on Facebook, as well as the district's website, promising a "timely and thorough" review, reported CBS Pittsburgh.
"The Richland School District has become aware of this unfortunate and unpatriotic picture posted by some of its students," the statement read. "This type of picture does not represent the opinion of the District or of its overall student population."
While this act may be offensive to some and possibly against school policy, it is by no means a legal matter. However, it has become one, and police are now involved.
According to WTSP, the Richland Township Police Department also released a statement in regards to the incident, according to CBS Pittsburgh. They are aware of the "disrespectful" photo and are currently investigating.
"We have been in contact with the Richland School District and will work with them in resolving this issue, the police statement read. "Thank you to everyone who took time to notify us of this situation."
In the Land of the Free, people are calling the police to report a child standing on a flag!
When armed agents of the state are called in to "investigate" an act of free speech, because they found it "disrespectful," something in this Land of the Free has gone horribly wrong.
On Wednesday, the students returned to school for the first time since the photo caused patriotic heads to explode. Instead of standing up for free speech, the students in the photo were forced to apologize, and they and their families were chastised by the rest of the school.
Police were out in full force as well, vaguely hinting that a photo of a student stepping on a flag is somehow a security threat.
According to the Tribune-Democrat, Richland Township Police were parked or on foot on all sides of the school as buses arrived around 7:20 a.m.
Other officers circled the campus and its parking lots.
"Everyone made it to school OK," Richland Police Chief Michael Burgan said. "It was a quiet morning. But it was better to be safe than sorry."
The students in the photo now know what happens to those who challenge the status quo -- they are cast out, rejected and singled out for their personal expression. Get in line
When a society becomes more concerned with a piece of cloth than the freedom it is meant to represent, it's time to wake up.
As a former member of the USMC, I am unoffended when I see flag set ablaze or stepped on -- because I see it as an act of expression by a group who feels oppressed. Those who feel oppressed must never be silenced.
Throughout history, the 'patriotic' majority has been responsible for most of the atrocities committed against our fellow humans. Only because of a handful of irate freedom loving individuals, unafraid to challenge the status quo, do we have any semblance of liberty in America today.
A true patriot is never a member of the majority who calls for their opposition to be silenced with state force because their views are 'offensive.' No, a true patriot is the one who refuses to be intimidated in the face of this violently obstinate collective.
In the beginning of a change, the patriot is a scarce man, and brave, and hated and scorned. When his cause succeeds, the timid join him, for then it costs nothing to be a patriot.

-Mark Twain
Matt Agorist is an honorably discharged veteran of the USMC and former intelligence operator directly tasked by the NSA. This prior experience gives him unique insight into the world of government corruption and the American police state. Agorist has been an independent journalist for over a decade and has been featured on mainstream networks around the world.