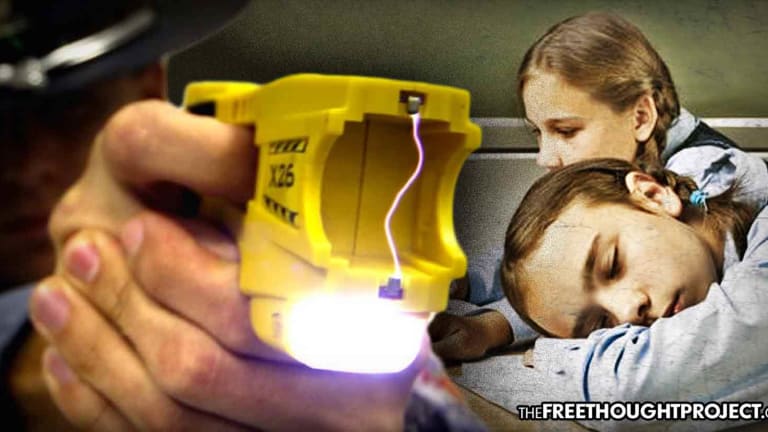 School Resource Officer Suspended For Using a Taser to Wake Up Sleeping Student
Students and faculty were shocked last week when a school cop was called in to wake up a sleeping student and used a taser to do it.
Smithville, OH — Illustrating that cops in schools aren't always there for your child's protection, a school resource officer in Smithville, Ohio has been placed on leave after activating a Taser to wake up a student for sleeping in class.
Officer Maryssa Boskoski, 32, shocked students and faculty alike when she was called to a room to wake up a sleeping student and pulled out her taser to do it.
The incident took place on August 30, at Liberty Preparatory School in Smithville. According to school staff, the student was out cold and would not wake up for the teacher nor the Interim Principal Jenna Parnell.
Instead of calling a doctor to see what was wrong with this student and why he wouldn't wake up, the school did what many schools across the country do when faced with normal everyday student problems—they called the cops.
When Boskoski entered the classroom and saw the sleeping student, she pulled out her taser and activated it right by the child's head.
"She did take her Taser, remove the cartridge from it, and arced the Taser," said Smithville Police Chief Howard Funk.
According to police, the probes were not deployed and the taser didn't actually touch the student. However, the sound of it, coupled with the ensuing chaos from the shocked students and teachers were enough to wake him up.
As ABC15 reports, Parnell said she was stunned by the officer's actions. The officer did not give any warning before using the Taser, according to Parnell.
"I was a little surprised by it. Our interest is in the safety of our students so hearing that go off was a little alarming," Parnell said.
An investigation into the officer — who is now on unpaid leave — is currently underway. Funk told ABC 15, that he plans to meet with the village solicitor to determine if any criminal charges should be filed.
Funk said that the officer clearly violated the department's use of Taser policy and put the entire classroom at risk when she did it.
"It's unfortunate and I'm disappointed that this took place. It's something I would not have expected from any of our officers," Funk said.
This is the second such incident in which Boskoski has been in hot water in regard to using the taser. Early this year, according to her performance log, Boskoski failed to remove the cartridge from her taser prior to conducting a spark test. As a result, she nearly tasered a fellow officer as the prongs shot out from her weapon.
Boskoski was told at the time that any future incidents like this would would lead to disciplinary action.
Her record is not all negative, however. Last year, she was given a letter of recognition for giving a homeless man clothing and taking him to a shelter.
While Boskoski may be fired for her poor decision, other officers have done far worse, and remain gainfully employed.
As TFTP reported last month, deeply disturbing lawsuit filed in federal court tells the horrific story of an autistic child at a Caddo Parish high school who was tasered and left lying motionless in a pool of his own urine.
According to the lawsuit, filed by the non-verbal child's mother, Rosie Philips, her son's civil rights were violated under federal disability laws after a Caddo Parish Sheriff's deputy attacked him.
According to the lawsuit, on Aug. 31, J.H. reportedly began rubbing his stomach against the wall in the classroom when a staff member told him to stop. J.H. then walked out of the classroom and down the hall to the water fountain where he began to compulsively drink water. He then stood in the hallway with his fingers in his ears which is normal behavior for J.H. when he is stressed, according to the lawsuit.
Staff members, including a deputy then formed a semi-circle around J.H. which escalated the situation even further.
As the Shreveport Times reports:
Northwood's school resource officer, a Caddo sheriff's deputy identified in the lawsuit only as "Deputy Nunnery," approached the boy with his hand on his taser and did not try to de-escalate the situation, according to the lawsuit. Instead, Nunnery and members of the school staff formed a semi-circle around J.H. for about seven minutes, the lawsuit alleges.

J.H. tried to break free of the semi-circle and swatted at administrators. The deputy then allegedly fired his taser, possibly striking J.H. several times and sending the boy to the ground, according to the lawsuit.

On the floor, J.H. did not move. He urinated on himself. J.H. was left on the floor until his mother arrived and, during that time, Nunnery did not check on J.H.'s condition, according to the lawsuit.
"In this period in which he lay on the floor, the Sheriff's deputy did not check his condition, his vitals, did not determine whether J.H. was still breathing, and made no motion to otherwise determine that J.H. was safe," the lawsuit alleges.
When the boy's mother arrived at school, she found her son on the floor, drenched in his own urine. She then helped him up and then left the building.
So, while deploying a taser in the air to wake a student up may seem like a brutally terrible idea, remember that things can always get worse.