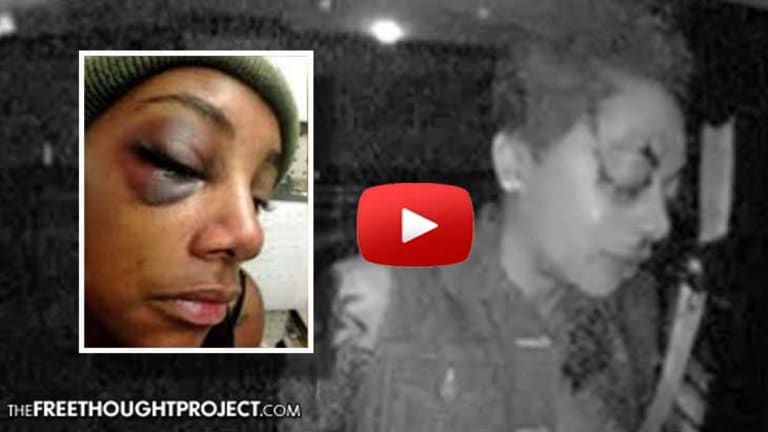 Cop Smashes Handcuffed Woman's Face In, on Video -- Gets 2 Years Paid Vacation
For punching a restrained woman in the face, a seattle cop was rewarded with a 24-month paid vacation.
Seattle, WA - You've heard the old adage, "Justice is swift," but when it comes to justice in cases where police are the perpetrators, often times, it's "justice delayed." Oregon's KATU 4 reported Wednesday the Seattle Police Department has fired Officer Adley Shepherd over his involvement in an incident which took place in 2014. He's been on paid vacation ever since.
On June 22nd, 2014, Officer Shepherd responded to a domestic disturbance involving Miyekko Durden-Bosley, then 23, and another man. The decision was made by Shepherd to arrest Durden-Bosley, whom he placed in handcuffs, and walked to his cruiser. As Shepherd was attempting to seat Durden-Bosley into the back of his patrol car, she resisted arrest, and kicked the officer. Shepherd exclaimed, "You kicked me!" then, in what appeared to be a full-force right hook blow, the officer punched the defenseless woman in the face.
Durden-Bosley and her lawyers sued the police department for the officer's violent actions against a handcuffed subject while in police custody. Three separate investigations took place into the incident, and all the while, Shepherd was placed on paid leave from his duties on the force.
Police abuses are nothing new. The Free Thought Project is committed to bringing awareness to these stories. But what seems to be outrageous to some was the length of time Officer Shepherd was allowed to remain on paid leave, a full 24 months! From the outside looking in, it seems to be an egregious waste of taxpayer funds. All of which leaves us scratching our heads and asking questions.
Is there another profession on earth where a worker can violently strike a customer and receive compensation for it? We don't think so. After all, police officers are supposed to protect and to serve, right? So how is it this officer, who may never have done something like that before, could be rewarded for doing so?
And why did it take so long for him to be fired? Imagine if a convenience store clerk hit a customer or a cashier at Walmart struck a shopper. Would they get a paid vacation from their place of employment? Outrageous and inexcusable! Certainly, if the officer were found not guilty of abusing his badge, he should be reinstated, but Officer Shepherd appears to have lost his cool, and waylayed a woman who dared to kick him as he was attempting to place her in his squad car. The " target="_blank">video is clear to see. So why did the investigation take so long and why did the department delay in finding him culpable?
It may be because police officers are not held to the same standards members of the general public are held to. In other words, they can get away with a lot of junk the rest of us quickly go to jail for, and they have possibly been getting away with it for years. But with the deployment of cameras strategically placed in squad cars, and now with body cameras, America is starting to see what goes on behind the scenes, and it's disturbing at times, to say the least.
Seattle Police Chief Kathleen O'Toole issued the following statement, "Today, I signed an order terminating the employment of a Seattle Police officer, Adley Shepherd based on his conduct during an incident involving a handcuffed subject on June 22, 2014. The Office of Professional Accountability (OPA) concluded, and I concur, that the employee's conduct was in stark contrast to the expectations set forth for our officers, and particularly our heightened duty of care to those in our custody. Over the last two years, this matter has been separately investigated by the Washington State Patrol, the Federal Bureau of Investigation and OPA."
One might be tempted to think the Seattle Police Guild would be in agreement with Chief O'Toole's decision. Think again. President Kevin Stuckey, of the SPG, defended Shepherd telling reporters, "Since I've been a police officer, I've never seen anybody put though this kind of scrutiny. We don't do investigations like that for just regular criminals." Stuckey continued making the case for Officer Shepherd's continued employment by saying all of the investigations concluded the officer's actions were "fine". "We're disappointed today…they chose to terminate Officer Shepherd."
From Facebook posts, we were able to determine the district attorney decided not to prosecute Shepherd as early as December of 2014, but he continued to receive his salary for nearly two more years! If no charges were to be brought against him, why wasn't he reinstated? The answer may be because the department knew they were going to lose in court.
According to KATU, "Shepherd's punch left Miyekko Durden-Bosley, then 23, bruised [black eye] and suffering from a concussion. In June, she settled federal claims against the city and Shepherd. Durden-Bosley and her attorneys were to be paid $195,000 in exchange for dropping a lawsuit brought by Durden-Bosley in 2015."
O'Toole's statement continued, "The decision to end one's employment is not easy and it is one I take very seriously. After much deliberation, based on the substantial evidence presented to me during this very comprehensive process, I believe this is the right decision for the Seattle Police Department and the community we serve."
We, at The Free Thought Project, believe the decision came much too late. We're calling on police departments to end the cycle of rewarding officers in abuse of power cases, by instituting policies disallowing for paid leave while an officer is under investigation. Hopefully, the fear of losing one's income will be enough to give pause officers' impulsive actions while on duty.