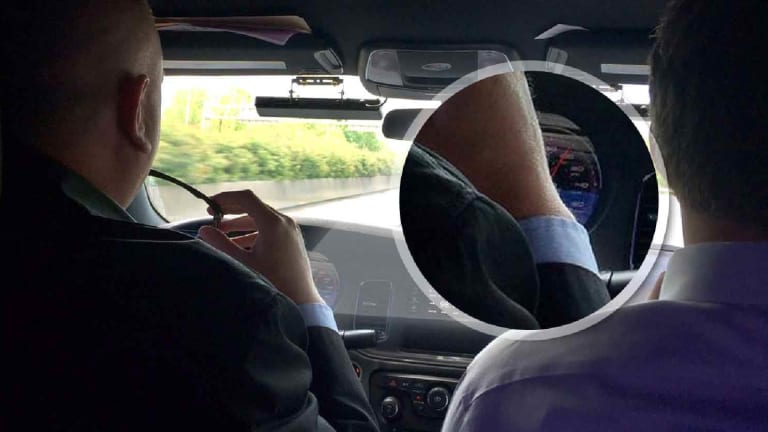 KY Sec. of State Accidently Tweets Pic of a Cop Driving Her to Party at 100MPH
The Kentucky Secretary of State was caught catching a ride to the Kentucky Derby in a cop car — which was inexplicably traveling 100 miles per hour.
When late for an elitist event, it's probably best not to use your elitist status to get you there as quickly as possible — particularly not if you're the Kentucky Secretary of State.
But that's exactly what Secretary of State Alison Lundergan Grimes seems to have done — Kentucky State Police drove her in a makeshift personal chariot, in the form of a State Patrol car — to get to Churchill Downs for the Kentucky Derby, for which she apparently hadn't planned well enough in advance to attend in a timely manner.
If this wasn't offensive enough to civilians, those state troopers took the secretary of state's plight so seriously, they broke the law to make it happen — driving at around 100 miles per hour — as evidenced in a photo Grimes, herself, posted to Twitter for the world to see.
That is, until her office realized how horrendous a public relations snafu such a post would be, and deleted it.
WDRB Newsreports the now-notorious tweet "was posted from her verified account @AlisonForKY Saturday afternoon. It says, 'On the way to @ChurchillDowns! Thank you to all law enforcement especially Sheriff Aubrey and @kystatepolice for keeping everyone safe!'
"Shortly after WDRB News first reported on the tweet Tuesday morning, it was removed from the @AlisonForKY account."
That tweet was captured, for posterity's sake, in a screen shot by WDRB:
And, as WDRB News points out, no reason or explanation for such a high rate of speed was made apparent in the original post — nor has one been provided since Grimes and the unnamed officers were caught lead-footed.
In fact, Grimes' spokesperson, Bradford Queen, would only verify Kentucky State Police drove the secretary of state to the Derby on Saturday — but refused to respond to WDRB's requests for further details, such as, why authorities were in such a rush — and had still not answered the station's questions, despite three queries, by Tuesday afternoon.
Then, separately, Grimes' office issued a statement through Queen — one dripping with sarcasm and attempting to denigrate WDRB for asking legitimate questions directly pertaining to the Cinderella-like ride the secretary of state had enjoyed. Reads the statement:
"It must be a slow news day when folks are trying to use four-days-old tweets to manufacture a story," Green snarled. "The photo was put up by staff to thank law enforcement. The ridiculous speculation surrounding the photo is unwarranted and led to staff removing the tweet. It reduces the selfless and amazing work of all law enforcement to keep people safe over Derby weekend.
"Secretary Grimes continues to extend her gratitude to all those in uniform that ensured a successful and safe Derby weekend."
What, exactly, a privileged taxi ride in a state patrol car at nearly 100 miles per hour for no yet apparent reason had to do with safely patrolling the longtime horse-racing extravaganza, was not made clear by Green.
Kentucky State Police spokesman Lt. Michael Webb had to be informed by a reporter about Grimes' escort to the Derby, as he had been unaware of the official's facetious tweet but said the department would certainly investigate the circumstances of troopers having driven above the speed limit.
Highways and Interstates in Jefferson County generally have posted speed limits of between 50 and 70 miles per hour — clearly well below the rate of speed troopers appeared to be driving in Grimes' tweet — and although the particular stretch of road in the picture wasn't identified, it has the appearance of an Interstate.
"We're going to have to look into it from here and see where it takes us," Webb asserted, according to WDRB.
Webb was not prepared to make a judgment call on whether the posted picture was indeed accurate — implying the investigation would include a determination on whether or not any editing had occurred.
"It would be irresponsible and premature for me to comment on it before we're able to look at it more in depth," he stated.
Clearly several issues come to mind in this incident — possible abuse of power by both a state official and state police, a sense for ordinary Kentuckians one's elite status automatically trumps the law, and whether or not taxpayer funds were used to ensure the secretary of state made it to the storied Kentucky Derby on time.
While some could affirm Green's stance, that focusing on a relatively trivial issue seems frivolous, if not absurd, in fact, it is these minimal abuses of power which make the corruption at every level so pernicious — taken individually, these speeding 'taxi' cops and their passenger didn't stray so far from the law as to be wholly offensive.
But should this pass unreported or if the public were to excuse it, such an incident, unpunished and dismissed, leaves open the door for further abuse — further abuse, which, far too often, leads to further benefits for the State, and erosion of rights for the rest of us.