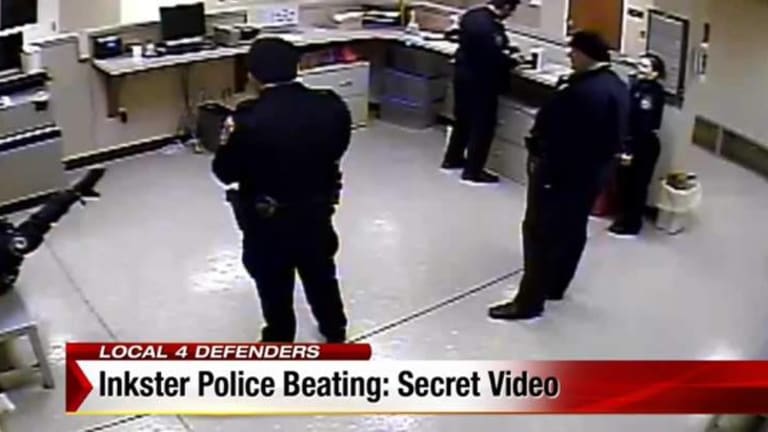 Secret Video Shows Sinister Cops Laughing and Celebrating Beat Down of Innocent Man as He Bleeds
A stomach-turning video shows cops laughing about their recent beat down, celebrating and mocking their victim as he lays writhing in pain, bleeding out before them.
Inkster, MI -- Dashcam video released last month, exposed several Inkster, Michigan cops as brutal liars. Now, a new video from inside their department paints them as sadistic psychopaths too.
When attorneys for Floyd Dent, who was wrongfully assaulted and beaten by Inkster police, requested all of the videos in regards to the incident, the clips below were never turned over. The Inkster police claimed that since Dent was charged with such serious felonies, that he did not deserve to have them as part of his defense.
However, as it turned out, the felonies were all lies.
While there is no audio, the video shows officers laughing, fist bumping and mocking Dent as he lay in pain with broken bones, bleeding out.
"He is bleeding like a sieve; there is blood everywhere," said Dent's attorney, Greg Rohl. "The officers don't seem at all disturbed by what happened at the scene. They appear happy, pleased, even celebratory over the arrest of Floyd Dent—a man who was just beaten kicked and tased."
One officer is seen laying down in an apparent recreation of their beating in which he pretends to be Floyd Dent getting pummeled by cops. He then stands up, at which point him and the other officers appear to burst into laughter.
"Quite honestly, they are disgusting," said Rohl. "They show officers making fun of Floyd. They show them congratulating each other for this beat down and the whole time he is there watching it."
As the officers laughed and cleaned their victim's blood from their uniforms, Floyd Dent is forced to watch these psychopaths mock him. Meanwhile, he is in agonizing pain from a closed head injury, broken ribs, and a fractured orbital.
According to WDIV,
Inkster's chief of police has since resigned and others caught on tape both at the scene and in the police station are finally being investigated, almost two months after the incident.

"And what about the other officers in that video? The answer to you is they will be under investigation as well," Inkster city manager Richard Marsh said during a recent news conference.
Floyd Dent, who recently retired after 37 years with the Ford Motor Co., has no criminal record at all. He had not broken any law, and he was nearly killed by Inkster police officers who claim to protect and serve the community.
All too often we hear the phrase, "If you don't want to get beat up by police, don't break the law." If only that were true...