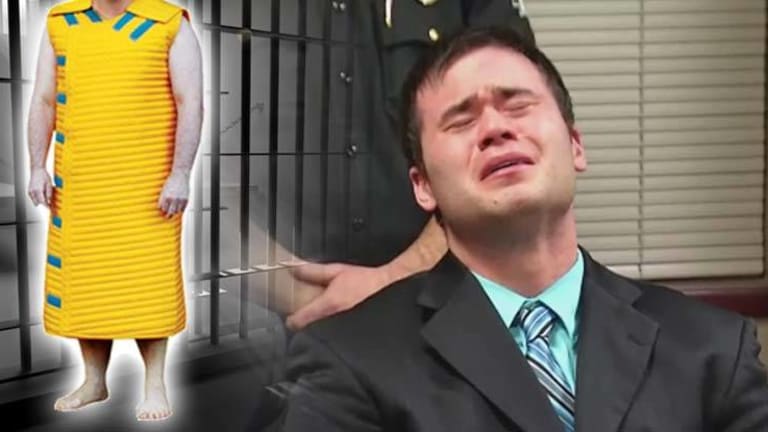 Crybaby Serial Rapist Cop Put On Suicide Watch After Head-Banging Courtroom Meltdown
Daniel Holtzclaw could have avoided this entire scenario had he not raped over a dozen women while 'protecting and serving' the community.
Oklahoma City, OK -- Former Oklahoma City police officer and convicted serial rapist Daniel Holtzclaw was recently put on suicide watch, after he was found guilty of 18 different sexual assault charges in court last week.
Last Thursday, when Holtzclaw was convicted, he threw a temper tantrum in court, crying uncontrollably and banging his head against the desk in front of him. He was ironically convicted on his 29th birthday, and after the verdict was read, many activists and victims in the courtroom began to sing the "happy birthday" song.
The following day Holtzclaw was placed under suicide watch and is now being monitored 24 hours a day.
If justice is actually served, Holtzclaw could spend the rest of his life in prison. However, many are concerned that the courts will give him leniency because he was a police officer. This is sadly a regular occurrence when police are arrested for crimes, even a crime as horrific as these, while at work as a police officer.
The jurors who found him guilty recommended a total of 263 years of prison, but next month a judge will have the final say on his sentencing.
District Attorney David Prater said that they will be asking the judge to impose the maximum sentence allowed.
"We're going to ask the judge to make sure that this defendant never sees the light of day, and we're going to ask him to run consecutive every count,"Prater said.
In most cases, police departments and unions rush to the defense of criminal cops, but in this case, they actually didn't.

"Your offenses committed against women in our community constitute the greatest abuse of police authority I have witnessed in my 37 years as a member of this agency," Oklahoma City Police Chief Bill Citty said in a letter when he fired Holtzclaw.
After the verdict was announced, he stood up and shook his head and said to his family, "I didn't do it." However, considering that there were a minimum of 13 victims, many of whom were strangers to one another, it is impossible that he was wrongfully accused.
Also, the evidence against Holtzclaw was damning, he had actually went through the police database to find the vulnerable women that he could attack.
As we reported this week, after accessing the list of names that Holtzclaw had run through the department's databases, the Sex Crimes Unit interviewed the women on that list and discovered six more women who accused Holtzclaw of sexually assaulting them. The women had been afraid to report the crimes because most of them had a history of drug abuse or prostitution. According to the Sex Crimes Unit, Holtzclaw used one database to check for existing warrants and the other database to see if any of his victims had reported him.
Holtzclaw must have expected that the legal protection he had as a police officer would absolve him of the crimes that he carried out behind the badge. Luckily in this case, his badge did not protect him from conviction, but sadly there are many more officers out there just like him, using their position of power as shield from legal consequences.
John Vibes is an author and researcher who organizes a number of large events including the Free Your Mind Conference. He also has a publishing company where he offers a censorship free platform for both fiction and non-fiction writers. You can contact him and stay connected to his work at his Facebook page. You can purchase his books, or get your own book published at his website www.JohnVibes.com.