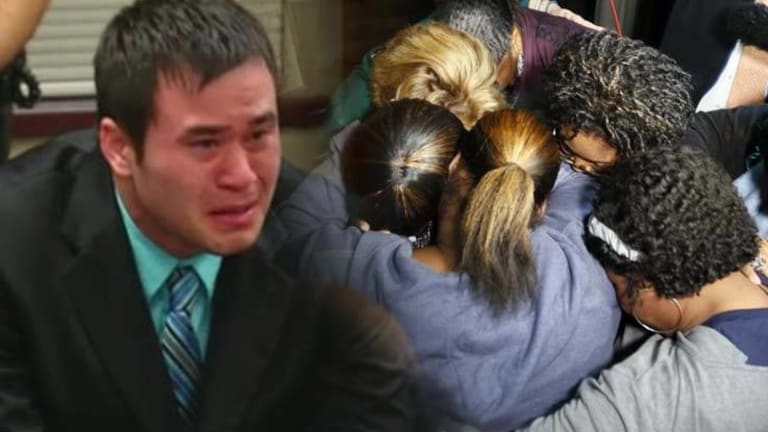 New Trial DENIED - Extreme Sentence Shows Serial Rapist Cop's Blue Privilege has Run Out
After a failed last stitch effort to flex his blue privilege and request another trial, Daniel Holtzclaw was finally sentenced on Thursday.
Oklahoma City, OK - A disgraced former Oklahoma City police officer, Daniel Holtzclaw, 29, was sentenced to 263 years in prison Thursday, after being convicted of numerous rapes and sexual assaults while on duty.
Holtzclaw was convicted of 18 of the 36 felony counts — including four counts of first-degree rape in December.
Around 2 a.m. on June 18, 2014, Officer Daniel Holtzclaw pulled over a 57-year-old middle class grandmother with no criminal history and forced her into the back of his patrol car because she could not roll down her broken driver's side window.
Instead of requesting a female officer, Holtzclaw forced her to expose her breasts and pull down her pants. As Holtzclaw exposed his penis with his gun in plain view, she pleaded, "Please don't do this. You're not supposed to do this!"
After Holtzclaw ordered her to perform oral sex, he dropped her off at her daughter's house. She immediately reported the assault and was taken to the hospital to receive a medical forensic exam. In the hospital, she met Det. Kim Davis of the Oklahoma City Police Sex Crimes Unit who connected her report to a similar unsolved assault report involving the same officer in May 2014.
That grandmother who reported her assault to the law enforcement authorities — an action that triggered the investigation that led to Holtzclaw's eventual prosecution and conviction -- spoke at the sentencing hearing according to the Oklahoman.
Holtzclaw's attorney, Scott Adams, filed a motion on Thursday, in an attempt to force either an evidentiary hearing or a new trial for his client, which was summarily denied.
The rogue officer was convicted of various sexual offenses involving eight women, although he was accused of committing sex crimes against 13 African American women.
The former officer used his position and power to prey on women in low-income neighborhoods, according to investigators, knowing that as an officer his word would be believed over that of a former prostitute or addict.
"He didn't choose CEOs or soccer moms; he chose women he could count on not telling what he was doing," District Attorney Lori McConnell said during the trial's closing arguments, according to Reuters. "He counted on the fact no one would believe them and no one would care."
After seeing so many cops walk free after victimizing the public they are tasked to protect, the 263-year sentence imposed upon Daniel Holtzclaw is a welcome modicum of justice.
Jay Syrmopoulos is a political analyst, free thinker, researcher, and ardent opponent of authoritarianism. He is currently a graduate student at University of Denver pursuing a masters in Global Affairs. Jay's work has been published on Ben Swann's Truth in Media, Truth-Out, Raw Story, MintPress News, as well as many other sites. You can follow him on Twitter @sirmetropolis, on Facebook at Sir Metropolis and now on tsu.