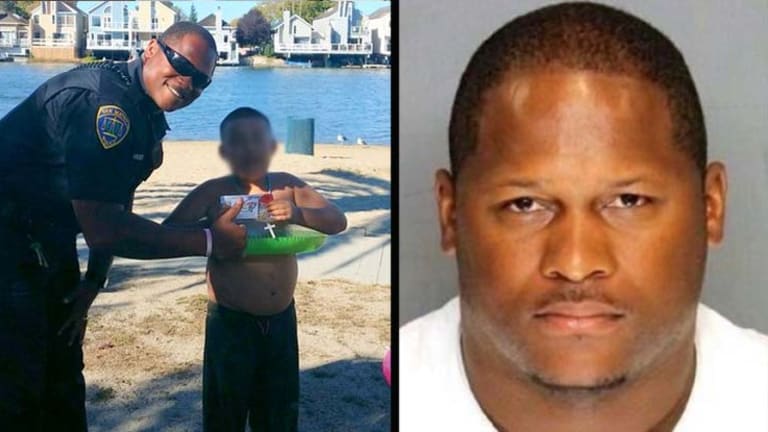 Serial Rapist Cop Arrested for Raping, Kidnapping 5 Women -- On Duty
A serial rapist cop in Northern California has been charged with the on-duty rapes of five women and could face life behind bars.
A former Northern California police officer has been arrested and jailed for using his position of authority to rape five women while on duty.
Thirty-one-year-old Noah W. Winchester — who previously served as an officer with the Sacramento Police Department, the Los Rios Community College District police force, where he patrolled American River College, and, most recently, the San Mateo Police Department — faces 22 felony charges including rape, criminal threats, kidnapping, and other offenses related to the sexual assaults of the five women. Those charges concern Winchester's employment with Los Rios and San Mateo.
Charges brought by the San Mateo District Attorney's office allege Winchester perpetrated his crimes by threatening to arrest the women for various fictitious wrongdoings if they refused to have sex with him.
"Some of them, he would pull them over, talk to them about whatever he was stopping them for, and then make a decision that this was a victim," San Mateo District Attorney Jim Wagstaffe said, according to local CBS SF. Winchester would then transport his intended victims to a secluded park or motel.
Wagstaffe added, the victims "did what we teach people to do, which is to follow the directions of a law enforcement officer. Not knowing they were about to be victimized by someone who was putting a dark stain on that badge."
Winchester had been employed with the San Mateo department for around nine months as a "lateral police officer" before the allegations of these "repugnant" crimes came to light in October, was immediately placed on leave, and subsequently resigned in February amid a thorough investigation.
In an earlier statement cited by the Daily Journal, prior to Winchester's arrest, San Mateo Police Chief Susan Manheimer said the department "recognizes the seriousness, and is absolutely horrified at the nature of these criminal allegations. We want to reassure the public that this alleged conduct in no way reflects the core values of this department, its members or the police profession. We repudiate any and all misconduct while protecting and serving our public."
On Thursday, the San Mateo Police released an additional statement acknowledging Winchester should be considered innocent unless proven guilty, but should charges be proven true, they are a "disgrace." As the statement cited by CBS SF explained:
"We are horrified by news of the recent arrest of this former San Mateo and Los Rios Community College District Police Officer, and want to assure our community and our leaders that this neither reflects nor deflects the dedication to duty and selfless service that our men and women commit themselves to every day on every contact."
An investigation by Sacramento police, opened in 2013, is still underway, though Sgt. Bryce Heinlen refused to comment further.
In an example of what Photography Is Not A Crime's Carlos Miller aptly called the "Police PR Spin Machine," journalist Adnan Ramic, who took a ride-along with Winchester in 2014, concluded of his experience for Los Rios College paper, The American Current:
"The entire experience of my ride along was very insightful to understanding the daily life of an officer on campus. It wasn't hard to see that Winchester is a man who takes pride in his work, and genuinely cares for the people who come onto his campus."
Ramic's description shows the ease with which the American public can become hypnotized with the aura of authority traditionally given police — so powerful, it frequently shields officers from scrutiny they deserve as public servants, even in cases of violent misconduct, such as the rape allegations in this case. With the epidemic of police brutality and parallel near-impunity from punishment in the national spotlight again, however, people increasingly refuse to offer blanket excuses for misbehavior simply because officers have a position of State authority.
"People sometimes feel that if you're a police officer you get protected," Wagstaffe noted. "We always say it doesn't matter if you're a prince or a pauper. Well, for us, it doesn't matter if you're a prince, a pauper, or a police officer. You commit a crime, you're going to be held accountable."
Nevertheless, Winchester's police union is considering assisting with funding his defense, including star attorney Michael Raines, who once represented athlete Barry Bonds over doping allegations. Raines downplayed the gravity of the rape charges against his client, saying there are:
"Countless times where one witness makes an allegation, others hear about it. And then all of a sudden we have a flurry of allegations, some of which turn out to be true in some cases. Many times, they turn out to be false."
Winchester remains in custody on $3,100,000 bail. If convicted, the former officer and alleged serial rapist could spend the rest of his life behind bars.